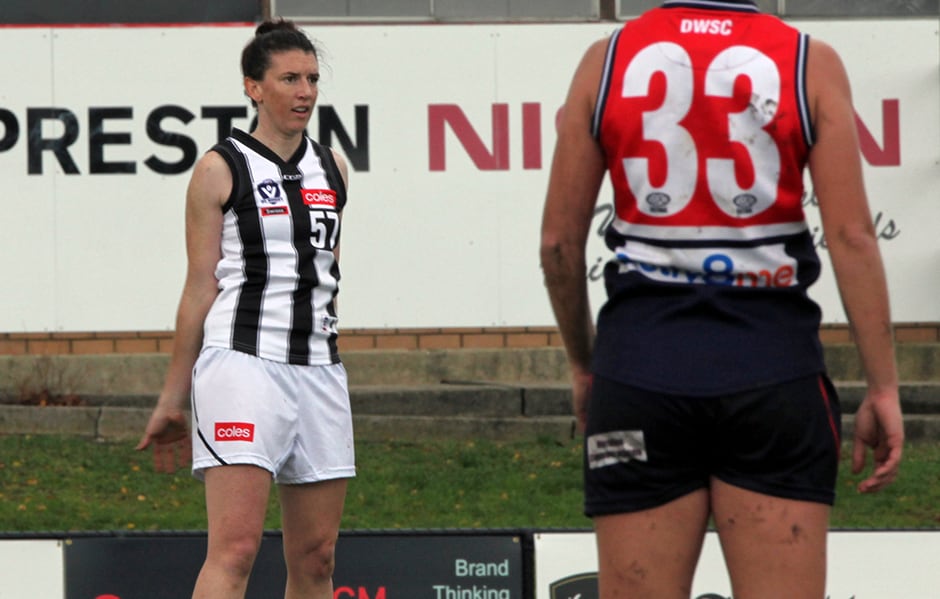 Gippslander Stacey Lawry will strap on the boots for just her second Aussie Rules game in front of a home crowd when Collingwood's VFLW side runs out in Morwell this Saturday.
Having made her football debut in the Magpies' round six victory over Darebin, the 28-year-old admits she still can't believe her dream has finally come true.
"Running out with the team for the very first time was amazing and truly surreal considering that my first game in the sport was at VFL level," Lawry told collingwoodfc.com.au.
"The support from the team was awesome and it was great just to get out there, play my role and have a crack."
But it hasn't been an easy journey for the defender whose debut was ultimately delayed due to injury.
Having suffered ongoing pain in her hip throughout the pre-season, Lawry thought it was just a minor issue that would eventually pass.
But as time went on, the pain simply became too unbearable.
"I was getting through match-play, but it got to a point where I couldn't keep going on in such pain," Lawry said.
After being sent for scans, Lawry discovered she had a stress fracture in her femur.
"There was one week on crutches, then another of just walking and then two weeks on the bike, all before I could even start thinking about running again," Lawry said.
As an experienced netballer, Lawry had made her mark on the netball court having represented the former Monash University Storm (now Hawks) in the Victorian Netball League.
So what made her trade in her netball dress for footy boots?
"I was having a casual kick-to-kick with a friend's husband and I guess he thought I had a pretty good kick," Lawry said.
"He knew Scott Armour at the club and passed on my name to Penny (Collingwood's VFLW coach Penny Cula-Reid) and I guess I've never looked back."
Living and working in Warragul, Lawry makes the commute to Victoria Park and the Holden Centre several times a week for training.
While it is quite the distance, she said the travel was all worth it to be a part of such a positive and tight-knit group at Collingwood.
"The culture is so professional and it's great to be a part of a group that gets around each other.
"To have the support of the AFLW players who treat you just like anyone else and to have their encouragement means a lot."
With the Pies bound for Morwell this weekend, Lawry is excited to play in front of her local Gippsland community.
"I'm pretty happy it's only a 20-minute drive down the road," Lawry laughed.
"All my family is coming down to watch and get behind the girls and I'm really forward to another opportunity to get back out there."
Stacey Lawry in the middle of the team song after the win over the Falcons
Collingwood v Western Bulldogs
VFL Women's Round 7
Saturday 22nd June, 11.30am
Morwell Recreation Reserve
Travers St, Morwell
Getting There
Fastest route is via the M1 - Exit freeway at Commercial Rd – Morwell Exit
Alternatively, you can catch a V/Line train to Morwell Station.