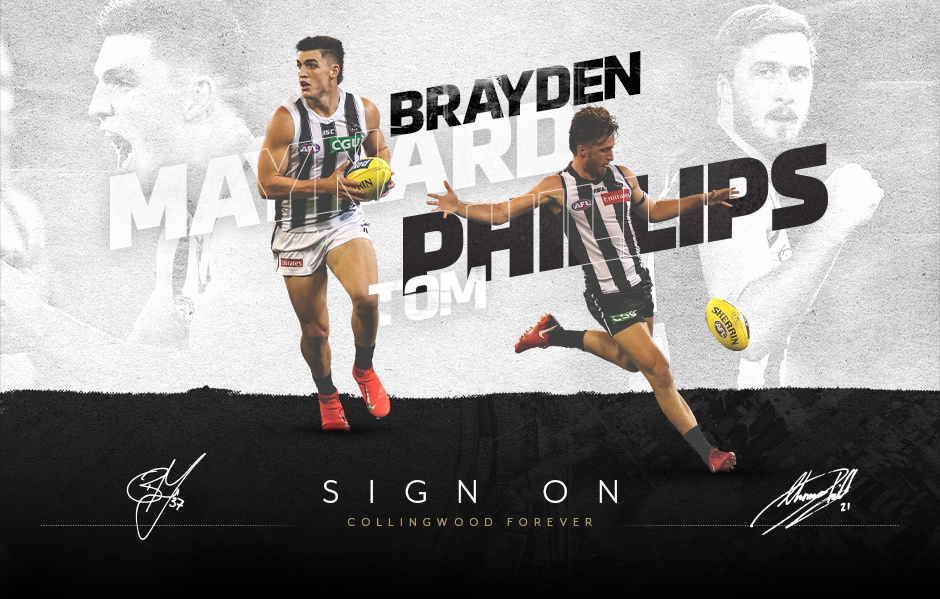 Two of Collingwood's new wave have penned contract extensions, with Tom Phillips and Brayden Maynard both adding two seasons to their current terms.
Maynard, who was due to come out of contract at the end of the 2020 season, is now signed until the end of the 2022 campaign. Phillips is contracted until the end of the 2021 season.
The pair have emerged from the national drafts of 2014 and 2015, a time when Collingwood was seeking to restock its list and assemble a team capable of returning to contention.
Maynard was recruited with pick 30 in the 2014 national draft, Phillips with pick 58 in 2015.
Maynard has played 88 matches since making his debut in 2015, Phillips has played 65 matches since making his first appearance the next year, both figured in the 2018 finals campaign and each has played every match in 2019.
Maynard is 22 years of age, Phillips 23.
"The longer term future of the team sits, in part, with the players we have on our list who are 20-25 years of age, who have established themselves as AFL level players and have their prime years ahead. Brayden and Tom definitely fit into this category," said Collingwood List Manager, Ned Guy.
"It is clear that they already have important roles to play for us but casting forward we hope that Tom and Brayden, and others of their age and experience, make their mark as leaders and as cornerstone players of the program."