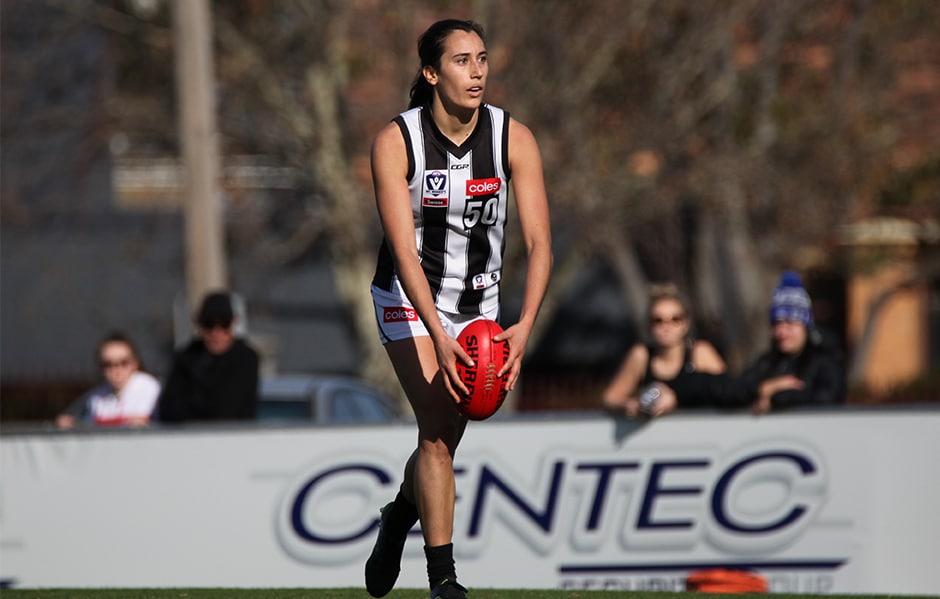 Collingwood has named its team ahead of Saturday's round 10 clash against Williamstown at Victoria Park.
The Pies return to the field after last week's 20-point victory over the Bombers that saw them remain in top position on the ladder.
The Seagulls currently have one win to its name and sit in second last position on the ladder.
Return for the Pies are AFLW listed players Stephanie Chiocci, Maddie Shevlin and Jordyn Allen.
Kate Dudley will also make her VFLW debut.
Please note this game will now kick off at 11.30am.
This is also the first of a double header at Victoria Park with Collingwood's VFL team taking on Williamstown at 2pm.
Can't make it to the game?
Tune into the VFL Live Stream at 11.30am.
Collingwood v. Williamstown
VFL Women's Round 10
Saturday, July 13 11:30am
Victoria Park
Collingwood
B: 75. Emily Bliss, 15. Erica Fowler, 57. Stacey Lawry
HB: 6. Jordyn Allen, 18. Ruby Schleicher, 55. Caitlin Bunker
C: 17. Stephanie Chiocci, 22. Sophie Casey, 35. Maddie Shevlin
HF: 24. Sophie Alexander, 58. Jessica Blecher, 92. Sarah King
F: 72. Katelyn Lee, 2. Chloe Molloy, 63. Paige Nash
R: 77. Kate Dudley, 13. Jaimee Lambert, 52. Nicole Hales
Int: 48. Ally Bild, 50. Grace Buchan, 60. Danielle Calautti, 67. Morgan Doherty
Emg: 70. Jasmine Ferguson, 68. Sally Lynch, 80. Stacey Mastras, 49. Katherine Newton
23P: 64. Gemma Proy
In: S. Lynch, M. Shevlin, J. Allen, K. Dudley, J. Ferguson, S. Chiocci, G. Proy
Out: M. Cann, S. Livingstone, A. Curley