In the days after each of the Magpies' VFL games, Collingwood Media will take a look at some of the eye-catching performers, with a focus on the players who were emergencies for the AFL team and youngsters on the rise. Here's our look at the VFL Pies' win over Geelong at the Holden Centre on Sunday...
Jarryd Blair
Was among the emergencies for the AFL clash with the Cats but wasn't required after Ben Crocker won the nod to replace Scott Pendlebury and Josh Daicos was made the carry-over emergency (the player held back from VFL duties in case of a pre-game injury in the AFL side). Blair his chances of earning a recall to the AFL team no harm at all by performing strongly at the Holden Centre, winning plenty of the ball and hitting the scoreboard. Topped off his afternoon by kicking the winning goal.
Stats summary: 27 disposals (63% efficiency), seven clearances, five tackles, two goals
Alex Fasolo
Also an emergency for the AFL clash with the Cats, Fasolo showed good signs in the thrilling VFL win. Won praise from VFL coach Jared Rivers for showing great composure in the frantic final minutes.
Stats summary: 25 disposals (80% efficiency), nine marks, two goals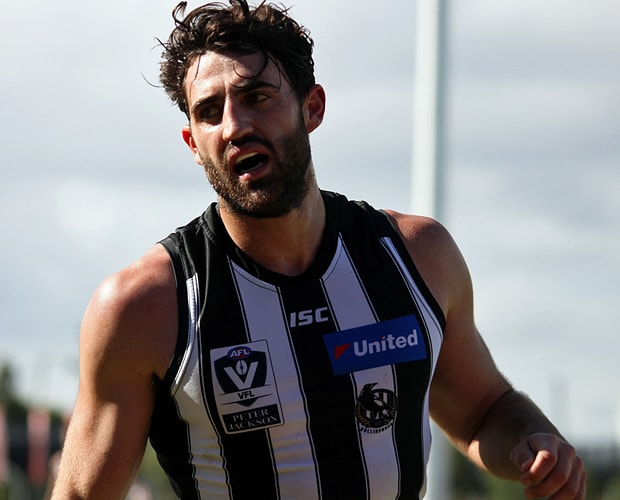 Alex Fasolo in action against the Cats
Levi Greenwood
Played in the backline for the second week running and looked right at home. Pushed up the ground when required as the Magpies worked hard to lock the ball in their forward line.
Stats summary: 17 disposals (59% efficiency), six marks, three inside-50s
Brayden Sier
Continued to push his case for a call-up to the AFL team by racking up plenty of the ball (he had 16 handballs in his tally of 24 disposals) and doing plenty of the hard stuff. Was on fire in the first quarter as Collingwood piled on six goals to one. With injuries impacting the AFL side, he is waiting in the wings if a chance presents itself.
Stats summary: 24 disposals (58% efficiency), five clearances, three tackles, four inside-50s
Rupert Wills
Like Sier, Wills was in the thick of the action as the Magpies made a flying start. And he ran out the game well, finishing with a total of 29 disposals, which included 21 handballs.
Stats summary: 29 disposals (72% efficiency), six tackles, four rebound-50s
Full Player Statistics
VFL Round Six v Geelong
1. Alex Fasolo
14 kicks, 9 marks, 11 handballs, 25 disposals, 1 clearance, 2 inside 50s, 2 rebound 50s, 1 tackle

5. Jamie Elliott
0 kicks, 0 marks, 1 handball, 1 disposal, 0 clearances, 1 inside 50s, 0 rebound 50s, 0 tackles

11. Jarryd Blair
11 kicks, 1 mark, 16 handballs, 27 disposals, 7 clearances, 3 inside 50s, 0 rebound 50s, 5 tackles

19. Levi Greenwood
12 kicks, 6 marks, 5 handballs, 17 disposals, 0 clearances, 3 inside 50s, 1 rebound 50, 1 tackle

23. Sam McLarty
5 kicks, 0 marks, 4 handballs, 9 disposals, 2 clearances, 2 inside 50s, 1 rebound, 1 tackle, 10 hitouts

28. Nathan Murphy
12 kicks, 5 marks, 5 handballs, 17 disposals, 1 clearance, 2 inside 50s, 1 rebound 50, 0 tackles

33. Rupert Wills
8 kicks, 3 marks, 21 handballs, 29 disposals, 3 clearances, 2 inside 50s, 4 rebound 50s, 6 tackles

34. Tyler Brown
6 kicks, 3 marks, 10 handballs, 16 disposals, 0 clearances, 1 inside 50, 4 rebound 50s, 2 tackles

36. Brayden Sier
8 kicks, 1 mark, 16 handballs, 24 disposals, 5 clearances, 4 inside 50s, 0 rebound 50s, 3 tackles

41. Brody Mihocek
15 kicks, 9 marks, 8 handballs, 23 disposals, 0 clearances, 2 inside 50s, 1 rebound 50, 0 tackles

43. Adam Oxley
13 kicks, 6 marks, 9 handballs, 22 disposals, 3 clearances, 5 inside 50s, 2 rebound 50s, 3 tackles

44. Jack Madgen
7 kicks, 6 marks, 13 handballs, 20 disposals, 0 clearances, 0 inside 50s, 5 rebound 50s, 1 tackle

47. Gus Borthwick
7 kicks, 3 marks, 9 handballs, 16 disposals, 1 clearance, 3 inside 50s, 1 rebound 50, 7 tackles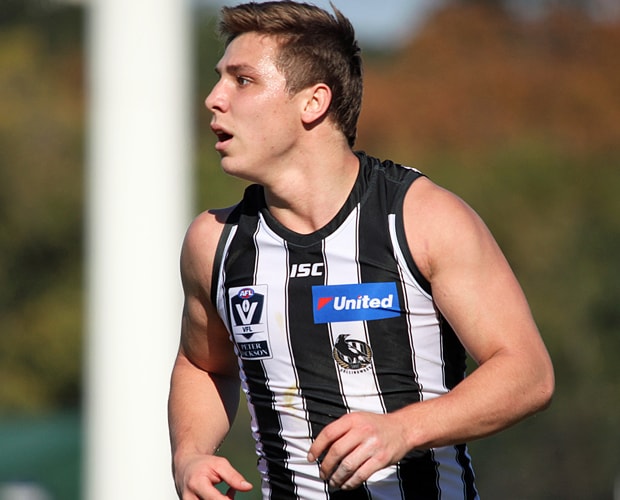 Gus Borthwick was as reliable as ever in the thrilling win over the Cats

48. Lachlan Tardrew
7 kicks, 3 marks, 9 handballs, 16 disposals, 1 clearance, 1 inside 50, 0 rebound 50s, 3 tackles

49. Michael Chippendale
10 kicks, 6 marks, 7 handballs, 17 disposals, 1 clearance, 4 inside 50s, 0 rebound 50s, 0 tackles

51. Marty Hore
17 kicks, 7 marks, 2 handballs, 19 disposals, 0 clearances, 2 inside 50s, 7 rebound 50s, 0 tackles

53. Jack Hellier
6 kicks, 1 mark, 5 handballs, 11 disposals, 2 clearances, 2 inside 50s, 0 rebound 50s, 5 tackles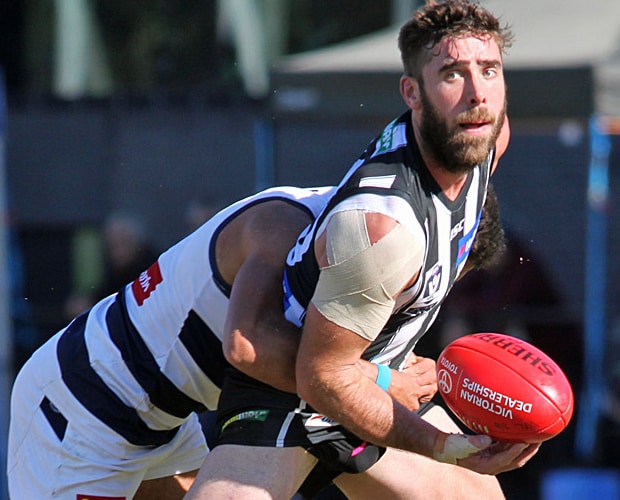 Jack Hellier battled hard all game

54. Andrew Gallucci
11 kicks, 3 marks, 8 handballs, 19 disposals, 2 clearances, 3 inside 50s, 0 rebound 50s, 3 tackles

61. Sean Heatherington
13 kicks, 4 marks, 10 handballs, 23 disposals, 2 clearances, 3 inside 50s, 1 rebound 50, 1 tackle

63. Callan Wellings
11 kicks, 2 marks, 11 handballs, 22 disposals, 8 clearances, 5 inside 50s, 1 rebound 50, 11 tackles

65. Lachlan Howe
7 kicks, 2 marks, 4 handballs, 11 disposals, 2 clearances, 3 inside 50s, 1 rebound 50, 4 tackles, 24 hitouts

67. Matthew Smith
7 kicks, 4 marks, 9 handballs, 16 disposals, 0 clearances, 1 inside 50, 1 rebound 50, 3 tackles

69. Jack Blair
3 kicks, 3 marks, 10 handballs, 13 disposals, 1 clearance, 1 inside 50, 0 rebound 50s, 7 tackles

Collingwood 6.7 8.7 12.11 13.13 (91)
Geelong 1.3 5.3 8.6 13.9 (87)

Goals – Collingwood: Gallucci 4, McLarty 2, Fasolo 2, Jarryd Blair 2, Chippendale, Hellier, Jack Blair
Geelong: McCarthy 2, Stanley 2, Dobson 2, Jones, Abbott, Black, Miers, Atkins, O'Connor, Narkle

Best – Collingwood: Gallucci Jarryd Blair, Hore, Mihocek, Oxley, Hetherington
Geelong: Abbott, McCarthy, Hayball, Kol, Simpson, O'Connor

At the Holden Centre