Paul Robinson is one of the men behind the cult social media channels 'The Carlton Draft' and 'The Ressies Footballer'.

His Black and White passion is unquestionable, and the views represented in this article are solely his own and not representative of the Collingwood Football Club.

I am a (sometimes irrational) believer of omens in football, and the Bulldogs delivered a sensational one for us on Friday night.

There's no shame in going 21-1 on the way to your sixteenth premiership. And just like they did to Essendon in 2000, the Bulldogs have recorded a minor scuff on Collingwood's near perfect eventual premiership season. Enjoy the next couple of months Pie fans… It's going to be a good ride!

I have very little thoughts or recollection of the match – something I blame on beer (those froffies hit me harder than a Nicola Stevens bump) and a selective memory when it comes to Collingwood losing. However, Alex Fasolo did enough against the Dogs to prove he has what it takes to do the Coleman/Brownlow double this season. I'll just congratulate him now and get it out of the way, congrats Faz.

That's about as much thought as I have on what is going to be our only hiccup for the year.

A more important matter occupying my thoughts this week is the 'Clinton King Cup' which is up for grabs when we take on the team who avoids finals like the plague – Richmond. They're the stereotypical snot-nosed little brother that tries to copy his much bigger and better older brother.

We show interest in signing Adam Treloar, then they show interest in signing Adam Treloar.

We have the best club song in Australia, they claim to have the best club song in Australia.

I'm sure it must be embarrassing for them, always stuck in the older brother's shadow. Let's just be thankful that for the past fifteen years it seems they've been caught on trying to copy our 1999 wooden spoon season.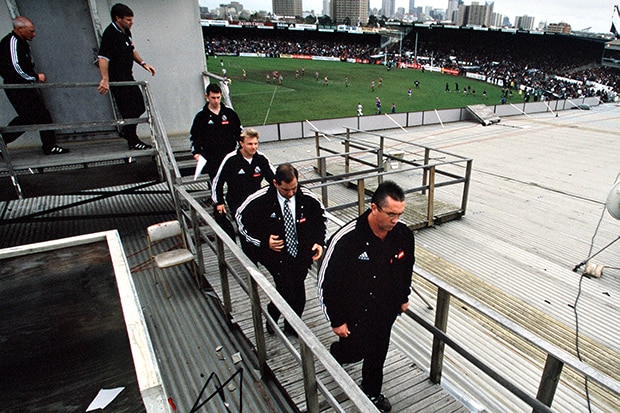 1999 was a miserable season for Collingwood players, coaches and fans alike.

I've got so many good memories when it comes to watching the Magpies play the Tiges over my life that I can't narrow one moment as my favourite. Though, if you're after some good, nostalgic viewing I suggest phoning Name-a-Game and getting these two matches on VHS:

Round 19 in 1999: We were stuck at the foot of the ladder and still managed to put an end to Richmond's slim final hopes. This game stands out like a Collingwood supporter in the MCC section in my eyes… Nathan Buckley dominated, Anthony Rocca kicked four and Mark Richardson (blast from the past) had 26 touches, took seven marks and dominated Brendon Gale in the ruck. At the time, despite the emotion stirring win, not even the most one-eyed supporter would have thought we were only 72 matches away from a Grand Final appearance.

Round 3 in 2007: Alan Toovey kicked three, Tarkyn Lockyer had 32 disposals and Simon Prestigiacomo uncharacteristically took his disposal count to double figures (11)… Oh and we kicked 13 goals to Richmond's five in the second half to storm home to a four-goal win. Toovey, Shannon Cox and Brad Dick all debuted under the bright lights of the MCG and performed strongly. Despite only beating the team that finished bottom that year by four goals, we were heading in the right direction and Richmond were still figuring out how to work the compass.

That's just how it's going to go on Thursday. We'll play, we'll win and then we'll take on Sydney in the 'Schauble Shield.'

My prediction: The Woods by 42 points, Henry Schade to keep Nick's cousin to only one goal and Taylor Adams and Treloar to notch 70 disposals between them (again).

MORE:

'Everything in my life is Collingwood'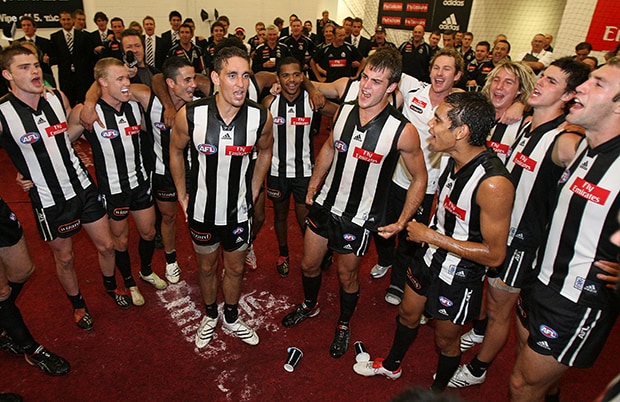 Shannon Cox, Alan Toovey and Brad Dick taste victory for the first time after smashing Richmond in round three, 2007.