It was the game that brought to an end decades of September heartbreak.

When Collingwood overcame Melbourne in the 1958 Grand Final, not a single member of the Magpies 1990 Premiership side was born.

32 years and eight devastating Grand Final losses later, the likes of Tony Shaw, Peter Daicos, Tony Francis and Darren Millane would become premiership heroes.

And now, to celebrate the 25th anniversary of the 1990 Premiership, their stories are on display to Collingwood members and supporters like never before.

COLLINGWOOD FOREVER: CLICK HERE TO READ THE MATCH REPORT FROM THE FAMOUS WIN.

The Collingwood Football Club has collected an inspiring range of memorabilia which is currently being displayed in the club's Olympic Park headquarters.

The display includes a number of items which have never been in public display before, including:
The official team sheets and scores;
Shaw's Norm Smith Medal, Premiership Medal and 1990 Copeland;
The match ball that was in Millane's hands when the final siren sounded;
Gavin Crosisca's match-day uniform, including his jumper, boots, shorts and socks;
Jumpers worn by Damian Monkhorst and Shane Morwood.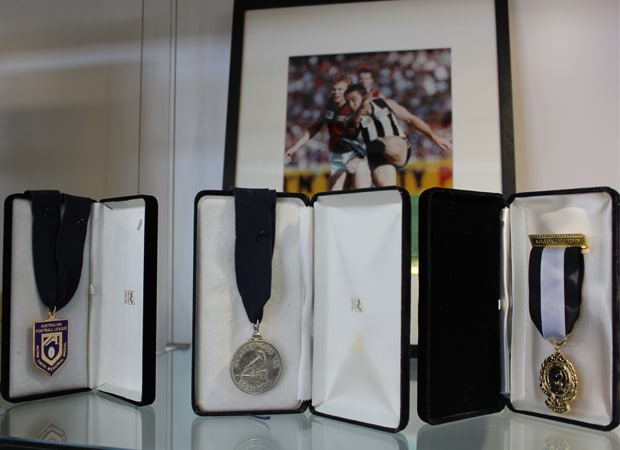 The medallions collected by Tony Shaw for his 32-disposal performance in Collingwood's 1990 Grand Final triumph.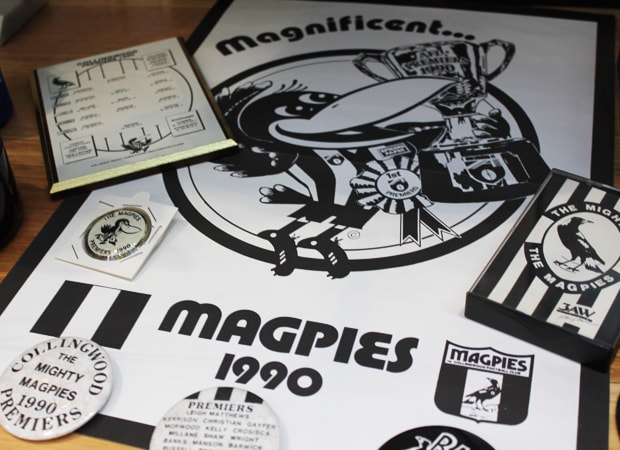 Magnificent Magpies: A sample of the memorabilia on display at Collingwood's 1990 Premiership exhibition.
25 years have passed yet memories will last a lifetime.

The boots of 'Mr Magic' Daicos conjure recollections of two exciting goals – his 96th and 97th of the season.

Re-live the quarter-time all-in brawl with exclusive photos of Team Manager Eddie Hillgrove grappling with Essendon officials.

Step into the mind and view the playing guernsey of Monkhurst, Collingwood's ruckman and second youngest player in the side.

Cast your mind back to that glorious first Saturday in October, with the opportunity to soak up all the game highlights and stand side by side with the 1990 Premiership Cup.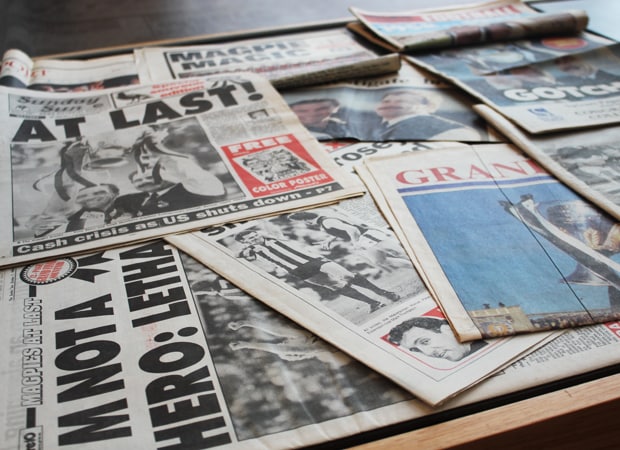 Magpie-mania took over the Australian press after millions tuned in watch Collingwood's drought-breaking premiership.

98,944 crammed into the MCG yet 70 million others watched on their television screens in Australia and abroad.

No matter where you were when Millane held the ball aloft as the final siren sounded, this unique exhibition is a must-see.

25 years on, celebrate the day the Colliwobbles were banished as if it was yesterday.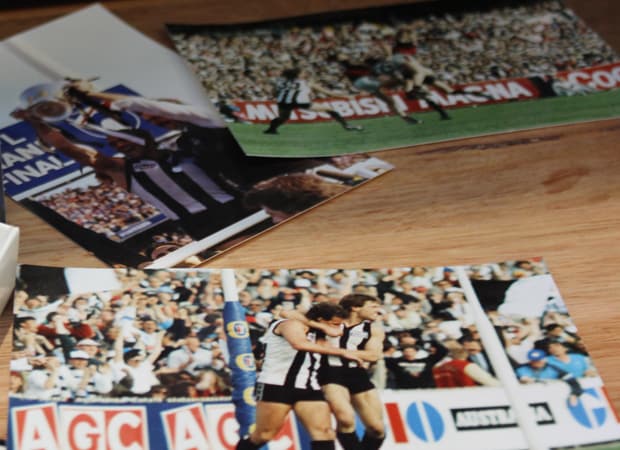 A sample of photographs capturing the action from Collingwood's 48-point victory over Essendon.