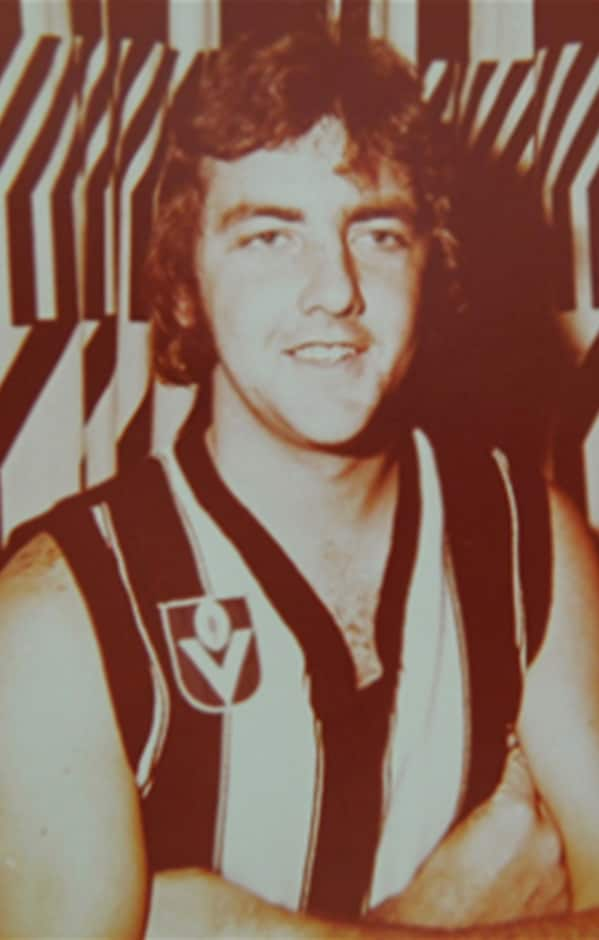 Collingwood has a rich tradition of blooding teenagers earlier than expected, with at least 13 Magpies players making their debut before their 17th birthdays.
Some went on to become stars; others shone briefly before fading from the scene.
For one of them, Stephen Clifford, dealing with the glare of the spotlight came moments after the shock of finding out he was selected to play for Collingwood in the Round 18 clash with Carlton in 1973. He was 16 years and 320 days old on game day.
The elevation had come as a shock. He hadn't know he was playing until he heard a scream from his sister Leonie's room in the family's West Heidelberg home on the Thursday night, and went to investigate the commotion.
His younger sister had been listening to the radio and heard her brother named on the half-forward flank for the big game against the Blues.
That led soon after to a photographer and reporter from the Sun News-Pictorial knocking on the door step. It ended up resulting in a front page story and a photo the following day, smashing any sense of anonymity he had previously had.
"I was probably too young," Clifford would recall years later.
He would go on to play 38 games for Collingwood across six seasons, including three finals before he had even turned 19.
But for as much promise as he showed in black and white - and the outstanding record he had when playing in the seconds - Clifford couldn't quite turn his talent into the successful VFL career that seemed assured from the start.
It would take a different club in a different state - but with the same Magpies' moniker - for Clifford to finally get the team and individual rewards he wanted.
He began playing football as a 12-year-old with Banyule and showed enough talent by the time he was 16 to attract the interest of Fitzroy official Arthur Wilson. An invitation to train with the Lions was rebuffed by Collingwood, as he was residentially zoned to Collingwood.
His first year at Victoria Park was like a whirlwind. He ended up playing eight games in Collingwood's under 19s, eight games in the reserves and squeezed in two in the seniors, including his debut.
Lou Richards, who had to wait until he was 18 to play senior football for Collingwood more than 40 years earlier, offered Clifford some early advice.
Richards wrote in The Sun: "Fancy picking a 16-year-old against Carlton? That's like asking Germaine Greer to give your boy a talk about the 'bird and the bees'. Or teeing him up with a date with Brigitte Bardot.
"Young Stephen Clifford will learn the facts of football life in a heck of a hurry at Victoria Park this afternoon."
Clifford would later say: "Playing my first senior game against Carlton at Victoria Park before a packed house (37,660) in 1973 was a great moment."
He wasn't overawed, having 18 disposals on debut. He missed out the following week, but returned for the Round 20 clash with Richmond, with eight possessions.
Given how strong Collingwood's team was at the time, it wasn't a surprise he missed selection in the finals series, but consolation came when he won the Magpies' reserves best and fairest award.
Clifford made it back-to-back reserves best and fairests the following year, but went one further when he also claimed the Gardiner Medal as the second tier competition's best player.
That year he also made inroads on cementing a spot in the Collingwood senior line-up, particularly late in the 1974 season, when he briefly displaced Barry Price from his customary centre role, with Price shifting out to a wing for a few games.
Clifford played 12 senior games in 1974 - the most he would play in any one season for Collingwood - with one of his best performances coming in the club's elimination final win over Footscray.
"It was a big thrill," he would say at the time.
"I expected I would stay in the reserves this year. I thought I might have to wait until someone was hurt to make the seniors. I never thought I would get into the centre while Barry Price was available."
Teammate Wayne Richardson praised him in The Age, saying he was one of the band of youngsters "whose performance personified our comeback."
But each time it looked as if Clifford would cement a spot, it wasn't to be, for various reasons.
He would only play 10 senior games in Collingwood's 1976 wooden spoon year, with his best performance coming in a 31-disposal, one-goal effort against South Melbourne in Round 13.
Described as "not quick, but tough, combative, skilful, and a thumping kick", he sensed his time at Victoria Park was limited.
After playing two early games in 1977, he was "very discontented" when sent back to the reserves, so he sought a release to Preston in the VFA and played there on lease for the rest of the season. He was coaxed back to Collingwood for two more senior games, with his last against Essendon (he had 15 disposals and kicked a goal) in Round 2, 1978.
He would lament: "Not establishing myself as a regular player at Collingwood was very disappointing. I had enough ability but I couldn't capitalise on my opportunities." He began to look around for other options after 38 games and 13 goals.
Fortuitously, he recalled, "Port Adelaide rang me and after watching me in one game I found myself moving to Adelaide."
While he never quite managed to settle into a role at Victoria Park, it was a very different story at Alberton, the Port Adelaide Magpies' home in the SANFL.
Clifford would become one of the leading forces in Port Adelaide's successful teams, finding a role and a new home with his new club.
He won Port Adelaide's best and fairest in his first year at the club (1978), having the distinction of playing for both Magpies (Collingwood and Port Adelaide) in the same season, and he would add to that with two more club champion awards in 1980 and 1983.
Better still, he won three premierships with the SA Magpies, a hat-trick of wins from 1979-1981 - all in years in which the Victorian Magpies lost Grand Finals.
One Port insider once called him: "the best Victorian import in the post-war era".
He would become a Port Adelaide crowd favourite, being described variously as "cheeky and brave", "the heart and soul" of the club and "a knockabout larrikin", even if opposition teams didn't like the midfielder's hard, uncompromising approach.
Like the day at Elizabeth, where he was escorted off the ground with a police escort after Central District fans wanted a piece of him. The Adelaide Advertiser once said of him: "The way he ran, barrel-chested and chin stuck out, it was like he was asking for some 'biffo'."
He didn't care, once saying: "You took one and you gave one ... I didn't mind it."
It was at Port Adelaide where he got the nickname he still carries - 'Bomber' - after a local barber gave him a close cut that some suggested it looked as if he was wearing a bomber helmet.
In the end, Clifford played 162 games with Port Adelaide, and it would have been more but for two broken ankles and a handful of other injuries.
He didn't quite find a home at Collingwood, but at least he managed that with Port Adelaide.
And fittingly, his overall VFL-SANFL games tally neatly added up to 200 games, a fitting testament to the kid who made the front page of the paper even before his first VFL game.