Following an early morning training session on Tuesday, Nick Maxwell, Dale Thomas, Alan Toovey, Alan Didak and Tyson Goldsack spent the afternoon visiting kids at The Royal Children's Hospital in Melbourne.

The five players who did not travel to Utah helped bring smiles to the faces of sick kids and their families, while converting a few to Collingwood supporters in the process.

The visit was especially poignant for Alan Didak and Nick Maxwell who have both recently become fathers.

Maxwell said meeting the kids and their families really helps put things into perspective.

"You can't help but admire the strength of these families and especially of the kids who are patients at the Royal Children's; it's such a rewarding and humbling experience for us to be able to spend a bit of time with them.

"Being a father myself I can't even comprehend seeing one of my children in such a situation. The kids though are so inspiring; many of them don't even know any different and just keep fronting up for the next round of chemo or the next operation without a word of complaint.

"We could all do a lot worse than take their lead when something isn't going right in our own lives and understand that maybe our problems aren't that big of a deal".

The players were a big hit at the hospital, particularly Thomas and Goldsack who are both on crutches following pre-season surgery and could identify with some of the patients.

This is the seventh year that the Collingwood players have visited The Royal Children's Hospital as Christmas.
 
Click here to donate to The Royal Children's Hospital Foundation.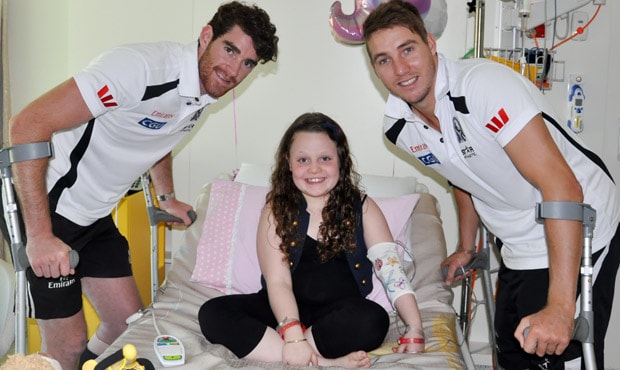 Tyson Goldsack and Dale Thomas help bring a smile to the face of a young patient at Melbourne's Royal Children's Hospital.