For Brent Macaffer, 2013 is a new beginning.
Gone are the injuries that have restricted him to only four games since the 2010 Grand Final replay. Gone is the beard that he grew during his rehabilitation from a knee reconstruction.
And gone is his number 30, as worn in the 2010 premiership.
In its place is the number three – the number last worn by the late John McCarthy in his final three years at Collingwood.
For Macaffer, one of McCarthy's closest mates during his time at the club, the chance to don 'J-Mac's old number is a way of honouring the past while forging a brighter future.
"I was thinking about changing numbers at the start of the pre-season," Macaffer explained to
collingwoodfc.com.au
.
"Just before Christmas, obviously with J-Mac passing and him wearing the number three it was the last number he wore before he left, he was a really close mate of mine.
"Before I got to ask Bucks, he called me up and actually asked if I wanted to take that number. It was a nice gesture of him as well, I suppose, to think of me and to do that.
"I straight away said that yeah, absolutely I'd love to do that, and to wear the number and sort of represent him on behalf of the boys.
"That was the number he wore last so I feel really humbled and privileged to do that."
Historically, premiership players are loath to change their winning number for it develops a magical awe in the minds of players and fans alike in the afterglow of the triumph.
But the challenges Macaffer has faced since he kicked two goals in the 56-point win over St Kilda in October 2010 meant that the decision to change didn't require much consideration.
"I thought about that briefly but I thought I've had a bit of a bad run in the last couple of years as well.
"It could be a good change up also on top of the whole J-Mac thing, you know, to get out of there and try my luck of number three as well. That had a little bit of a role to play in it as well.
"It's exciting to change numbers and see what luck I can have with it."
Not too many players can lay claim to having worn three different numbers during their time at the one club.
In switching to number three, Macaffer joins Nick Maxwell (numbers 41, 43, 27 and 5), Harry O'Brien (43, 30 and 8) and Marty Clarke (43, 18 and 9) as the only players on the current list to have worn more than two numbers in their time at Collingwood.
"This is the last time I'll be changing," he admits.
"Hopefully I can stay with this for a few years until the end of my career. I started in number 45, spent a couple of years at 30 and won a premiership with that number which was great."
"Hopefully I can do the same again with number three."
McCarthy's old number was dormant in 2012. It was originally to be worn by Andrew Krakouer, but the small forward switched back to his old number seven before the season began.
It means that the only number out of use in 2013 will be 42. The number was retired indefinitely after the passing of Darren Millane in October 1991. Millane had made the number famous during his 147 game career, and it has not been assigned to any Collingwood player in the years since.
The only other change to the club's jumper numbers for the 2013 season sees Jamie Elliott shift from the No. 35 to No. 19 (recently worn by Cameron Wood, Ben Davies and Andrew Williams).
Elliott wore No. 35 in his debut season in 2012 as per the new custom which sees the club's top draft choice don the number worn by Simon Prestigiacomo (as well as the great Peter Daicos) to instruct them in "the responsibility of teamsmanship, commitment to the club and professionalism".
His jumper has now been handed over to 18-year-old ruckman Brodie Grundy who was recruited with Collingwood's first selection in last November's National Draft.
Rover Ben Kennedy will take the No. 27 worn most recently by Simon Buckley, Jarrad Blight and John McCarthy, Broomhead has been assigned No. 29 as previously worn by Jonathon Ceglar, Ryan Cook and Matthew Lokan, and Jackson Ramsay has received Chris Dawes' No. 31 (worn previously by John Anthony, Billy Morrison and Luke Shackleton).
As for the rookies, the much-travelled Ben Hudson will wear No. 25, recently worn by another ruckman in Josh Fraser as well as Tom Young (2001-2012) and Cameron Venables.
In a strange quirk of numerical fate, Hudson is one of four Ben's to share a locker next to one another, with a fifth (Ben Richmond, who will wear No. 30 recently worn by Brent Macaffer, Toby Thoolen and Harry O'Brien) to be separated from the group by Tim Broomhead (No. 29).
Ex-Frankston centreman Kyle Martin takes over the No. 37 previously worn by Kirk Ugle, Luke Rounds and Sam Iles, Sam Dwyer will wear No. 41 as donned by Daniel Farmer, Simon Buckley and Kevin Dyas, Adam Oxley has taken over No. 43 from Trent Stubbs, Jaxson Barham and Marty Clarke and Jack Frost received No. 45 which was most recently worn by Lachlan Smith, Tom Hunter and Toby Thoolen.
As announced last year, Jordan Russell will wear No. 2 (as he did during his time at Carlton), Quinten Lynch will continue to wear the No. 21 he wore at West Coast and Clinton Young has taken over No. 14 from Luke Rounds.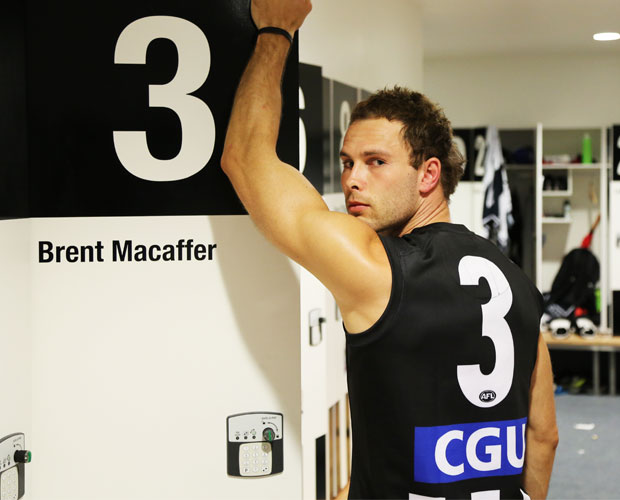 Brent Macaffer proudly shows off his new jumper and locker, bearing the number three last worn by John McCarthy.
Collingwood's 2013 Playing List
1.
Alex Fasolo
2.
Jordan Russell
3.
Brent Macaffer
4.
Alan Didak
5.
Nick Maxwell
6.
Tyson Goldsack
7.
Andrew Krakouer
8.
Harry O'Brien
9.
Martin Clarke
10.
Scott Pendlebury
11.
Jarryd Blair
12.
Luke Ball
13.
Dale Thomas
14.
Clinton Young
15.
Jarrod Witts
16.
Nathan Brown
17.
Dayne Beams
18.
Darren Jolly
19.
Jamie Elliott
20.
Ben Reid
21.
Quinten Lynch
22.
Steele Sidebottom
23.
Lachlan Keeffe
24.
Josh Thomas
25.
Ben Hudson*
26.
Ben Johnson
27.
Ben Kennedy
28.
Ben Sinclair
29.
Tim Broomhead
30.
Ben Richmond*
31.
Jackson Ramsay
32.
Travis Cloke
33.
Jackson Paine
34.
Alan Toovey
35.
Brodie Grundy
36.
Dane Swan
37.
Kyle Martin*
38.
Peter Yagmoor*
39.
Heath Shaw
40.
Paul Seedsman
41.
Sam Dwyer*
42.
Retired
43.
Adam Oxley*
44.
Corey Gault
45.
Jack Frost*
46.
Marley Williams
47.
Michael Hartley*
48.
Caolan Mooney*
*Denotes rookie