Collingwood's VFL coach Jared Rivers says his side will bounce back from its disappointing performance to Williamstown after learning valuable lessons from the heavy defeat.

On a scrappy day for both teams, the Magpies were outclassed and outrun by the third-placed Seagulls, going down 9.10 (70) to 20.10 (160) at Victoria Park.

Rivers says his players were "taught some lessons" by their opposition.

"Williamstown bring the contest every week and they play team football. We were taught a lesson today," the first-year coach told Collingwood Media post-game.

"We were taught how hard you need to work for each other. It's a really good lesson for the group.

"It's good for those younger guys to see what needs to be done to compete against the best."

After netting three wins in a row – and claiming two top-four scalps along the way – the Magpies struggled to put together the "four-quarter effort" against the red-hot Seagulls.

"We've had a really good patch of form, but maybe this (loss) was something that we needed."

"We've showed resilience, care and passion in the past three weeks…and we had started to earn a little bit of respect internally and from the outer competition, but today we didn't turn up.

"That's football. You ride the highs and the lows. We'll review the game pretty strongly this week."

Following the opening term, Williamstown dominated the general play, and capitalized on the scoreboard. After two goals apiece at the quarter-time siren, the Seagulls piled on 18 goals to Collingwood's eight to run away with the 60-point victory.

Rivers said there were players who could hold their heads high despite the disappointing loss.

"We had too many passengers on the day, but there were boys who stood up."

"Rupert (Wills) tried really hard. Jackson Ramsay did a lot of work down back.

"The skipper (Jack Hellier) worked hard to give us the opportunities from the middle and he kicked two goals as well."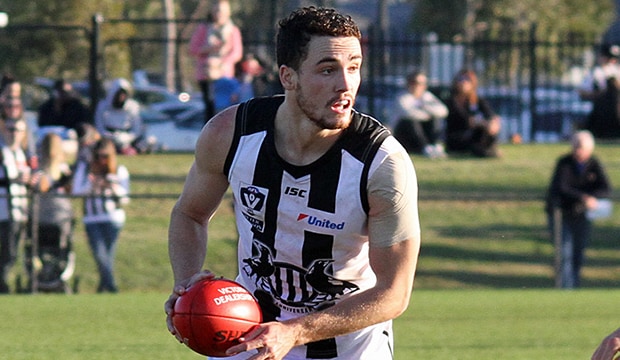 Ramsay was one of the better performing Magpies in their 60-point loss to the Seagulls. Photo: Shane Barrie.

But there was one player who perhaps stood out the most on a dirty day for the Pies, and he reaped the respect from his coach in doing so.

"Marty Hore was brilliant today," Rivers said.

"He just seems to mark everything that comes his way. His aerial work is super impressive.

"He's probably been one of our best defenders all year and it's great to see.

"He works really hard on his game and he is a young kid who is keen to get better."

On a tough day at the office for the VFL Pies, Rivers said the 21-year-old running defender was a "shining light".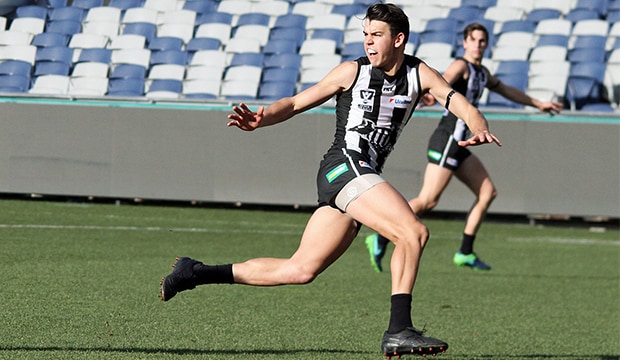 The young defender has been impressive all season for Rivers' VFL Pies. Photo: Shane Barrie.

Following the result, Williamstown catapulted into first position on the VFL ladder, while the Magpies settle for 12th spot, sitting only a game out of contention for the top eight.

And with five games remaining in the season, Rivers wants his players to get back to basics.

"We got smashed in contested possession today, which has been a real driver for us over the past month."

"I want us to get back to the way we really want to play.

"That's focusing on effort, the chase, the tackle and the pressure."

The next challenge comes in the form of Richmond's VFL side, who sit fourth on the ladder with eight wins.

The two sides clash on Sunday morning, from 10:20am at Punt Road Oval.

Collingwood: 2.2 3.3 7.5 10.10 (70)
Williamstown: 2.3 8.7 14.8 20.10 (130)

GOALS
Collingwood: White 2, Hellier 2, McLarty, Mayne, Ramsay, Lynch, Daicos, Kirby
Williamstown: Gibbons 4, Davies 3, Cavarra 3, Dunell 3, Schultz 2, Cordy 2, Marcon 2, Masters

BEST
Collingwood: Hore, Hellier, Ramsay, Wills, Tardrew, Lane
Williamstown: Gibbons, Charleston, Wheeler, Cavarra, Pickess, Meese

VFL ROUND 13
Collingwood v Williamstown
Saturday 15 July, 1pm
Victoria Park