Collingwood is set to take the oldest list in the League into what shapes as a pivotal 2020 campaign.
After last week's NAB AFL Draft, Champion Data stats reveal that Collingwood's average age of 24.88 years narrowly shades that of West Coast (24.80 years), Hawthorn (24.66) and North Melbourne (24.66) as the oldest in the competition.
Its squad also averages 75.93 games between them, which makes it the fourth most experienced list. Only Geelong (80.72 games), Hawthorn (80.25) and West Coast (77.89) average more.
Collingwood's list will include six players over the age of 30 by the start of next season, including captain Scott Pendlebury (pictured) and fellow veterans Travis Varcoe, Chris Mayne, Levi Greenwood, Ben Reid and Dayne Beams.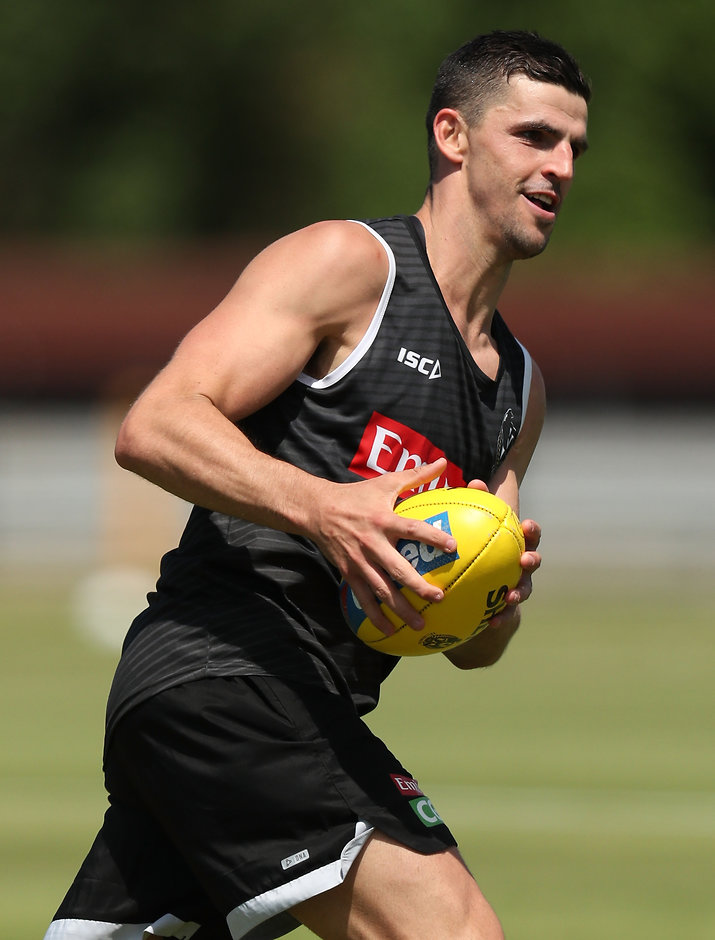 It also features nine players with more than 150 games worth of experience, with only Geelong, Hawthorn, West Coast and Richmond enjoying the luxury of having more experience.
At the other end of the spectrum, Gold Coast's dramatic list rebuild is reflected by the Suns having both the youngest list (23.41 years) and the least experienced list (52.08 games) in the competition.
Gold Coast, who added first-round draft picks Matt Rowell, Noah Anderson and Sam Flanders to last year's top-six selections in Jack Lukosius, Izak Rankine and Ben King, has only three 30-year-old players and only three 150-game players on its list.
Brisbane, Fremantle and Sydney are the next youngest lists in the competition, with all three having an average age of just 23.54 years each.
Having just recruited three top-10 draft picks in Hayden Young, Caleb Serong and Liam Henry, Fremantle has the least experienced list behind Gold Coast.
Justin Longmuir's side averages just 54.11 games each, with Sydney (55.60 games) and Brisbane (56.15 games) also lacking experience.
Club-by-club age breakdown

| | | | | | |
| --- | --- | --- | --- | --- | --- |
|   | Average Age | 18-21yo | 22-26yo | 27-29yo | 30+ |
| 1. Collingwood | 24.88 | 15 | 16 | 8 | 6 |
| 2. West Coast | 24.8 | 14 | 15 | 11 | 4 |
| 3. Hawthorn | 24.66 | 19 | 13 | 5 | 7 |
| 4. North Melbourne | 24.66 | 14 | 15 | 12 | 3 |
| 5. Geelong | 24.65 | 21 | 8 | 10 | 7 |
| 6. GWS | 24.56 | 16 | 18 | 6 | 5 |
| 7. St Kilda | 24.3 | 13 | 24 | 5 | 3 |
| 8. Essendon | 24.19 | 13 | 20 | 6 | 3 |
| 9. Richmond | 24.01 | 18 | 13 | 9 | 4 |
| 10. Western Bulldogs | 23.99 | 14 | 21 | 7 | 4 |
| 11. Port Adelaide | 23.9 | 20 | 12 | 9 | 4 |
| 12. Adelaide | 23.87 | 17 | 16 | 7 | 3 |
| 13. Melbourne | 23.86 | 13 | 22 | 5 | 3 |
| 14. Carlton | 23.75 | 16 | 20 | 3 | 6 |
| 15. Brisbane | 23.54 | 21 | 16 | 5 | 4 |
| 16. Fremantle | 23.54 | 20 | 16 | 8 | 1 |
| 17. Sydney | 23.54 | 20 | 16 | 6 | 3 |
| 18. Gold Coast | 23.41 | 19 | 18 | 9 | 3 |
*Ages at round one, 2020
Club-by-club matches breakdown

| | | | | | | |
| --- | --- | --- | --- | --- | --- | --- |
|   | Matches | <20 | 21-50 | 51-100 | 101-150 | 151+ |
| 1. Geelong | 80.72 | 19 | 7 | 5 | 3 | 12 |
| 2. Hawthorn | 80.25 | 19 | 3 | 8 | 2 | 12 |
| 3. West Coast | 77.89 | 14 | 10 | 5 | 3 | 12 |
| 4. Collingwood | 75.93 | 18 | 5 | 7 | 6 | 9 |
| 5. Port Adelaide | 69.02 | 22 | 2 | 7 | 6 | 8 |
| 6. North Melbourne | 68.95 | 18 | 5 | 7 | 8 | 6 |
| 7. GWS | 68.87 | 17 | 6 | 8 | 7 | 7 |
| 8. Richmond | 68.82 | 20 | 5 | 7 | 2 | 10 |
| 9. Carlton | 64.33 | 17 | 8 | 11 | 3 | 6 |
| 10. Essendon | 62.83 | 15 | 6 | 11 | 5 | 5 |
| 11. St Kilda | 62.2 | 18 | 8 | 8 | 6 | 5 |
| 12. Melbourne | 60.42 | 17 | 6 | 11 | 6 | 3 |
| 13. Adelaide | 59.19 | 21 | 5 | 5 | 6 | 6 |
| 14. Western Bulldogs | 57.67 | 17 | 9 | 7 | 10 | 3 |
| 15. Brisbane | 56.15 | 21 | 7 | 6 | 6 | 6 |
| 16. Sydney | 55.6 | 18 | 9 | 8 | 6 | 4 |
| 17. Fremantle | 54.11 | 18 | 9 | 11 | 3 | 4 |
| 18. Gold Coast | 52.08 | 21 | 9 | 8 | 8 | 3 |