Paul Robinson is one of the men behind the cult social media channels 'The Carlton Draft' and 'The Ressies Footballer'.

His Black and White passion is unquestionable, and the views represented in this article are solely his own and not representative of the Collingwood Football Club.

It has been (probably) scientifically proven Collingwood has the most comprehensive list of cult heroes of any team in the history of the AFL.

The Cultpies isn't for the Nathan Buckley's, Bob Rose's or Scott Pendlebury's of the world. It's a 'NO SUPERSTARS ALLOWED' set-up here.

The types catered for are more along the lines of the Mark 'Angry Dad' Orval type, and the 'Mighty' Rupe Betheras mould.

The forward-line is the Hollywood of the side. The glitz, glamour and some all-time greats of the game.

Big names, big personalities and big bags of goals. Yes, this part of the team will do their best work on Saturday's after 2:00pm… But really that's why Friday night games were invented.

HF: Phil Carman, Lee Walker, Heath Sheppard
FF: Mark Orval, James Manson, Chris Egan

'Fabulous' Phil Carman:
Many Collingwood fans thought they'd never see the day Phil Carman wear the Black and White. He was somewhat of a myth from across the border that was promised to be at the Pies 'next year' for what felt like an eternity. No one would have expected the impact he made when he finally crossed over.

Carman was a true individual. A rock star on the field and a quietly spoken, humble individual off it. A rebel without a cause, and although not quiet to the same extreme as James Dean – he too burnt out before fading away.

No player in just 66 games has made more of an impact than Carman. You could try to sum him up with stats, figures and numbers… But it would do no justice. A short tale from Matt Watson's latest book, 'Fabulous Phil: The Phil Carman Story', said it best…

It was during Carman's short stint at Collingwood where a teammate had clear space to lead into for a mark, until Carmen sprinted into the pack to leap at the ball which caused a spillage… His teammate told Carman he'd be better off doing the team thing next time, Carman responded "just remember who the crowd is here to see, mate."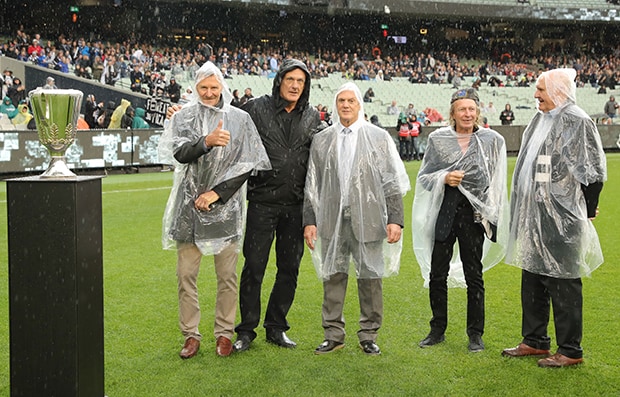 Phil Carman (left) with Peter Moore, Stan Magro, Ronnie Wearmouth and Terry Waters at Collingwood's 125th Anniversary celebrations. Image: AFL Photos.

Lee Walker:
Although he only played 16 games at Collingwood, most who followed the club during the 90's remember this bloke. A 197cm key forward who had a reliable kick and was strong overhead, Collingwood had so much faith they traded away a first-round pick for him in 1994 to acquire him from West Coast (where knee injuries kept him from making a senior appearance.)

Walker made his debut in round one, 1995 against Carlton – and it was a strong first game at that which resulted in 19 touches, six marks and a goal.

What followed for Walker was a career that no fan or player would hope for… Three knee reconstructions before a premature retirement in 1997.

It'll always be 'what might have been' for Walker at the Magpies, but not here at Cultpies HQ. A controversial, but I think suitable choice in the forward line.

Heath Sheppard:
When you're nineteen years old and you kick five goals on debut at Victoria Park in a ten-goal win – of course you're going to celebrate a bit…

He did it all in his first game and the crowd loved it, making noise anytime he went near the footy. At 179cm, Sheppard wasn't blessed with height, but had a sensational leap. Much like today's Jamie Elliott.

Unfortunately for Collingwood fans, he enjoyed his debut a bit too much. The self-confessed party boy spent the night of his debut at the Vic Park Social Club, and I guess his mindset never left.

Thankfully for Sheppard, the Cultpies encourage partying hard and enjoying your own personal achievements. Welcome home, Heath. This is the team you were born to play for!

Mark Orval:
Speak to any of the young premiership players from the 1990 side and they will tell you one of the more talented players they played with at the Pies watched our drought-breaking Grand Final from beyond the fence.

Mark Orval was a solid key forward who had the rare condition of having feet made of glass. Seven games and seven goals was all we saw from a man who was one of the best on ground with four snags in a famous five-point win against the Bombers at the G in 1987… He only played one more game after that.

You're thinking the name Mark Orval rings a bell, but you're not sure where you've heard it. I'm not surprised.

Nowadays, Orval is known for something he'd probably prefer not to be… 'AngryDad'. If you are one of the few people who aren't sure what I'm referencing, just go to YouTube or Facebook and find out. Thank me later.

For all he puts up with at home he needs an escape. A couple of nights a week training (let's be honest, it'll hardly be more than circle-work and a couple of cans) and game day with the Cultpies should do!

Welcome AngryDad… I mean, Mark.

Past player of the week: Remember Mark Orval's Collingwood career.

James 'Charlie' Manson:
Three categories largely covered my forward line selection process: rock-star tendencies, the ability to be a good old fashioned enforcer, and a bit of goal-kicking unpredictability. This bloke covers all three bases!
The fact that James Manson was the owner of the most awkwardly efficient kicking style ever is enough to get him in the side, but the stories on this bloke are all time classics.

During the day he didn't have a 'normal' job like most others at the time. While his teammates were school teachers and accountants away from footy, he was the guitarist in a rock band called 'The Sharks.'

All of a sudden, the Cultpies are saving money on entertainment at functions!

Manson is also well known for one of the greatest theatrical pieces to ever grace Victoria Park… faking an injury so badly that he couldn't take a set shot deep in the pocket (which Ronnie McKeown then took, and kicked truly.)

Once the goal was kicked, wouldn't you know? Manson had recovered! He jogged off with a grin and fist pumped the sky. How could he NOT get a gig at Full Forward?!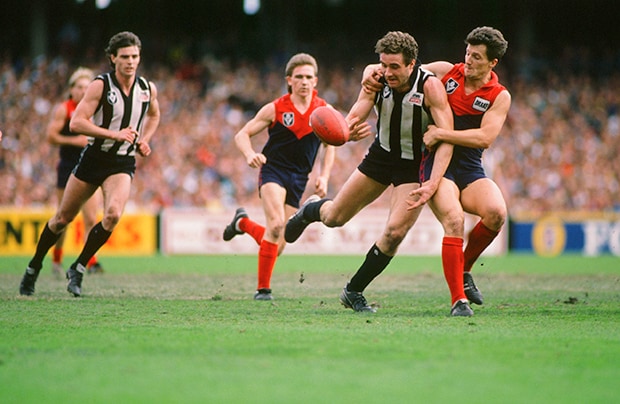 James Manson in action against Melbourne in 1988. Image: AFL Photos.

Chris Egan:
A top ten draft pick with talent to burn. It's a shame he only managed 27 games in his four seasons, but there were definite highlights in that time!

When Collingwood were bottom of the table in 2005 and managed to knock off the Eagles (who were top at that stage) Egan made himself $5,000 poorer… by booting a goal in the last quarter and giving the Eagles fans the finger for their troubles.

Egan had character and talent, but not great foresight.

After a game against Port Adelaide, Tony Jones put a microphone in his face and asked him about the match. Egan rolled out the usual clichés most footballers do. However when asked about next week, he simply said – "I dunno who we play next week,"

The media team may have avoided Egan in the pre-season as a result… But there's no chance we are going to. Welcome to the Cultpies, great man. Enjoy!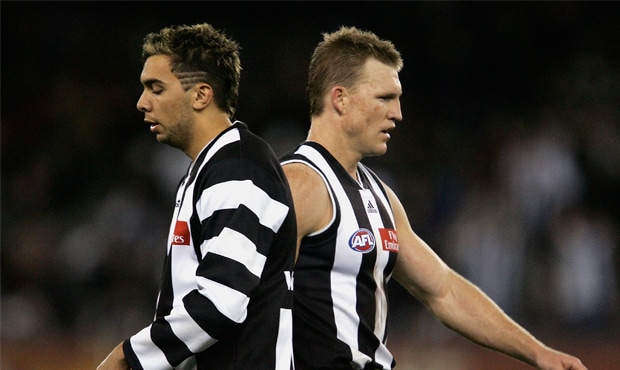 Chris Egan and Nathan Buckley cross paths in 2005. Image: AFL Photos.

The Cultpies are now complete!

It's taken hours of carefully thought out selection, but a team has now been built to succeed on the field AND off it.

Our mighty team reads a little like this:

B: Simon Prestigiacomo, Tyson Goldsack, Matthew Lokan
HB: Kevin Grose, Mark Richardson, Mick Gayfer
C: Rupert Betheras, Julian Rowe, Darren Millane
HF: Phil Carmen, Lee Walker, Heath Sheppard
F: Mark Orval, James Manson, Chris Egan
Foll: Steve McKee, Mark McGough, Ron Wearmouth

More info on the selection of each and every member:

The backline full of cult heroes

A midfield mix of Collingwood cult heroes