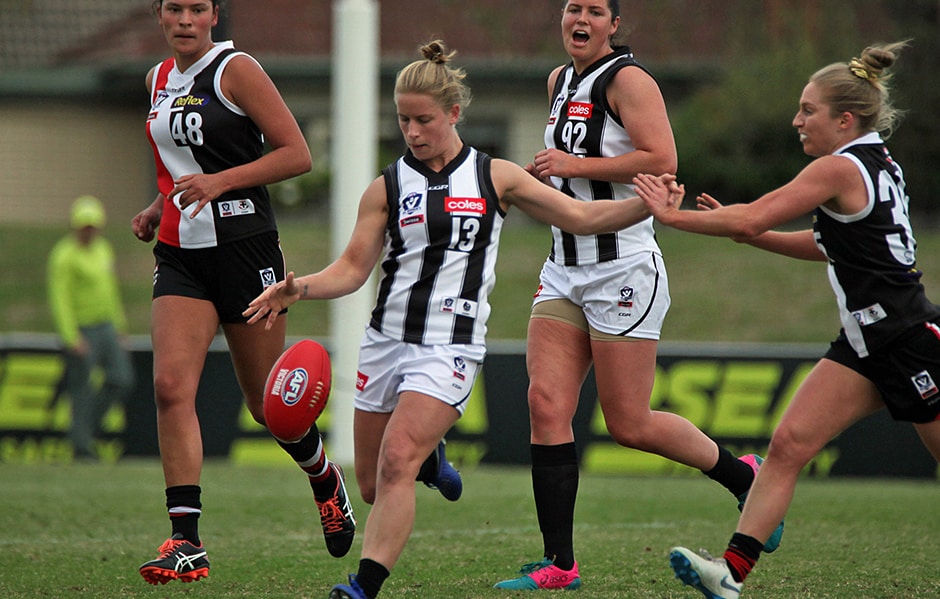 It was a gloomy start to the season for Collingwood's VFLW team as it suffered a 38-point loss to the Southern Saints at Moorabbin on Sunday.
The Saints came prepared to give the Pies a reality check with fantastic ball movement through the midfield and an impressive amount clearances throughout the match.
The Pies had opportunities early on but simply failed to capitalise in the crucial moments.
Collingwood coach Penny Cula-Reid admitted it was not the season opener she'd hoped for but acknowledged it was a massive learning opportunity for her team.
"A result like this is good for the whole group, but particularly those younger girls who've just come out of community footy to understand the standard of the game," Cula-Reid told collingwoodfc.com.au.
"It's a great opportunity for them to now step up and be competitive in this program."
Here we go! #vflwmagpies pic.twitter.com/Eiko9GmQ9L

— Collingwood Women's (@CollingwoodFCW) May 5, 2019
A heavy hit to the nose saw Magpie midfielder Mikala Cann forced to the bench in the opening minutes of the match, which ultimately ended her day.
Saint Ashleigh Allsopp was first to the scoreboard booting a goal midway through the second term.
Soon followed was Caitlin Greiser kicking one long through the big sticks.
The Magpies provided strong defensive pressure in the Saints forward 50 during the first half but struggled to maintain that same intensity in the second.
The Saints returned strong after the major break with Courtney Jones booting their third for the day.
But it was debutant Morgan Doherty who managed to snap the Pies first and only goal for the day halfway through the third.
Cula-Reid said her team were relying on the experience of its senior players but unfortunately that wasn't enough.
"Jaimee Lambert was impressive as always with great skills and wise decision making," Cula-Reid said.
"But communication is a big thing for the entire group and that yet us down today."
She was also pleased to hear several of her players post match already acknowledging key areas of improvement heading into this next week of training.
"It's great to see the girls taking ownership of their game by having positive conversations with the coaching staff to identify how they can get better on field."
With a spilt first round, the Pies now have a week off but will return on May 18th for their first home match of the season where they'll face Hawthorn.
Collingwood 0.0 0.0 1.1 1.2 (8)
Southern Saints 0.2 2.7 3.8 5.7 (43)
Goals – Collingwood: Doherty
Saints: Greiser 2, Allsopp, Jones, Bohanna