Paul Robinson is one of the men behind the cult social media channels 'The Carlton Draft' and 'The Ressies Footballer'.

His Black and White passion is unquestionable, and the views represented in this article are solely his own and not representative of the Collingwood Football Club.

I needed to take my mind of football last week. Our first loss to the AFL Frankenstein (GWS Giants) was a tough one to accept. So, to take my mind of it, I watched Happy Gilmore.

The hilarious yet heart-warming tale of a bloke who takes up golf in order to win back his Grandma's house from the clutches of an evil bank. Along the way he meets the biggest douchebag in the history of film, Shooter McGavin, and beats him.

As the movie went on, and the Kahlua bottle in front of me became emptier… I noticed something.

Hawthorn are the Shooter McGavin of the football world and we need to beat them to win our Grandma's house back (Grandma's house is our 2017 season).

That's right. This entire match has taken a whole new meaning, and like every match before it, it's the most important of the season.

There's a possibility the Hawks will have to bring blokes like Josh Thurgood and Angelo Lekkas out of retirement with the injuries they currently have.

We need to strike when the iron is hot.

The last time we beat the Dawks from Glenferrie, a bloke we nicknamed Daisy laid a match-saving tackle and it put us into a Grand Final. I don't really remember what happened the next week, but that win over Hawthorn was one of the most memorable in our history. And it was all the way back in 2011.

I'm not going to get too far ahead of myself, but if (when) we win this weekend… we go to 3-6, and with a healthy percentage for a team outside the top eight.

Anything is possible in the month ahead, and Happy Gilmore proved that when he trounced Shooter McGavin to take home the gold jacket. And not Jeff Kennett's ridiculous gold jacket either. Don't even get me started on that.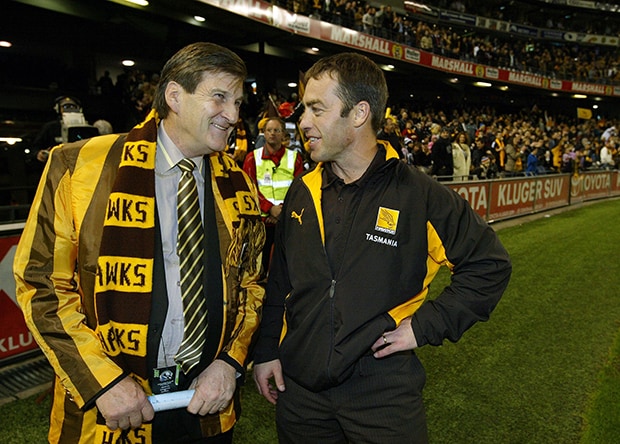 Former Victorian Premier and Hawthorn President Jeff Kennett dons the second most famous gold jacket in the AFL. Picture: AFL Photos.

With the Hawks backline looking very weak, I'm sure they will bring in Premiership player Ryan Shoemmakers to play on Darcy Moore.

Besides looking like a Home and Away face-off, it will be a match up we can exploit. Darcy is better overhead and on the ground than Shoenmakers. Even if his mits aren't 'on', Billy Elliott is enjoying a great purple patch and will be there to sweep the crumbs.

It was great to see #fazzyboy channel his inner 'Lou' last week and get under the skin of the biggest faux-tough defender in the competition, Phil Davis. Trying to snatch his headband was A-grade banter.

Let's win back Grandma's house and finally escape the Ben Stiller-led nursing home that is the bottom half of the ladder. Pies by 47. Jamie Elliott to kick a suitcase of six, and Jordan DogGoey to crack 30 possessions for the first time this year.

Go the Woods!

MORE:

'Everything in my life is Collingwood'

'Our stereotypical snot-nosed brother'

'Magpies or Mighty Ducks? Our Sydney mission'

'The man robbed of the 2010 Norm Smith'

'The ANZAC Day that started in tears'

'Nickelback barracks for Carlton'

'Heaven FC gains a new star player'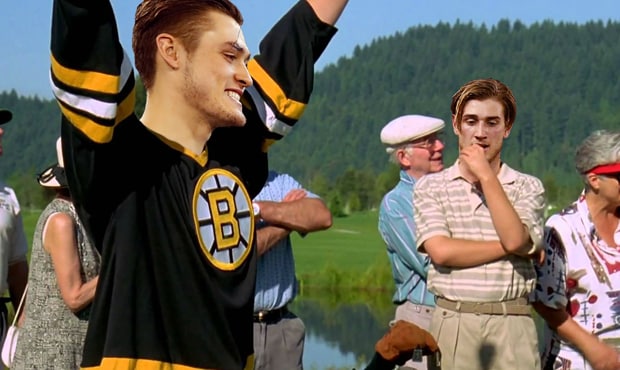 Look for Darcy Moore to give Ryan Schoenmakers a Shooter McGavin-style headache at the MCG on Saturday.