Last week, the Westpac Centre played host to one of Australian Football's newest teams.
The Pakistan Shaheens were given a tour of Collingwood's high performance training facilities and then put through their paces in a training session in preparation for their debut in the 2014 AFL International Cup.
The 25 Shaheens players made use of Olympic Park Oval, the sprung floor and rehabilitation facilities on the night to launch their 2014 campaign.
AFL Victoria multicultural programs coordinator Kashif Bouns founded the Shaheens after attending the International Cup in 2011.
Pakistan had never participated in the International Cup, so Bouns spent the past two years recruiting a team of Pakistanis that is currently preparing to take on the other countries in next year's Cup.
"None of the 23 boys who turned up at our first training session had ever played footy," Bouns said.
"It will be a bit of challenge but our aim is still to field a full side and we believe we can make it happen.
"We will be looking to recruit Pakistanis from all over Australia at this stage. Those from Melbourne will attend the group training sessions while players from interstate will be encouraged to join and train with their local footy clubs. They can then join the team for the tournament."
The AFL's International Cup is held every three years with over 20 countries participating.
No expatriate Australians are eligible to play, meaning that teams must comprise solely of players who are nationals of the country they represent.
Bouns said the origins of the Shaheen name stems from its role in Pakistan's culture.
"The word Shaheen means peregrine falcon, a bird immortalised in poetry and the hearts of many Pakistanis by the great poet, Dr. Allama Iqbal, for its relatively small size but immense strength and the ability to strike its prey from a great height.
"It carries the patriotic bond that their national poet influenced in this nation for freedom of their existence in the world on the basis of which later new state Pakistan came in to being."
The Shaheen is a part of the official emblem of the Pakistani Air Force and is also the state bird of Pakistan.
The name was selected after wide consultation and recommendations from the broader Pakistani community in Australia.
Collingwood's Community Engagement Officer Harmit Singh ran the Pakistani players through their session at the Westpac Centre.
"It was fantastic to have the Shaheens at the Collingwood Football Club.
"They are an extremely passionate and determined group who I'm sure will achieve great things at the International Cup next year."
For more information on the Pakistan Shaheens,
click here to visit their website
or
here
to learn more about them on Facebook.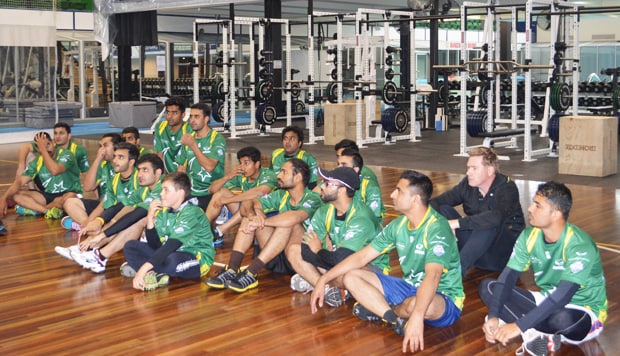 The Pakistan Shaheens await their instructions on the sprung floor inside the Westpac Centre last week.