Elliott has been sidelined for seven weeks with his latest hamstring injury, but Magpies coach Nathan Buckley declared the livewire goalsneak will immediately resume at AFL level, where the Pies hope he will provide some desperately needed spark.
Buckley also revealed midfielder Brayden Sier would face the Hawks after quickly recovering from concussion symptoms sustained in the crushing loss to North Melbourne.
However, the coach wouldn't elaborate about the prospect of James Aish returning after the defensive runner was a late withdrawal from the encounter with the Kangaroos due to hamstring soreness. Aish moved freely in a light session at Collingwood's Olympic Park base on Thursday.
Mystery also surrounds the fitness of another defender in Levi Greenwood, who didn't train on game eve.
Meanwhile, as announced on Wednesday, the Pies will unveil their first debutant of the season in the form of their top draftee, exciting half-back flanker Isaac Quaynor.

Collingwood will be without Ben Reid, who suffered a calf injury against North, and will have to leave out at least one other player to accommodate both Elliott and Quaynor.

Buckley was bullish about Elliott's prospects despite the fact he hasn't played since the round eight win over Carlton.
"His last month of training's been huge. The volumes that he's done have been through the roof, so he's done a lot of work," Buckley told reporters on Thursday.
"He's over-ready. He could've played last week. He's ready to take the next step."
Sier is believed to have received a couple of knocks during the first half against North, including a heavy body blow in a collision with Roos skipper Jack Ziebell and another to the head in a marking contest, before sitting out the second half.

Brayden Sier shows the effects of a big hit against the Kangaroos. Picture: AFL Photos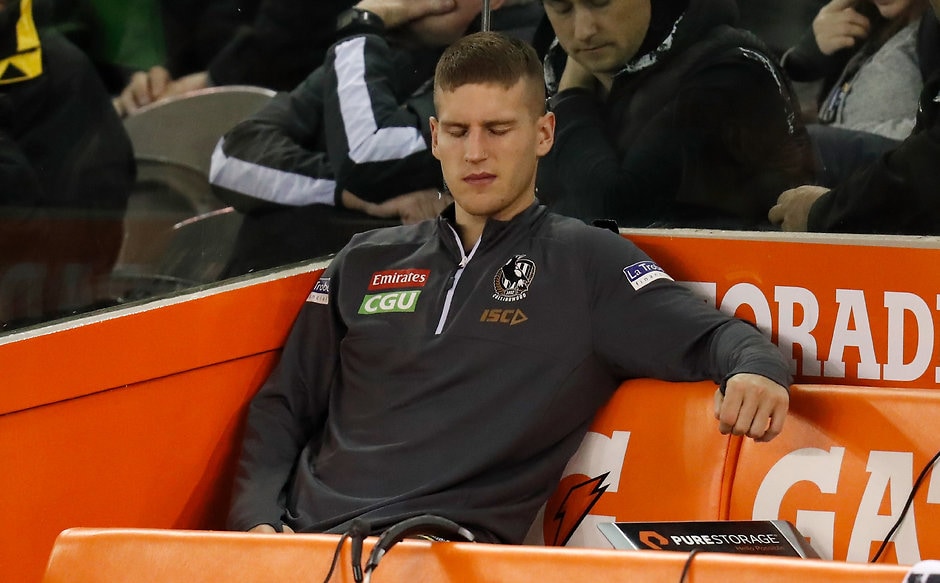 "His symptoms dissipated pretty quickly after the game and we've run him through a few tests and he's ready to go," Buckley said.
"It was a big hit, the first one that he copped, and he was able to carry it for the first half, but we missed his contested ball (work) and decision making through the midfield (in the second half)."
The selection of first-gamer Quaynor was somewhat surprising given he'd missed a VFL game at the weekend with a groin niggle. The 19-year-old admitted to harbouring some apprehension himself.

"There were probably a few doubts going through my head, but I knew I'd done everything (with the medical staff) and I felt pretty confident in my body," Quaynor said.
Buckley said Quaynor had fit into the club and its system very well and had already "given of himself" in meetings. The coach said Quaynor could have been picked against North but a decision was made to manage his workload that week.
"He's a very strong, physical player, a good one-on-one player, strong in the air and strong on the ground. His GPS numbers indicate that he's right up there in terms of the physical attributes required to play the game and he does provide a bit of dash when the opportunity (arises)," Buckley said.

Isaac Quaynor looks physically up to handling the next level. Picture: AFL Photos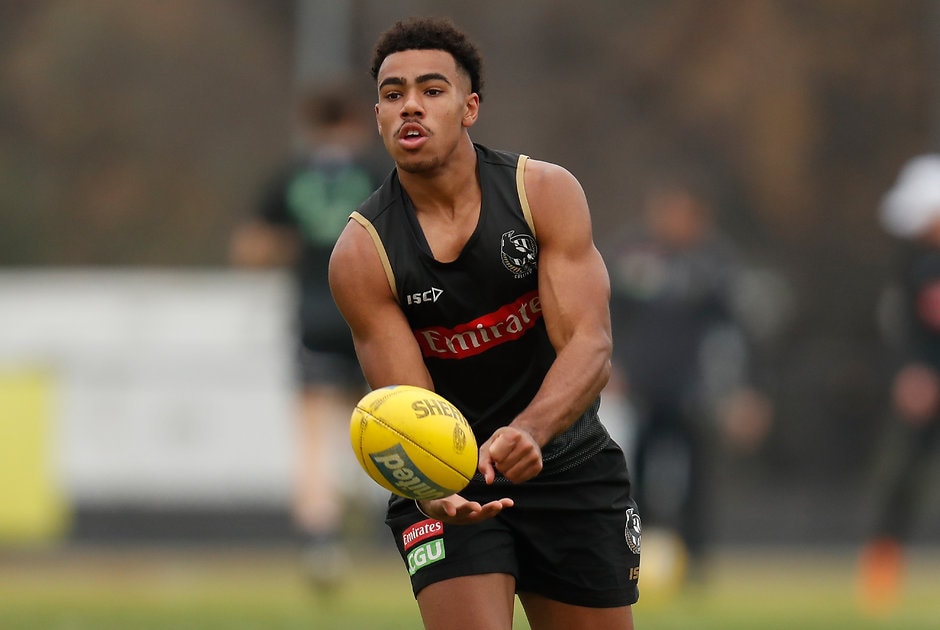 The inclusions of Elliott and Quaynor are expected to add some speed, energy and flair to a team that was sadly lacking in these areas against North Melbourne.
After Hawthorn, the Pies – who are second with a 10-4 record – face tough away games against West Coast and Greater Western Sydney.
They produced their worst performance in a long time against North, which held them to their lowest score since 1995. Post-match, Buckley said his team had been "embarrassed", hadn't been hard enough and hadn't worked well together.
Collingwood players have told of a scathing review on Monday, but Buckley wanted to look ahead.
"We're in a pretty good state in regards to our win-loss and where we've set our season up to be. The next eight weeks will be whatever we want to make of it," he said.
Buckley also said defender Tom Langdon was making progress towards a late-season return after being sidelined for six weeks with a knee problem.
"His last three or four weeks have been really encouraging. It really is a day-by-day thing with him to take the next steps and see how his knee responds. It's comparative to where it was eight weeks ago – it's actually quite positive," Buckley said.
Onballer Taylor Adams and defender Jeremy Howe are at least another week away.
Buckley also pledged the club's full support for midfielder Dayne Beams, who has taken an indefinite break from the game to focus on his mental health, with the star midfielder revealing in an Instagram post he was "a broken man".
Buckley said the fact Beams had to face his struggles in public had probably added to his predicament.
"I think we all feel broken at some points of our life and we don't always all tell the world when that is, but if you are struggling within yourself, having the honesty and openness to admit and acknowledge that is the first step towards finding your way back together," he said.
"None of us are perfect people, all of us have challenges (and) we all try to put on a brave front in some shape or form, but when you're a public figure it can add to that pressure and I'm sure 'Beamsy' has felt that."