Collingwood forward Josh Thomas says a recent two-week spell out of the Magpies side through omission and injury has proved a "circuit-breaker" in his bid to recapture his best form for the finals.
Thomas was a revelation last year with 38 goals – equal-third in a Collingwood team that finished runner-up – but for much of this season the diminutive opportunist hasn't reached the same heights.
The 27-year-old believes his enforced late-season break from AFL level was the "best thing" for him, given he returned to the Pies' side a month ago in better physical and mental shape. His form has improved accordingly, highlighted by his season-high three-goal haul in the big win over Adelaide at Adelaide Oval last Saturday night.
Josh Thomas has got his season back on track over the past month. Picture: AFL Photos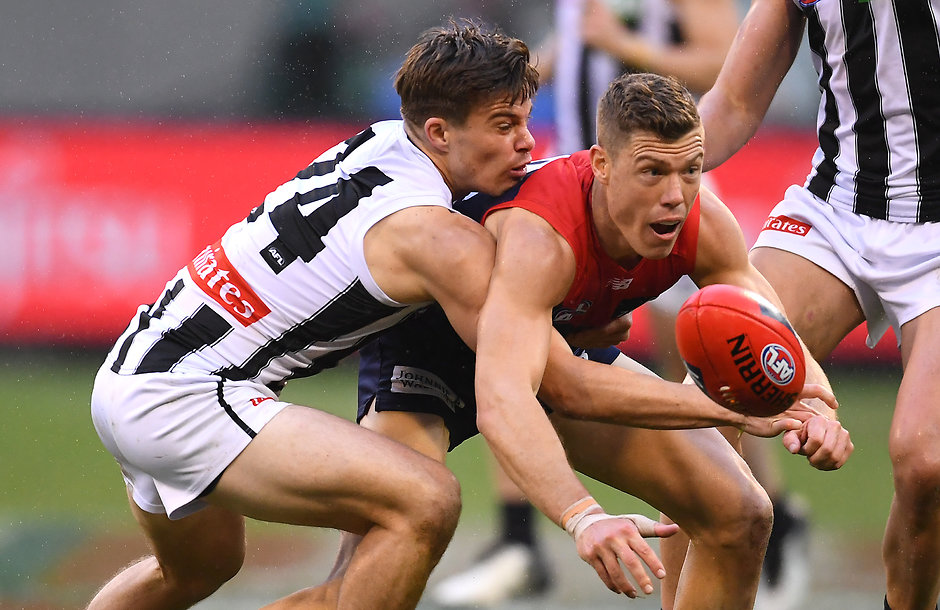 The turning point was the Woods' four-point loss to Hawthorn at the MCG round 16, when Thomas was again only so-so after being held scoreless for the third successive time. After 15 games, his season goal tally had stagnated at 12.
Form wasn't Thomas' only problem. After copping a "nasty knock" against the Hawks, he was also battling his first hip pointer injury.
Thomas pushed to play the next week and was passed fit, but coach Nathan Buckley delivered the bad news: he'd been dropped. It broke Thomas' run of 50 consecutive games since fighting his way back to AFL level in late 2017, after returning from a two-year doping suspension.
"It was a bit disappointing at the time (to be dropped) but I wasn't too upset, and I wasn't surprised," Thomas told
AFL.com.au
ahead of the Pies' final-round clash with Essendon at the MCG on Friday night.
"My form had been pretty consistent but I was just a little bit down. I was thinking, 'It'll turn, it'll turn,' – but it didn't really.
"I hadn't missed a game for a while and I'd played a similar role the whole time, so maybe I got a little bit stale. I wasn't hitting the scoreboard as much and probably didn't look as sharp as I had in the past, and sometimes that can be a hard cycle to break.
"'Bucks' said, 'Just go back (to the VFL) and clear the head.' I knew he wasn't sending me back there to forget about me.
"Whether I was back there for just a week or multiple weeks, I just wanted to put my best foot forward. It was an opportunity to run around with some freedom and try to get my hands on the footy – a bit of a circuit-breaker."
In his first VFL game in more than two years – a narrow loss to Williamstown at Victoria Park – Thomas concedes he "didn't play very well at all", managing just 11 touches and failing to score.
The Queenslander had a decent excuse, though – by now his hip was "very sore". He probably shouldn't have played.
He didn't the next week, and the resultant rest proved a welcome elixir.
"Having that week off has probably turned out to be the best thing for me because it refreshed the body and, more importantly, the mind, because it helped get that hunger back," Thomas, contracted to 2021, said.

Thomas says he was "lucky" to be recalled for the round 19 clash with Richmond due to injuries to teammates. His spot hasn't come under threat since – he has kicked goals in all four games and had goal assists in all but one.
"I wanted to play with renewed hunger and energy, and I've certainly felt like I have, and hopefully I can keep tracking in the right direction," he said.
"Since I've been back I've felt much better, my form's probably improved a little bit and I've hit the scoreboard a bit more too. It helps that the team has been playing better as well.
"Sometimes it's just so subtle – just that half-metre here or there, or a bit of luck goes your way and suddenly things change. It's taken longer than I hoped, but I was confident that if I kept doing the work and stayed positive things would turn, and it seems they might be slowly doing that.
"It was a bit disappointing at the time (to be dropped) but I wasn't too upset, and I wasn't surprised."
Highly regarded at the Holden Centre for his discipline, Thomas readily admits there were times this season when he needed to provide more than just the team stuff in his high half-forward role.
"The big challenge for me was coming off the ground thinking, 'Technically, I've played my role,' but I wasn't having the impact I possibly had last year. I didn't want to go away from the role just to try to get a kick, but at the same time you're a forward, so you want to get the ball and either score or set up scores," he said.
Buckley observed at a mid-season press conference that 'JT' was "really hard on himself" – a trait that the player himself acknowledges can have more of a negative effect than a positive one.
"It's a bad habit of mine, a weakness, where if I make a mistake I can dwell on it and beat myself up over it and lose some focus," Thomas revealed.
"'Bucks' has spoken to me about it pretty regularly about refocusing after a mistake because the game moves on quickly.
"When you're not going as well those things can creep in. It's not a massive problem, but it's something I try to work on and stay on top of.
"When I'm at my best I stay 100 per cent engaged. That's what I'm focusing on."