It was the decade where football took its first faint steps towards professionalism.
Players chased a greater financial return, Waverley rose from the paddocks, colour television beamed into our living rooms for the first time and the game endured through a turbulent decade.
The 'Sensational Seventies, as they would become known, proved a tantalising, yet ultimately unfulfilled period for Collingwood.
It was bookended by heartbreaking Grand Final losses to Carlton. The first came when the Magpies lost from what had previously been considered an unlosable situation; the second when Collingwood almost pinched the premiership in the dying moments of a dour struggle.
Through it all, the goings on at Collingwood – and at Victoria Park - was like a soap opera you couldn't switch off, and the audience was spellbound.
For those who lived through it, it was a period they will never forget and it produced heroes and characters alike forever etched into our consciousness.
For those who didn't,Collingwood Forever will transport you back in time each week this season for a blast from the '70s past, profiling a player who made an impact for one reason or another.
Footy can sometimes be a cruel game as evidenced by the many Collingwood players whose careers were cut short or curtailed by injury.
Robert Hyde was undoubtedly one of those.
In an era where serious knee injuries were often a life sentence, Hyde was only 20 - and playing his 20th VFL game - when Hawthorn champion Leigh Matthews fell across his knee during a game at Princes Park in Round 10, 1975.
He was told by one doctor he wouldn't play again.
Thankfully, he proved the specialist wrong, and went on to win the club's best-and-fairest the following year, establishing himself as a dependable defender displaying leadership and poise beyond his years.
More knee issues would follow, restricting him to only 62 game for the Magpies - and a further one for Essendon - before his VFL career was over.
But Hyde's impact in a relatively short time - and his subsequent contribution to coaching in the years after - left a sizeable impression, including on one player who would play a more lasting role for Collingwood a generation later.
Hyde had been raised close to the Greensborough Football Club ground, where his father had played, and where he would be closely linked throughout his life.
He was only eight when he played in the inaugural Greensborough "Midgets" league (under 13s) before graduating to the under 15s and 17s long before the normal age requirements. He was only 14 years when he started playing his first allotment of games in the under 17s, with teammates saying he "fitted in like a veteran".
By the time he was 16, he played his first senior game for Greensborough seniors in the fiercely competitive Diamond Valley Football League. For a time, he played under the coaching of Collingwood's 1953 premiership player Neville Waller.
He won the club's best first-year player in his debut year as well as most consistent, and as a 16-year-old was best afield in a final where one of his teammates said he "just stood his ground in the backline, often in the middle of a pack, and pulled down mark after mark."
Hyde's form came to the attention of Collingwood, and he was recruited to the club for the 1973 season.
After some good form through the reserves, he was given his chance by coach Neil Mann to play his first game in the Round 8 clash with Fitzroy at Victoria Park. He was only 18, and "still a student", when he had 17 disposals on debut wearing the No.38 jumper.
But he would be injured early into his second game, which frustratingly would become a familiar refrain for the young defender.
While Hyde only played eight games in 1974, he timed his run, playing some of his best football at the business end, including two finals.
The Football Record said of him leading into the finals, describing Hyde as "a promising young defender who has been impressive in his few games this season."
"(He) backs his judgement in clearing dashes. A good mark in top spots and has been called on today (in an elimination final against Footscray) with a certain amount of hope. His recent form indicates he won't fail to do well."
Hyde performed exceptionally well in his first final, having 21 kicks, taking eight marks and having five handballs in the Magpies' win. He was a member of the "winning half back line with great dash and long kicking ... (he) trounced (his) opponent and looks set for an excellent finals series."
Teammate Wayne Richardson said it would have been "useless" to individualise who the most important Magpies were against the Bulldogs, but still managed to highlight Hyde's performance, saying his efforts "personified" Collingwood's fightback during the game.
Hyde took his game to a new level in the first half of the 1975 season under new coach Murray Weideman. He played the first 10 games of the year, and his steady hand in defence stamped him as one of the team's best players at the time.
But just as he had elevated himself into an important defender, he was cruelly struck down by a serious knee injury.
It came in the Round 10 game against Hawthorn, with the Herald detailing: "Hyde ruptured his right knee ... and was rushed to hospital."
He would end up in plaster from "waist to toe" for eight weeks and "his football career seemed finished."
One doctor told him he wouldn't be right for three years; the diagnosis of another was even worse - he forecast Hyde would "never play again."
Incredibly, by season's end, the 20-year-old would finish runner-up in the Copeland Trophy, even though he missed the last 12 games and most of the Hawks clash in which he was injured.
He polled seven Brownlow Medal votes from his 10 games.
Thankfully, Hyde defied the medical assessments, proving his mental toughness by spending much of the summer months with his "paralysed right leg in a calliper" before getting back to training.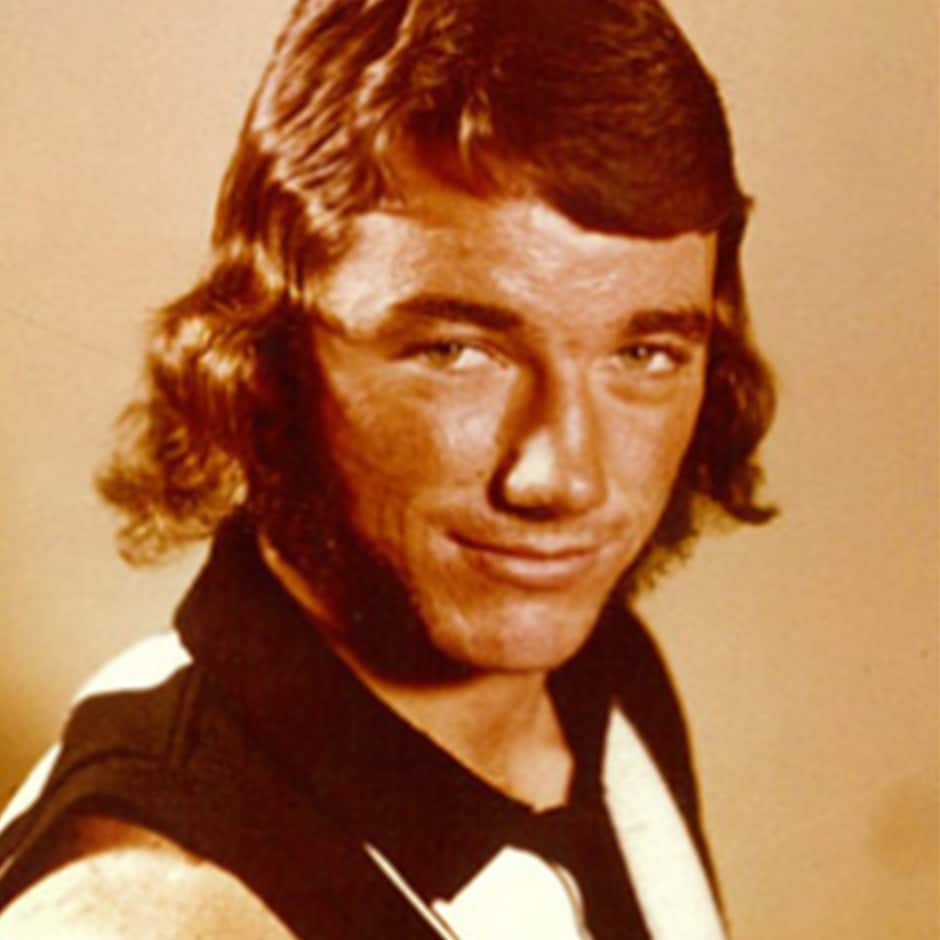 Robert Hyde during his playing days with the Pies
By Round 3, 1976, he was back playing in the Collingwood seniors.
In a disastrous season for the club, the Magpies ended up being wooden spooners for the first time, but Hyde was a Copeland Trophy winner.
He won the Magpies' 1976 best and fairest award, being a pillar in the back pocket across 18 games, combining a strong pair of hands, a good kick, solid leadership, a no-frills approach and a fierce determination into a valuable defensive package.
He was also awarded the club's most consistent player and polled nine Brownlow votes.
Hyde maintained the good form as a deputy vice-captain under new coach Tom Hafey in 1977, playing 24 games - his best season return - and was an important player in the finals quest.
Mostly, he played on the opposition team's resting rover, where his stocky frame (85kg) and his size (183cm) came in handy across the likes of Matthews.
One description said of him: "Very dependable and has fine judgements. Marks strongly and kicks long to position. Has plenty of what it takes in a final."
He was among Collingwood's better performers against Hawthorn in the narrow second semi-final win and then "smothered" North Melbourne's Barry Cable when he took "several fine marks" in the Grand Final against North Melbourne, which ended in a dramatic draw.
Heartbreakingly, the Magpies lost the replay to the Kangaroos by 27 points.
As tough as the loss was, Hyde seemed to have so much ahead of him.
He was only 23, and was considered one of those club's young leaders.
Then fate intervened again.
In Collingwood's last practice match leading into the season, he suffered another knee injury, which kept him out of the senior team for the entire season.
He worked hard to fight his way back, playing eight games in the reserves late in the season - to the surprise of his doctors and wearing "a special protective cage" - but was overlooked in the finals.
Hyde would tell the Herald of his intentions in November 1978, saying: "My knee is fine now. I didn't stop training at the end of the year and I'm doing pro running over the summer to give me more pace. I'm only 24, and I think I can play another four years."
Collingwood didn't agree, which meant his career ended in black and white on 62 games, leaving many wondering how much more he would have achieved had it not been for his knee issues.
Essendon gave him a footy lifeline, recruiting him for the 1979 season.
Just as he was about to make a play for senior selection with the Bombers, he suffered a knee injury in a preseason game, which left him on the sidelines, then he tore a ligament at training in May, leaving him to have more knee surgery.
Most thought that would be the end of Hyde's time at Essendon, though he returned to the reserves late in the season.
Then, coach Barry Davis produced a shock at selection ahead of the club's 1979 elimination final against Fitzroy, by bringing Hyde into the side, even though he hadn't played a senior game all season.
It was even a surprise for the player himself when Davis "took him aside" at training, and told him he was in "nine of ten teams picked" leading into the knockout final.
The Bombers "turned to Hyde for leadership, strength, someone who will go into packs and win the ball, and naturally his finals experience", according to The Sun.
It would be Hyde's first game in almost two years, since the 1977 Grand Final Replay, and he wore a "specially made surgical brace strapped to his 'wonky' knee.
It would also prove his last VFL game, and his only one for the Bombers.
He didn't let them down, having 14 disposals.
That was the end of Hyde's VFL career, even before his 25th birthday, but thankfully, he wasn't lost to football.
He would go on to a long and successful coaching career that took him to a number of clubs including Fitzroy U19s, West Coburg, Greensborough (where he won three flags for his old club), North Old Boys, Bundoora, Calder Cannons, Vic Country U18s and the Northern Blues.
Importantly, it was his 11-season coaching role with Calder Cannons - where he won three premierships (2001, 2003, and 2004) and was honoured with his name being used as the club's best and fairest medal - where he had an even bigger impact than his own playing career.
At the Cannons he oversaw the AFL pathway for countless stars, including Jude Bolton, Dyson Heppell, Paul Chapman and Eddie Betts, to name but a few.
Hyde's management of a "scruffy" looking kid in the 2001 under 18s season wasn't easy or straightforward.
The kid, according to Hyde, "looked like a bloody Clydesdale ... his shorts would be hanging down a bit, his socks would be down." He was "a low possession forward" with a rebel streak in him before a position switch transformed him.
Then a pep talk from Mick Malthouse (organised for the group by Hyde) turned the kid's form around. He went on to be the player of the TAC finals series.
The kid's name was Dane Swan, and he would go on to become a Magpies star and a key part of Collingwood's 2010 premiership side.