This was such a game of poker Nathan Buckley and John Worsfold might as well have been wearing shades.
Given the circumstances surrounding the finals picture, Collingwood's 11-point win over Essendon was a result that meant a lot, but is maybe one that could ultimately mean very little.
The Pies needed to win more than the Bombers on Friday night. Victory here was the potential difference between a double-chance and an elimination final.

Nathan Buckley's face tells how important the win was to Collingwood. Picture: AFL Photos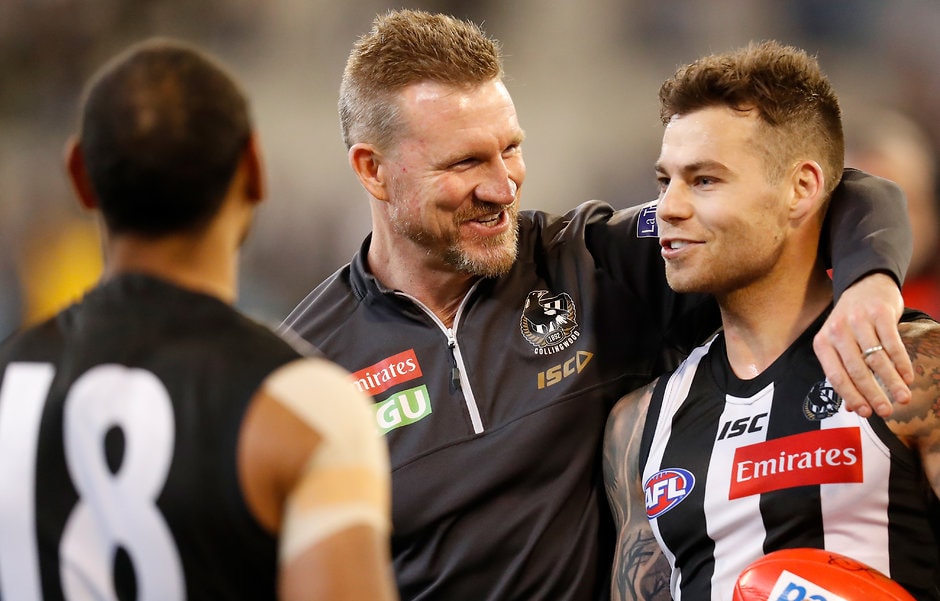 The Dons' finals opponent is out of their hands, regardless of what occurred at the MCG.
It makes the equation for both teams following this clash relatively simple: if all of the favourites win from here over the next 48 hours, they will more than likely meet again in an elimination final in a fortnight's time.
It made this encounter intriguing, if not overwhelmingly entertaining. It was the entrée, not the main course.
Worsfold had made his intentions clear at the selection table. There were six changes for the Bombers, while a seventh was made 90 minutes before the first bounce.
Stars like Cale Hooker (late withdrawal with illness), Dyson Heppell (foot), Orazio Fantasia (hip) and Jake Stringer (soreness) were among those withdrawn. However, in reality, there's next to no chance they would have found themselves in the 'outs' column if this was an elimination final.
Collingwood, meanwhile, made the decision to leave Jordan De Goey (hamstring), Brayden Sier (calf) and Daniel Wells (knee) out of its side. They, too, might be returning come September.
Tom Bellchambers was a surprise inclusion for Essendon, returning from seven weeks on the sidelines with a calf problem, but even his comeback smacked of simply getting minutes into the legs.
Indeed, he was well beaten in the ruck for most of the night.
If both coaches were using this bout as a chance to feel out the opposition for any hints ahead of September, Worsfold didn't just get a hint about his team's ruck deficiencies – he got a stern warning.
Begin planning for 'Operation: Stop Brodie'.
Grundy was simply dominant against Bellchambers. He won 33 disposals, 35 hitouts, took seven marks and had seven clearances in what was an outstanding individual performance.

Brodie Grundy is proving to be Collingwood's most important asset. Picture: AFL Photos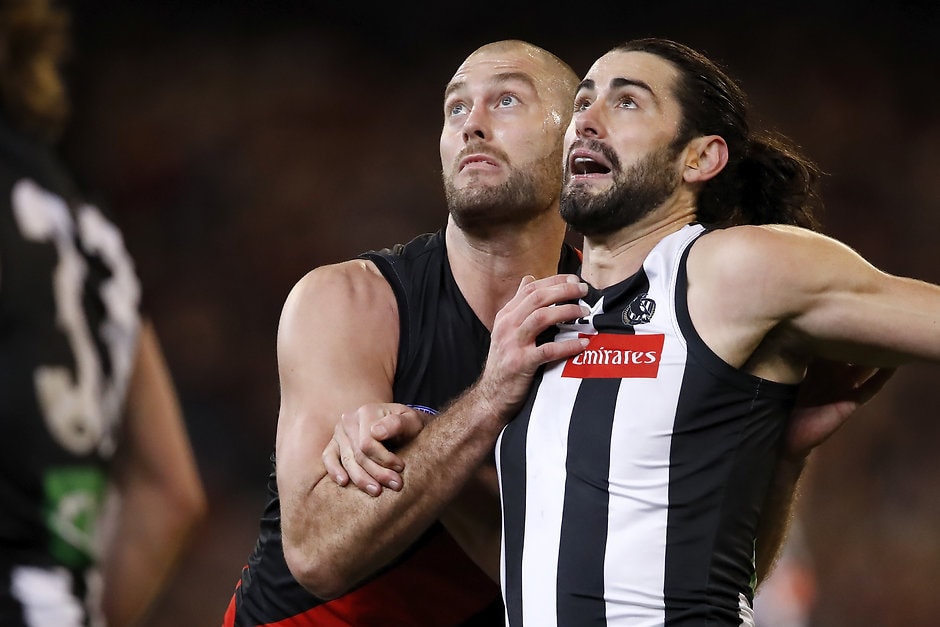 He constantly gave his midfielders first use, while his ability to cleanly take the ball from several ruck contests, spin out of trouble and deliver it forward enabled Collingwood to control the territory battle during key intervals.
Given Essendon's struggles in the ruck department all season – unable to settle on Zac Clarke and with fellow back-up option Sam Draper sidelined with a long-term knee injury – this could be an issue that keeps Worsfold up at night heading into September.
But while this was a clash that had genuine finals ramifications – both for Collingwood's top-four hopes and Essendon's chances of jumping into sixth – it quickly turned into a game of survival.
The Pies lost Matt Scharenberg to concussion, the Bombers lost Michael Hurley to a shoulder injury. After that, the result almost seemed secondary.
Hurley's injury, in particular, looks a damaging blow for an Essendon side that had already lost Hooker and endured Aaron Francis copping a host of knocks throughout the game.
Should the Bombers indeed meet the Pies again in a fortnight's time, Hurley's potential absence could be telling – especially given how Brody Mihocek and Jamie Elliott got on top of the Essendon backline in the second half.
Mihocek finished with four goals from 11 disposals, while Elliott had three majors from 18 touches and nine marks. Although the latter should have kicked more, had he not missed five other relatively routine attempts at goal.
In reality, it's not as though Worsfold wouldn't have known about these potential threats had Essendon not played Collingwood on Friday night.
However, only now, they have been reaffirmed to him.
There are key players returning from injury, but there remains lots of work to be done should he lead the Bombers to their first finals victory in 15 years.