The Collingwood Football Club is delighted to be one of five teams competing in the inaugural season of the Robert Rose Foundation Victorian Wheelchair Football League.

The competition, known as the VWFL, was launched in partnership in the Robert Rose Foundation, and will provide the first opportunity for people with a physical disability to play Australian Football in a regular competition.

Collingwood will be captained by Brendan Stroud, who has vast experience in playing and coaching teams in wheelchair sports.

He has represented Australia in wheelchair basketball and wheelchair tennis, played and coached in Victoria's wheelchair football team and has coached the women's national wheelchair basketball team.

Brendan became a paraplegic at the age of 22, when he sustained a spinal cord injury in a road accident. He is grateful for the role sport has played in his life in the years since, and has been a strong advocate for involving others in wheelchair sports.

"Sport was probably the biggest saviour of my life. That little pilot light inside almost went out; because I didn't know there was anything like that after my accident," Stroud told Collingwood Media.

"It was until about 14 months after my accident that I found sport again and that got my pilot light going again and got the furnace going.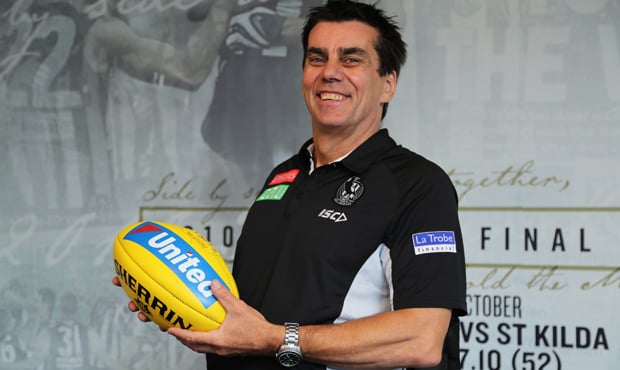 Brendan Stroud proudly wears the Collingwood polo ahead of the inaugural Victorian Wheelchair Football League season. Photo: Collingwood Media.

"Everyone has a purpose and something to live for – a passion – and sport was always my passion.

"As soon as I found sport after my accident, it ignited the light in my life.

For Stroud, wheelchair football, tennis and basketball have been his key sports.

He has competed in and overseen national championship teams, even finding a way to follow a tournament online from his hospital bed when recovering from a broken leg.

"Playing for Australia and working on my fitness taught me a regime to push myself, which I've instilled, into the guys for the nationals in Cranbourne next week."

Having a Collingwood team in the new competition means so much to Stroud, who, as a passionate Magpie fan himself, is committed to wearing the Black and White stripes with pride.

"This is my third year of being head coach of the nationals and now I'm the captain and coach of Collingwood's inaugural wheelchair football team.

"It will be a great pleasure for me to pull on the Collingwood jumper.

"I love this team. If I had a gold jacket, I'd pull that on, too!"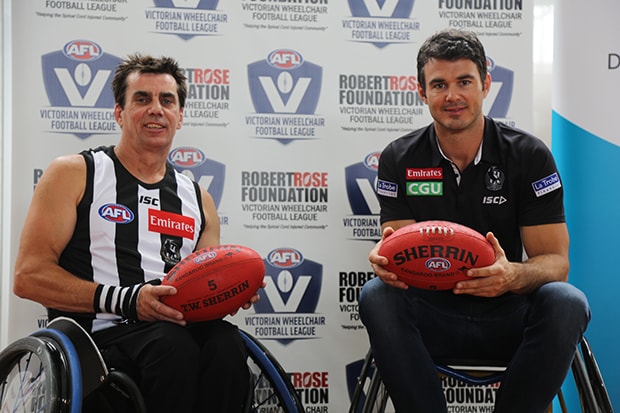 Brendan Stroud and Chris Tarrant helped launch the new competition at the Holden Centre on Friday. Photo: Collingwood Media.

For Stroud, the impact of the competition will reach far beyond a match day.

"The kids who were born with the disabilities and have watched their heroes, be it a Rene Kink or a Travis Cloke, would love to have been able to do something like this.

"Now they can come along and play some wheelchair football in the WVFL.

"It's a fantastic thing for everyone."

Collingwood will open its inaugural VWFL season in May, with 10 rounds to play amongst the five teams before a Grand Final in September.