Former Magpie forward Travis Cloke has spoken candidly of the emotional toll football had taken on him, admitting he was 'fried' by the time his career ended.

In a revealing interview for the first episode of a new podcast series called Collingwood Conversations, Cloke admits that the negative external talk around his goalkicking and late-career form struggles eventually got to him.

"I love the feeling of a footy club," he says. "To me that's the best thing about it (the game). It was the outside noise of the football world that really took a toll on me.

"AFL is a fantastic game but it can be very toxic in certain ways. You can get lost within this industry very easily, and then it's hard to find which way is out, which way is up.

"Once you start to hear a few negative comments you do take them on board, as much as you don't want to, and sometimes you start to believe the negative criticism that is out there about you. Then you become lost and entangled in this world of footy that you're trying to find your way out of, and you're trying to find form…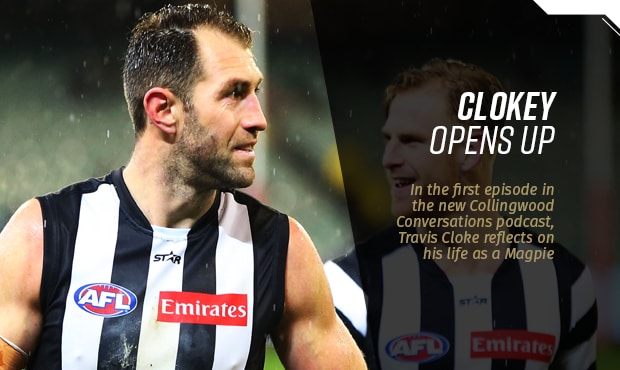 Travis Cloke played 246 games for Collingwood between 2005 and 2016.

"And I never really understood how much it did affect me until I finished... until I broke down at the Dogs with that side of football – the anxiety, the stress level that it brought me – that pushed me over the line to not enjoying football any more. I love being around a footy club but (trying) to perform really killed me by the end.

"Physically I was in great condition, mentally I was fried. I'd performed at the elite for many years... but mentally I just couldn't perform. I couldn't separate the anxiety, the stress that I had from footy, away from my private life as well.

"I'm glad I'm sitting here retired because I wouldn't want to go through the scrutiny I went through for the last three or four years over a 10-to-15 year career."

In the interview, Cloke also talks about the impact on him when his brothers, Jason and Cameron, were axed at the end of 2006.

"To have your two brothers delisted kind of put football in perspective," he says. "I learned that football is big business. You're not here to have a good time, you're here to perform... To learn that as a 20-year old kid who thought footy was about having fun and mucking around with your mates, to have that taken away was pretty hard but it definitely shaped me for... my life in football."

For all that, Cloke says he still loves the game.

"How could I not? It was the game I was born into. I'll die a football lover. I'm not a tragic, I don't watch it every weekend … but I enjoy elements. I love the pack mark, I love the fancy goals, I love the spectacle of 80,000 people at the MCG at 2 o'clock on a Saturday afternoon. So how could I not love the game that brought me so much joy, so much passion, a bit of love? Yes it brought me misery as well but I don't resent the game for that."

Cloke also speaks frankly in the podcast about a range of other subjects, including the Malthouse-Buckley handover, his own contract discussions in 2012, his issues with goalkicking, how his 2010 Grand Final still haunts him and his thoughts on the impact of the media and social media. He also talks about fatherhood, his hopes for a coaching/mentoring career – and his father David's famous mullet-and-moustache.