"We all travel different journeys to get our opportunities.

"He's travelled a pretty rocky road to get to this point."

Nathan Buckley was right when he said Matthew Scharenberg has had to deal with more than the average league footballer.

The 21-year-old made a triumphant return to AFL football against Brisbane on Sunday after overcoming a second knee reconstruction.

Below, Collingwood Media lists a series of dates that map Scharenberg's challenges and triumphs.

Speed humps on the football freeway

21 November 2013
1284 days ago
Scharenberg is drafted to Collingwood with pick No. 6 in the 2013 National Draft. He had not tested at the Draft Combine owing to a foot injury (sesamoiditis).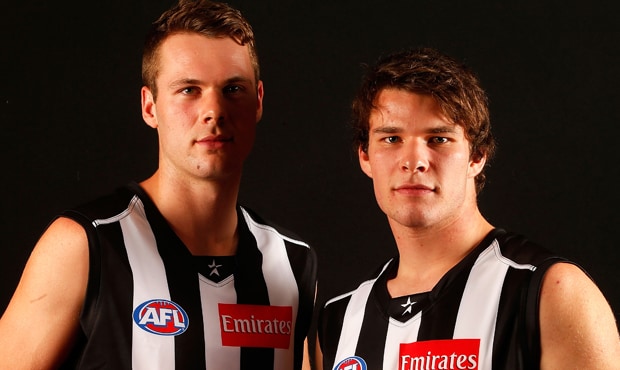 Matthew Scharenberg and Nathan Freeman were Collingwood's top 10 selections in the 2013 National Draft.

4 February 2014
1209 days ago
Collingwood announces Scharenberg will undergo surgery to remove the sesamoid bone in both his feet.

27 July 2014
1036 days ago
Scharenberg plays his first VFL match against Frankston. Wearing the No. 35 jumper, he collected 12 disposals in a 17-point loss.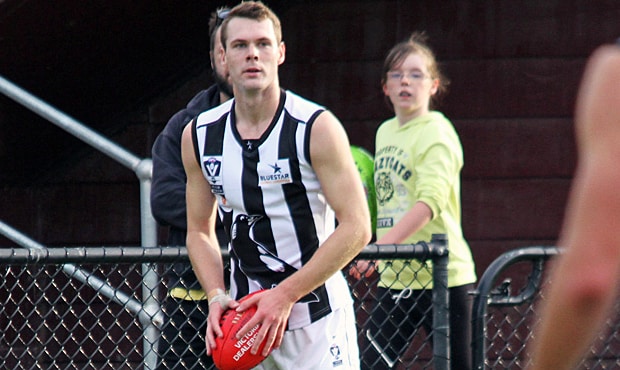 Scharenberg looks down field during his VFL debut against Frankston in 2014. Photo: Shane Barrie.

22 August 2014
1010 days ago
Chasing a loose ball in defence, Scharenberg tore his left anterior cruciate ligament in a VFL night match against Bendigo at the Queen Elizabeth Oval. He would undergo a full reconstruction.

2 May 2015
757 days ago
On a sunny afternoon at Victoria Park, Scharenberg collects 14 disposals on return from his first reconstruction in a four-point win over Footscray.
Here he is! Today's last minute debutant.
What to expect from Scharenberg:
- Defender
- Nice kick
- Never flustered pic.twitter.com/ezWYOOWYPV

— Collingwood FC (@CollingwoodFC) August 1, 2015

1 August 2015
666 days ago
A late-minute injury to Tyson Goldsack paves the way for Scharenberg to make his AFL debut against Melbourne in round 18. He wins 16 disposals in a 37-point loss; a fine effort considering he only had minutes to prepare to play.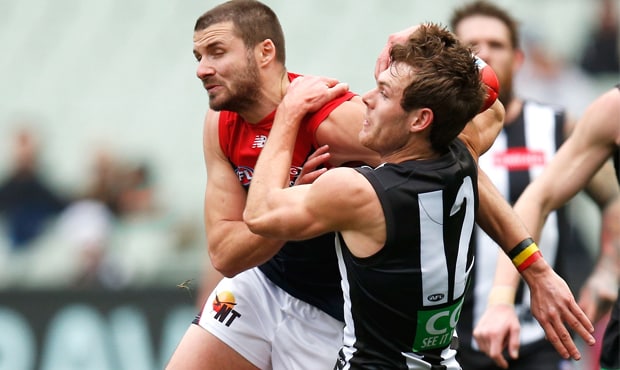 Scharenberg collides with Colin Garland during his debut against Melbourne in round 18, 2015.

6 September 2015
630 days ago
Scharenberg earns 18 disposals in Collingwood's final round loss to Essendon in round 23. He would not appear for several weeks.

23 November 2015
552 days ago
An innocuous training injury sees Scharenberg sent for reconstructive surgery on his right anterior cruciate ligament. He would sit out the entire 2016 season.
"He'll do everything to fulfil his dreams + ours," - https://t.co/53QXaMGkZV @ncb_cfc on Matthew Scharenberg pic.twitter.com/qPC4Ebywt1

— Collingwood FC (@CollingwoodFC) November 23, 2015

16 February 2017
101 days ago
The 21-year-old makes a quiet return from injury, playing a half against Essendon in the first match of the JLT Community Series at Etihad Stadium.

28 May 2017
A full 1283 days after he was drafted to Collingwood, Scharenberg returns to the MCG to play Brisbane in round 10 of the AFL season. He wins 16 disposals in a 45-point win.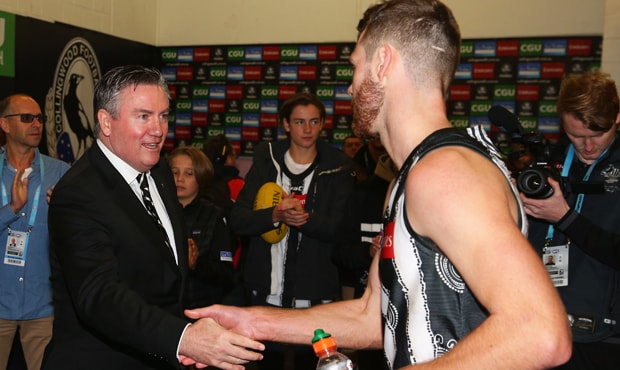 We're proud of you, Shaz. Welcome back.

#sidebyside
Matt Scharenberg:
21/11/13 - Drafted
27/7/14 - VFL debut
22/8/14 - 1st ACL
6/7/15 - Last AFL game
23/11/15 - 2nd ACL
28/5/17 - AFL return pic.twitter.com/vMdpyIgkr6

— Collingwood FC (@CollingwoodFC) May 28, 2017