Collingwood Media has published a selection of supporter tributes to club legend Lou Richards, who passed away on Monday 8 May aged 94.

The club's Archives Committee has created a display honouring Richards' contribution to the Black and White in the Holden Centre foyer.

Members and supporters can view the display between 9am and 5pm on weekdays.

Send your tributes to Lou Richards to tributesforlou@collingwoodfc.com.au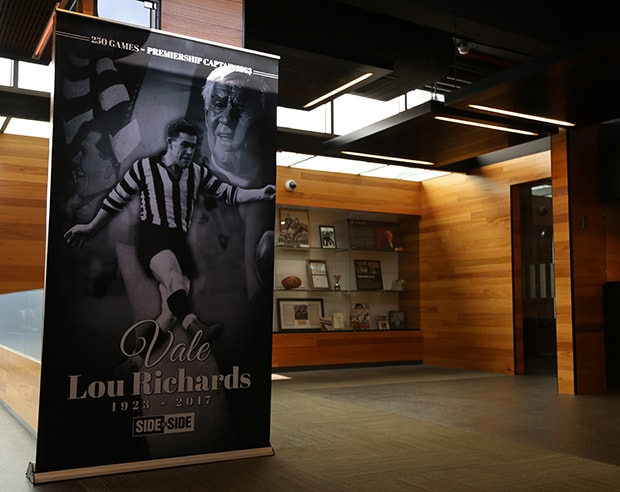 The Lou Richards display at the Holden Centre is open from 9am-5pm on weekdays.

"A great inspiration to not just Collingwood, but to all supporters from VFL to AFL.

"He did more to promote the great game than anyone else. Always called it as he saw it and always honoured his promises, no matter how outlandish.

"Every Friday thousands would wait to see the "Kiss of Death" tips from "Louie the Lip"."

- Chris Allison.

"RIP Lou, you are a Legend, thanks for all you have done.

"The Poulopoulos Family offer our sincere Condolences to the Richards family and wish them all the very best."

- Peter Poulopoulos

"I had the pleasure of watching Lou play when i was a child. He gave his all in everything he did, right down to all the laughs he gave us in his after footy life.

"I send my condolences to his family, friends, the Collingwood community and footy fans in general, who's respect Lou earned."

- Gail Wilson.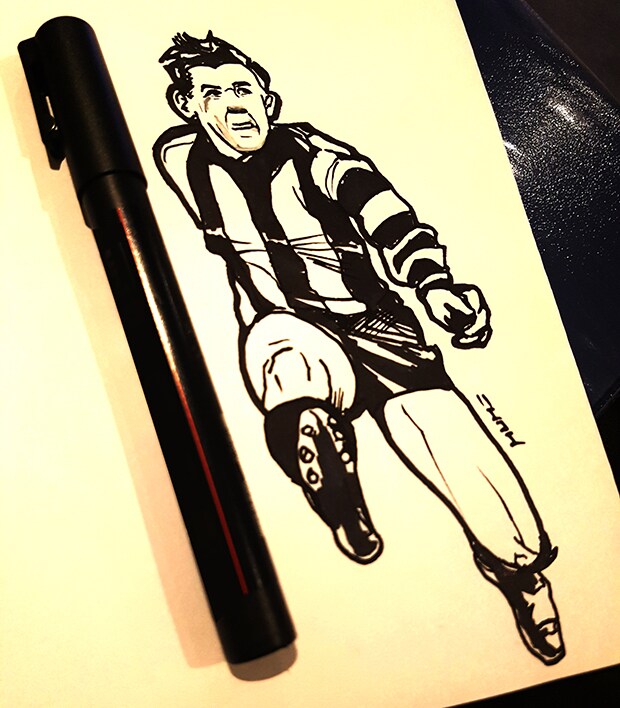 "Thought I'd send a sketch I did of Lou Richards the other night. He was a part of my childhood growing up in the 80s, an era which I hold dear and always have fond memories of. Best Regards, Mark Bernard."

"I first met Lou when I was 12-years-old, my family were ardent swans fans and I was at Victoria Park with my father.

"He went into the rooms after the game while I sat outside to wait, a man came out of the rooms and saw me sitting there with my swans scarf on and came over and spoke to me.

"I'll never forget the twinkle in his eyes when he said 'Hey young fella, you're wearing the wrong scarf, you need to switch to Black and White, believe me we'll win the flag next year'.

"He was so friendly and had such a big smile I couldn't ignore him so I decided to watch them in 1953.

"I jumped the train and went to every game I could, getting a job as a lolly boy to gain entry to the grounds and eventually even into the MCG for the Grand Final where I watched spellbound as his words came true.

"Needless to say I've worn the Pies colours ever since, so this is a sad time for me. The great Louie made me a Pie and with tears in my eyes I'll never change vale my friend you are irreplaceable.

"Side By Side, Floreat Pica."

- Kevin Patterson.

"I'm only 21 but I'm very glad I got to witness Lou in his last media years.

"He was the only reason I watched the Sunday Footy Show when I was little even when the Pies had lost that weekend. I'd eagerly wait for Lou's Handball to come on each Sunday morning. His wit, cheekiness and positivity made it that much more enjoyable.

"His laugh and smile were contagious and reached far and wide."

- Ashleigh Cochrane.

"Loui Loui, Loui the lip,
After the game you didn't mind a sip.

Aussie rules footy was your sport,
By your grandfather you were taught.

1953 Collingwood premiership captain,
Neil Mann whom you passed the baton.

You once were a moomba king,
Oh how you tried to sing.

Member of the order of the British Empire,
What a family for whom you were sire.

Australian Sport Hall of Fame,
Your loss to this world is a great shame.

Reunited now with Edna,
Legend status is now the agenda."

- Mal McKenna.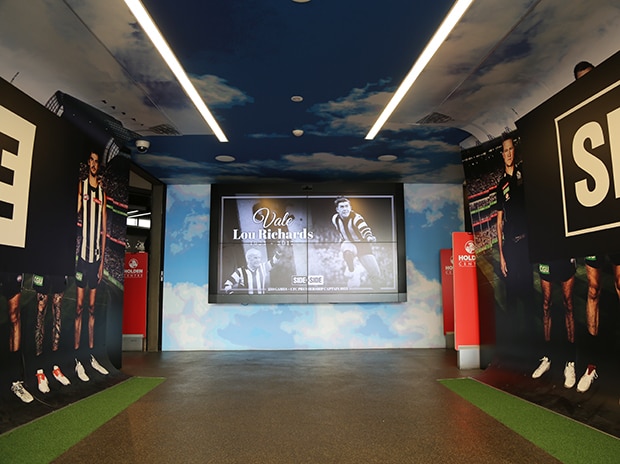 "I would like to say Mr Lou Richards was a outstanding man as a footballer and a person he used to make me laugh when I saw him on TV.

"He was a Collingwood man through and through. When I heard the news he has died, I was saddened, but he had a wonderful life and now he is with his wife who he loved very much.

"He will be up there singing the Collingwood theme song. Rest In Peace, Mr Lou Richards. We are going to miss you.

"Good Old Collingwood Forever."

- Mark Mauger.

"As a boy born in 1963, Louie the Lip was everywhere in my life.

"He was the King of Victoria, the King of Footy and most importantly the King of Collingwood. He was in our home nearly every day, whether it was in our daily newspaper or every Thursday, Saturday and Sunday on the TV where his presence and his distinctive voice just made you happy.

"His cheek, his wit and his ability to entertain is forged into my memory forever.

"I feel privileged to have lived through the era where Louie entertained us and for that I say thanks. Heaven just got a lot more fun with his arrival.

"Floreat Pica and Go Pies."

- Ramon Dobb.




"Forever in my heart - Michelle Walker."

"Growing up a diehard Collingwood supporter, I'd hear stories about the great Lou Richards, and how he was a true legend at the club, that he captained the team to victory in the '50s, and how he came from a family of great Pies players.

"One of the greatest moments of my life as a Pies supporter was meeting the man himself. While studying journalism, I wrote an article on the unveiling of Lou's statue at the Holden Centre, and I got to shake hands and speak to Lou for a few minutes.

"It was truly humbling to simply stand near this man whose name was synonymous with Collingwood.

"Rest in peace Lou. You will be forever remembered mate."

- Jackson Miller.

"Here's a caricature of Lou that my father Ron, then aged 15, drew in 1943. Lou signed it in the bottom corner.

"My whole family are Collingwood through and through, and Lou will always be one of our football heroes.

"Who will ever forget the pride he displayed wearing his Magpie jumper on the last day senior footy was played at Victoria Park.

"RIP Lou, Magpie Legend."

- Garry Chapman.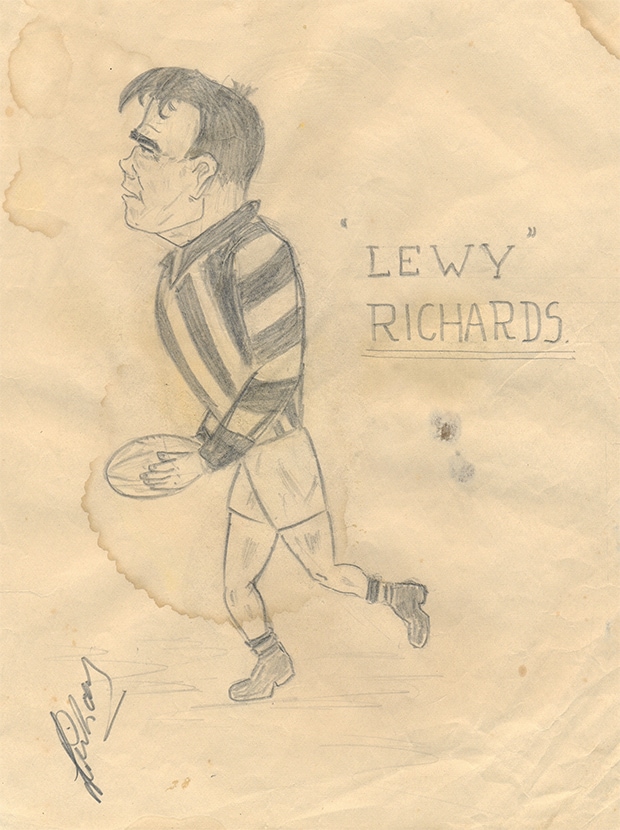 "Growing up in the 70's my school week revolved around League Teams, World of Sport and Collingwood on Saturday afternoon.

"Lou was there whenever something needed to be said. In a young child's eyes Lou represented everything enjoyable about football and life in general. His humility and ability to take a good gestured joke on the chin left a lasting impression on me personally.

"However, behind the laughs and footy banter was a legend I never saw play the game, but heard and read so much about (mostly from Lou). Nobody spoke more highly of Lou Richards than Lou Richards but despite playful self congratulation, Lou's playing statistics speak for themselves.

"You don't get to play 250 games for Collingwood unless you are a bloody good footballer. On top of that, 423 goals from an undersized ruck-rover shows he knew what to do with the ball when he got it. Lou's media star has often outshone his playing career mostly because TV only started covering games when he retired and, let's face it, Lou started football media. Lou's media star is the biggest in the business and no amount goals, games or premierships would ever outshine that.

"Lou became a giant of the game. He changed football in so many wonderful ways. There are so many memories of Lou that they just blur into a giant impression of a man who loved life and thrived on making people happy. I had the privilege of photographing Lou and his family on several occasions in recent years and much of what the Victoria Park Heritage Committee does is dedicated to the likes of Lou Richards.

"Lou's love for Collingwood and Victoria Park was only surpassed by his love for his beautiful wife Edna and their loving family. That is the mark of the man. He is irreplaceable and will be sorely missed by all.

"Floreat Pica."

- Shane Barrie.

"I am an Australian Rules football player in the United States playing for the Chicago Swans and the Wisconsin Wombats.

"As someone who has grown to love the sport, I have seen some of those videos on YouTube of Lou MCing the North Melbourne Grand Final Breakfast and on World of Sport. There is no doubt he can light up a room with laughs.

"When Australian Rules Football was first broadcasted in the USA in 1979, Americans got hear the voice of Lou Richards introduce Aussie Rules to a country that is wide and big.

"There is no doubt Lou Richards was a true legend on and off the field. He is incomparable in his own right. You cannot compare to anyone else in Australia or in any other nation.

"On behalf of all Aussie Rules players in the United States, I extend my love, thoughts, and prayers to the Richards Family and Collingwood FC."

- Kyle Maichle Madison, Wisconsin USA.

"Every Sunday in the 1970s and 1980s, I religiously watched World of Sport so I could listen to the special comments from Lou.

"Because of his passion for football and love of Collingwood I took a leaf out of his book to be the crazy Pies supporter I am today."

- Virginia Miller.

"I was a young 19 year old RAAF Radio School trainee at Laverton 1965-66 when I first saw Lou and his mates on TV.

"What an eye opener, for an young kid who had just joined the RAAF from the City of Broken Hill (there was no TV those days), it opened my eyes to the mighty AFL.

"It was hilarious and made me feel at home in a strange big city away from home.

"We followed SA football mostly, so the Victorians were our enemy, but I ended up a Collingwood club member or supporter over many years.

"During my time in the RAAF overseas in Thailand. South Vietnam and Malaysia trying to get scores over Radio Australia or via weeks old newspapers delivered by our RAAF Hercules aircraft, somehow we got to hear how our mighty Magpies went, through tough times and good times, we always remembered Lou and his comments and they brought such mirth for us."

- Terence Malligan.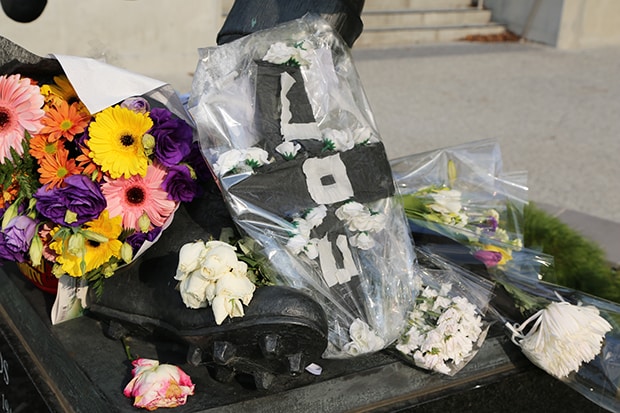 "Lou Richards was a player my grandmother loved. He was the man that I heard about as a small child and then had the privilege to watch him on the Sunday Footy Show doing Lou's handball and when he was behind the bar on the Thursday Footy Show when Eddie McGuire was hosting.

"He always made me laugh and I loved sharing those moments with my grandmother, who passed away 15 years ago.

"When I would watch him or see him on TV, I would always remember those moments with my grandmother.

"Lou was very admired and loved by so many people and he felt like the grandfather of the Collingwood Football Club.

"There will never be another man like Lou and I am glad that I got to watch him on TV as a kid.

"RIP Mr Lou Richards. You're a legend of the Collingwood Football and always will be in my heart. There will never be anyone who will be as good as you Lou."

- Tanya Kraus.