It was the decade where football took its first faint steps towards professionalism.
Players chased a greater financial return, Waverley rose from the paddocks, colour television beamed into our living rooms for the first time and the game endured through a turbulent decade.
The 'Sensational Seventies, as they would become known, proved a tantalising, yet ultimately unfulfilled period for Collingwood.
It was bookended by heartbreaking Grand Final losses to Carlton. The first came when the Magpies lost from what had previously been considered an unlosable situation; the second when Collingwood almost pinched the premiership in the dying moments of a dour struggle.
Through it all, the goings on at Collingwood – and at Victoria Park - was like a soap opera you couldn't switch off, and the audience was spellbound.
For those who lived through it, it was a period they will never forget and it produced heroes and characters alike forever etched into our consciousness.
For those who didn't,Collingwood Forever will transport you back in time each week this season for a blast from the '70s past, profiling a player who made an impact for one reason or another.
Rod Oborne didn't quite reach the heights his early promise forecast at Collingwood, but the stylish half forward/utility still managed to make a real impression across six-and-a-half senior seasons.
A winner of the Magpies' best first-year player, a runner-up to Peter McKenna in the club's goal-kicking award in only his second season, and one of those rare footballers capable of averaging a goal per game, Oborne was a fixture at Victoria Park throughout the 1970s.
The talented left-footer represented Collingwood in 87 games and kicked 85 goals, punctuated by a season playing with Claremont in the WAFL. He also represented Richmond.
Wherever he went, Oborne had an uncanny knack of finding the goals, and was so often compelling viewing.
A crafty player, he was nicknamed 'Swoop' by his teammates for his capacity to seemingly swoop on the ball.
He arrived at Victoria Park in 1971 from Riana in northern Tasmania, having been recruited from Marist Brothers College in Burnie.
He played the entire season in the reserves that season, impressing the club's long-time reserves coach Neil Mann. So it was little surprise that when Mann inherited the senior job from Bob Rose for the 1972 season that Oborne formed a part of the new coach's plan for a rejuvenated playing group.
A strong preseason saw the half forward - wearing the No.8 jumper - chosen for the first round of the season in the Easter Monday clash with Richmond at the MCG. The Age noted: "Newly appointed Magpie coach Neil Mann has not wasted any time in giving the 1972 Collingwood side a new look."
Oborne was the youngest Magpie that day - at 18 years and 210 days. It was said he had "been groomed through the reserves and looks to have a bright future."
He had six disposals and kicked a behind in the club's four-point loss to the Tigers.
A reserve in his second game, in a draw with Carlton, he spent much of the game on the bench before coming on to replace Gary Tredrea, father of future Port Adelaide premiership captain Warren.
Oborne played 19 senior games in 1972, with one of his best performances coming in Round 18 against Fitzroy, as he kicked 3.4 and was named in the best players.
His form saw him adjudged the club's best first-year player that season, with The Football Record saying he "displayed outstanding form ... (as a) dashing player who uses speed and anticipation to win kicks. Excellent kick cannot be left unguarded on flank. Has improved as the year has gone on."
Oborne played two finals in his first year. In the qualifying final loss to Richmond, he came up against Francis Bourke and "lacked the experience to cope." He was relegated to a reserve before coming on in the final term against St Kilda in the first semi-final as Collingwood crashed out of the finals.
He started the 1973 season in fine form, kicking 10 goals in the first three weeks and 31 in the first 14 rounds. His best tallies were four goals in Round 1 against South Melbourne and a best afield four-goal haul against Geelong in Round 3.
The latter came in a game where the Magpies needed to find alternate avenues to goal after Peter McKenna suffered a hamstring injury early on. In giving him the best-on-ground nomination, the Age said: "Rod Oborne has become an integral part of the Collingwood set-up."
He was described as "one of the most dangerous players in the Magpies' line-up, if let loose for a moment." He had "great anticipation and football sense as he literally does swoop goal-wards."
He was also "a very good mark for his inches (185cm) and he has tremendous pace".
Famously, he was pictured in one memorable photo of the time. Oborne was captured almost upside down with the optical illusion of the ball looking as if it was attached to his shoulders in place of his head.
Leading into the 1973 finals, the Football Record even suggested he "must be in line for (the) Copeland", which was ultimately won by Len Thompson.
He ended up the season with 39 goals for the season, which saw him second on the club's goalkicking list behind McKenna (86 goals).
He was the only Magpie to play every game that season.
For the second straight year Collingwood exited the finals in straight sets, but it was hardly Oborne's fault. He had 19 disposals and kicked a goal in the second semi-final loss to Carlton, where he was "one of the few Magpies to hit his straps early but (he) faded as the game progressed."
He wasn't quite as good in the preliminary final loss to Richmond, but his season showed he was "a danger player if let loose even for a short time."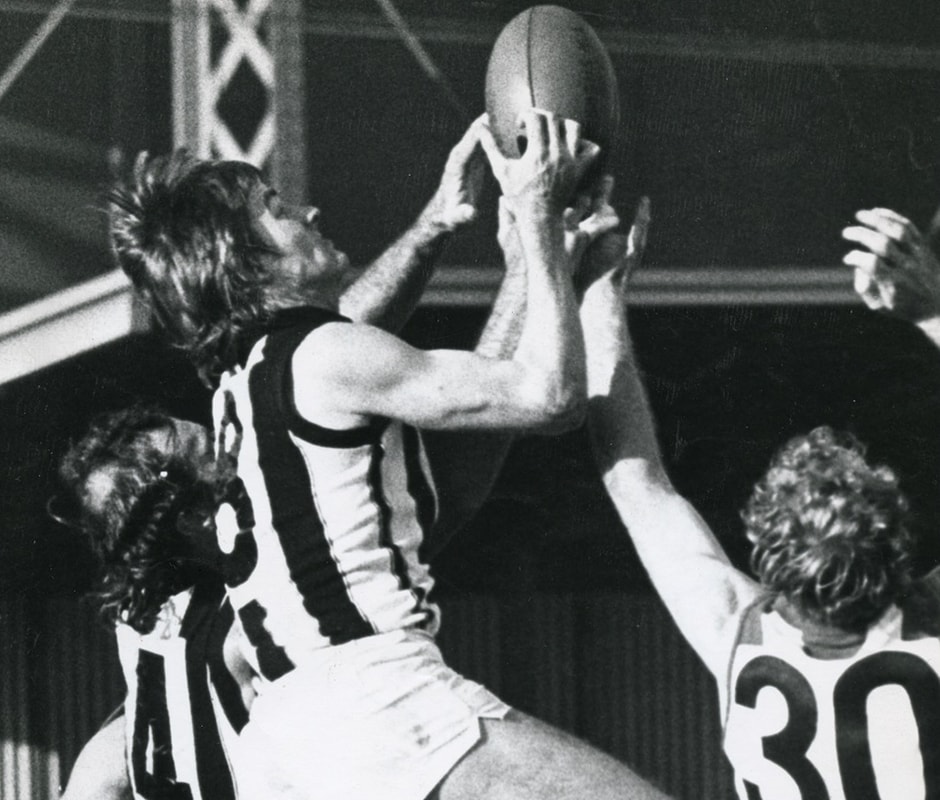 Rod Oborne takes a mark during his time with the Pies
That was evident again from Round 1 the following season when he bagged four goals in Round 1 against Essendon in 1974.
However, his impact wasn't quite as significant thereafter. He played the first eight games of 1974, before injury issues intervened. In all, he would play 13 games that season, finishing with 15 goals.
Frustratingly, he played three of the first five rounds in 1975 before knee cartilage issue ended his year prematurely. Ten games followed in Collingwood's 1976 wooden spoon season, with his best output being four goals against Fitzroy in Round 8.
His only consolation was the fact he played in a reserves flag with the Magpies, kicking a goal in the 26-point win over North Melbourne, as the curtain-raiser to the Hawks-Kangaroos Grand Final.
But as the Magpies looked to a different era under new coach Tom Hafey ahead of the 1977 season, Oborne transferred to Claremont in the WAFL for a season, paving the way for Kevin Worthington to join the Magpies.
Oborne played 19 games and kicked 57 goals in his sole season in the WAFL, which made him Claremont's leading goal-kicker.
Given that sort of form, the Magpies wanted him back.
He returned to Collingwood the following year, and the utility/forward not only won selection for the first game against Geelong, he kicked two goals and was listed among the best players.
The following week, against Essendon, he kicked four goals.
He managed 15 games for the season, kicking 13 goals. Having missed the first final that year, he was recalled for the first semi-final win over Carlton (13 disposals) and the preliminary final loss to North Melbourne (16 disposals).
Oborne played three of the first five games with Collingwood in the 1979 season, but finished it with Richmond. A mid-year transfer saw him kick four goals in his first game in yellow and black.
He spent three seasons with Richmond, but only managed five games in that time, including a single game in the club's 1980 premiership season (in Round 1) - the same year as his son Brad was born.
That wasn't the end of his time in football, nor his family's connection to Collingwood.
Oborne would go on to captain-coach Williamstown in the VFA before taking on Ainslie in Canberra where he led them to the 1984 flag.
His son would be recruited to Collingwood under the father-son rule in 1998, having graduated from Montmorency and Preston under 18s. Brad Oborne said of his father at the time: "Dad comes along and watches the games each week. He tends not to say too much. He probably does not want to push me and I appreciate that."
Brad played five games for Collingwood - four under Tony Shaw in 1999 and one under Mick Malthouse in 2000 - before being delisted.
Like his father, he was a left-footer and knew where the goals were, as evidenced by his three goals against Brisbane in 1999.