Collingwood's oldest living past player, Bill Welsh, turns 95 on Saturday – and he's already received the best present imaginable.
His home town of Yinnar, near Morwell, recently named a local park in his honour to commemorate Bill's lifetime of outstanding community service and contribution.
That honour alone more than justifies Bill's decision to walk away from a promising VFL career and return home after just eight games in 1950.
As a youngster he'd been courted by four other VFL clubs, but by the time he relented and agreed to try out at Victoria Park in 1950 he was already 25.
He debuted in Round 2 against Fitzroy and held his place for eight straight games. A high-scoring key forward at home, Bill found himself switching between a half-forward flank and full-forward at VFL level. The Weekly Times said he looked like developing into "one of the best half-forward flankers in the game."
"As a half-forward he is ideal. He has pace, dash and is a good mark. An athletic type – he is 5 ft. 10 in. and 13st. – Bill is a good position player with a fine goal sense."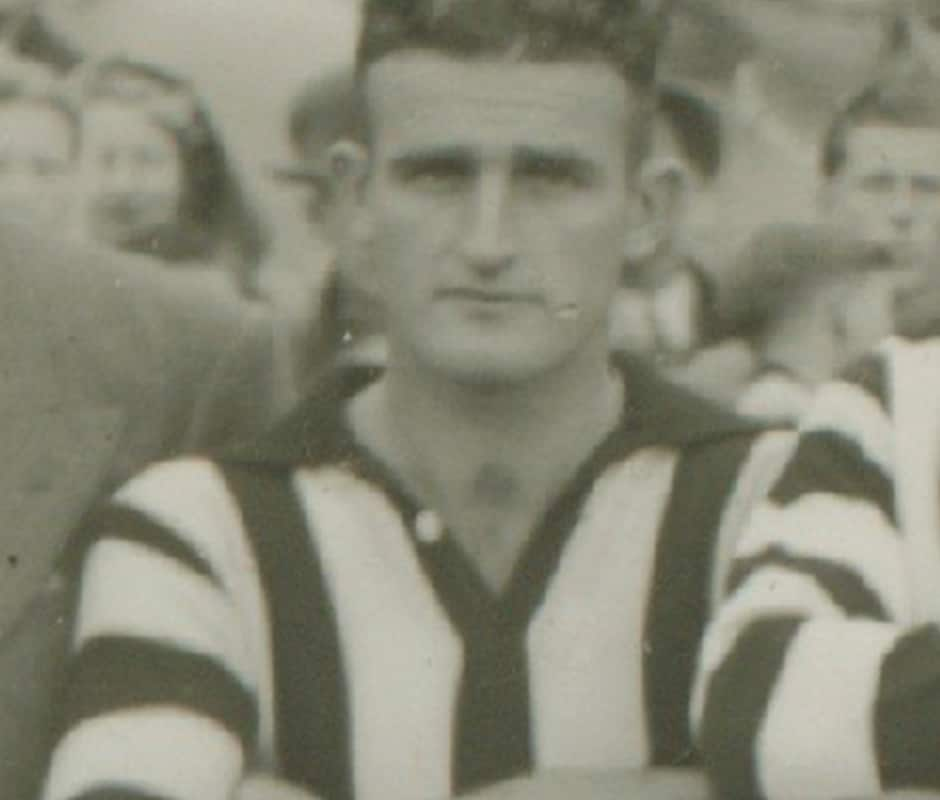 Bill Welsh in Collingwood gear in 1950
But soon after especially fine games against Richmond and Hawthorn, Bill decided he wanted to go back to Yinnar, the lure of home and pressures of running a local business proving too great.
In the end, he would run that business – the Yinnar Farm and Hardware Store – with his brother for 37 years. He played and coached in the region for many more years, and would later be named captain of Morwell's Team of the Decade for the 1950s, and was inducted into the Mid-Gippsland League Hall of Fame. His son, Peter, would later enjoy a fine VFL career with Hawthorn and Richmond.
He also became a leading community figure in and around his home town. He helped to revive Yinnar Football Club after the war, later serving as president, and played for and acted as president of both the cricket and bowls clubs. He was president of the local RSL, raised money for local community projects, was president of the Yinnar Recreation Reserve and served as a JP for more than 40 years. He even paid for the Yinnar Town Clock!
It was that service which led the town of Yinnar in July to dedicate the Bill Welsh Park in his honour.
Bill is hard of hearing these days, but his wife Jean said that Bill had loved his time at Victoria Park.
"Bill is still mad Collingwood – completely one-eyed," she said. "And most of the family is too, mostly because of Bill. He has some great memories of his time there and he's never lost his love for them."
The Collingwood Past Players Association has arranged special gifts for Bill to mark his 95th birthday, and club CEO Mark Anderson contributed a special message that was read out at the park's dedication ceremony. Part of that message said: "Bill's record of community service in and around Yinnar in the near-70 years since he left us is staggering.
"We're proud of what he's achieved there. And we're proud that Bill has done it all with the tag of 'former Collingwood player'. Hopefully he has carried a little of the Magpies with him along the way."
Read Bill Welsh's full career story here on Collingwood Forever.