The 2018 drafts are now complete, and so is Collingwood's playing list for 2019.

Collingwood mined the Oakleigh Chargers for its new talent, adding three players with either Next Generation Academy or father-son onto its senior list for the new season.

Two players were added during the trade period, two Irish products joined the rookie list and a further two current Magpies were shifted onto the rookie list.

Who the Pies picked

National Draft
Pick No. 13 – Isaac Quaynor (Oakleigh U18)
The Collingwood Next Generation Academy prospect can play in defence and in the middle. The versatile Under-18 All-Australian defender can play on both medium and small opponents and is quick and agile. A good decision maker, Quaynor uses the ball effectively by hand and foot. The 18-year-old models his game on Bulldogs speedster Jason Johannisen and Demons defender Neville Jetta, and shapes as a top-20 pick on draft night. Quaynor also surprised himself, winning the goalkicking test at the Draft Combine with a perfect score.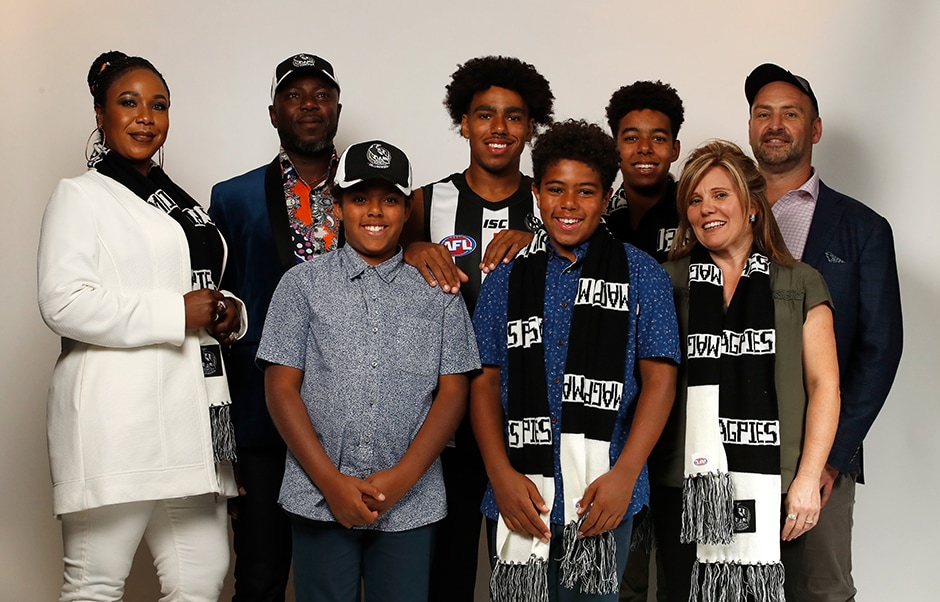 Isaac Quaynor and his family.

Pick No. 29 – Will Kelly (Oakleigh U18)
An athletic tall defender who has the ability to play one-on-one and negate his direct opponent. Grew in confidence playing for Vic Metro this year, reading the angles well with his intercept marking. As the son of Collingwood premiership player Craig Kelly, he is eligible for the Magpies as a father-son selection.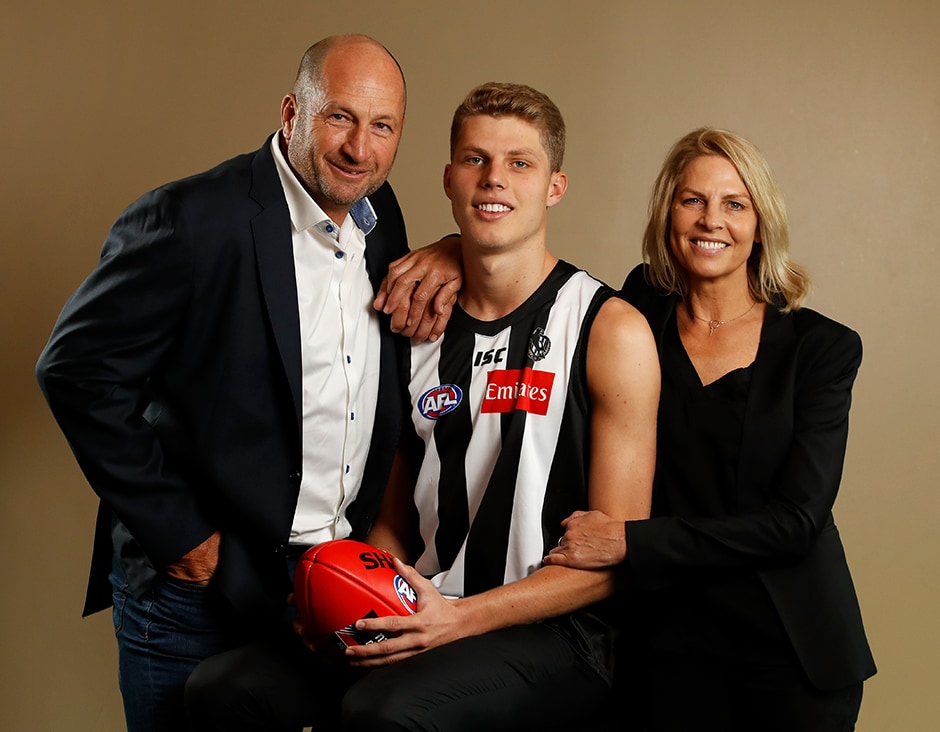 Will Kelly and his parents Craig and Meredith.

Pick No. 77 – Atu Bosenavulagi (Oakleigh U18)
The rugby union convert's form has built across the season and he has taken the eye of club scouts with his pace, hardness and tackling in the TAC Cup, making him a late draft or rookie chance. Collingwood has access to the Fijian-born prospect through its Next Generation Academy.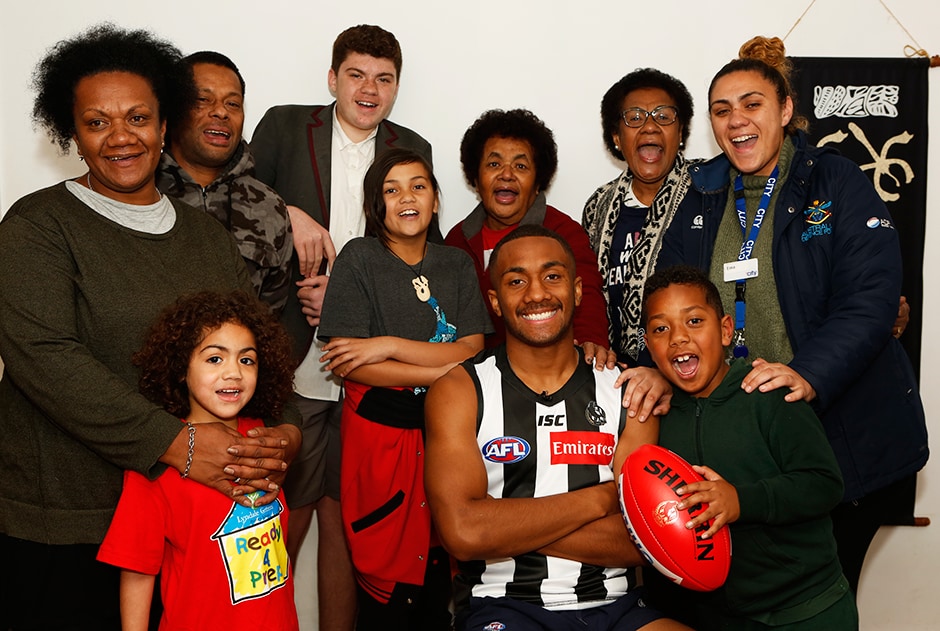 Atu Bosenavulagi and his family on draft day. Photo: collingwoodfc.com.au

Rookie List
Mark Keane (County Cork, Ireland)
An 18-year-old who looks likely to begin his Australian football journey as a tall defender. He is looking to model his game on Tyson Goldsack and Tom Langdon, and has already received praise for his competitiveness. He is strong overhead and has shown a natural game sense.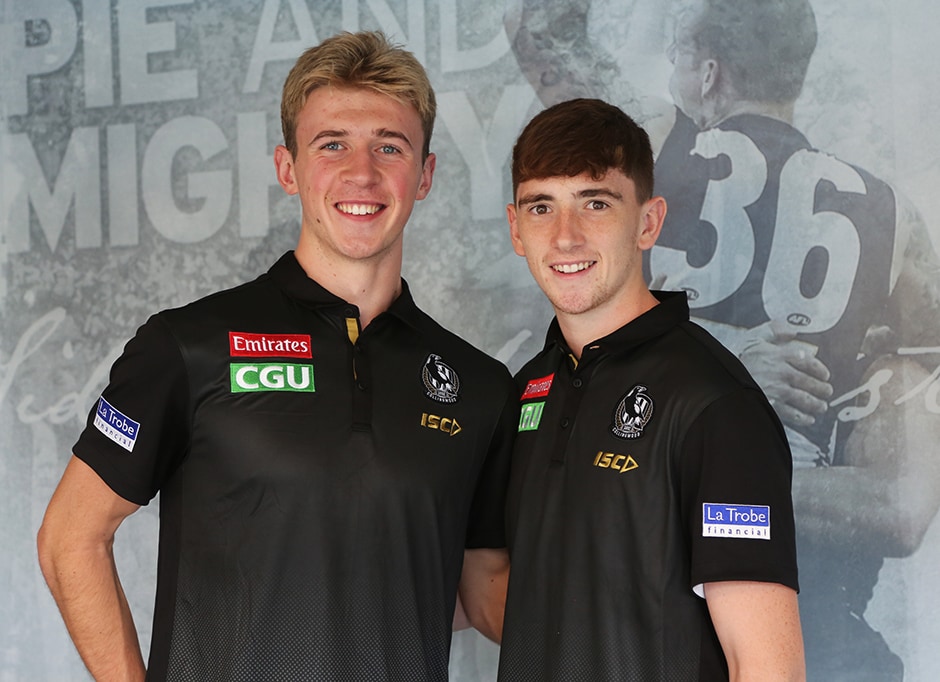 Mark Keane and Anton Tohill. Photo: collingwoodfc.com.au

Anton Tohill (County Derry, Ireland)
The son of former Gaelic and International Rules star Anthony Tohill, who spent time with the Melbourne Football Club in the 1990s, Anton recorded excellent speed and agility results at October's Draft Combine. He has the makings of a tall utility who will be capable at both ends of the ground, with the potential to spend time in the ruck.

Tim Broomhead and Sam Murray (redrafted)
The pair was delisted on 30 October with the promise of being redrafted onto the club's rookie list.

Murray, who joined the club via a trade from Sydney in 2017, is currently the subject of an ASADA investigation and serving a provisional suspension, while Broomhead, who was originally drafted back in 2012, is overcoming a nasty broken leg suffered against Greater Western Sydney in March.

Trade Period
Dayne Beams (Brisbane)
In exchange for Beams and selections No. 41 and No. 44, Brisbane will receive picks No. 18 and No. 56 in this year's National Draft and Collingwood's 2019 first-round pick. Beams played 110 games for the Magpies between 2009 and 2014, winning a premiership in 2010 and the Copeland Trophy in 2012.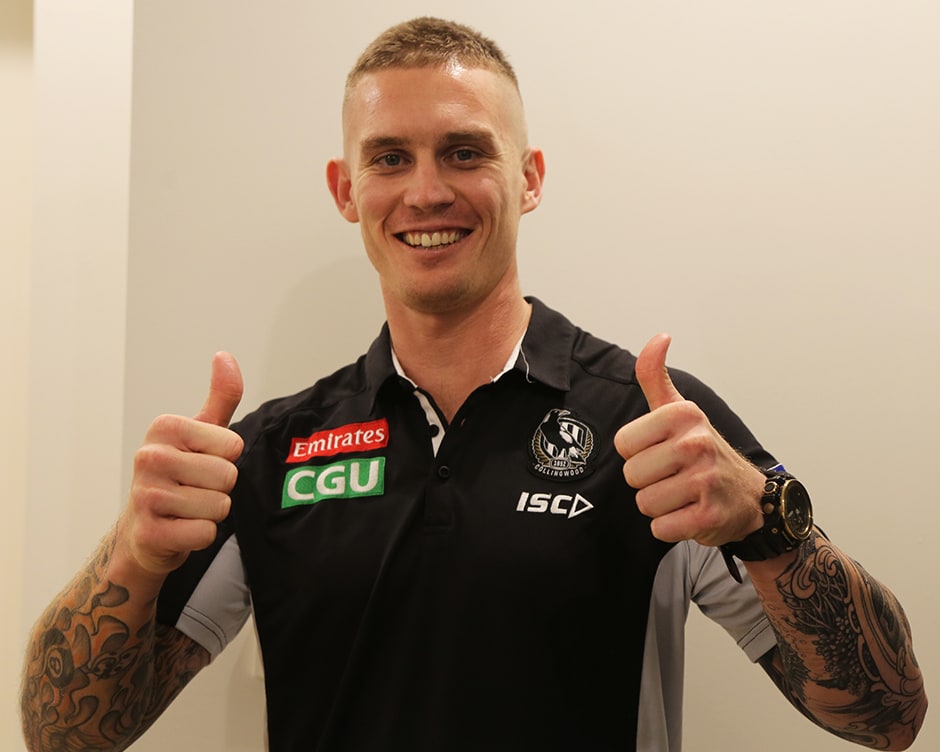 Dayne Beams was all smiles on return. Photo: collingwoodfc.com.au

Jordan Roughead (Western Bulldogs)
The versatile 28-year-old joined the Magpies in exchange for a fourth-round selection in this year's national draft (which was, at the time, No. 75). Roughead played key back, key forward and ruck for the Bulldogs over a 138-game career that spanned nine seasons. Roughead was an important member of the Bulldogs' 2016 flag side, carrying the ruck for much of a campaign that famously broke one of the longest premiership droughts in the game.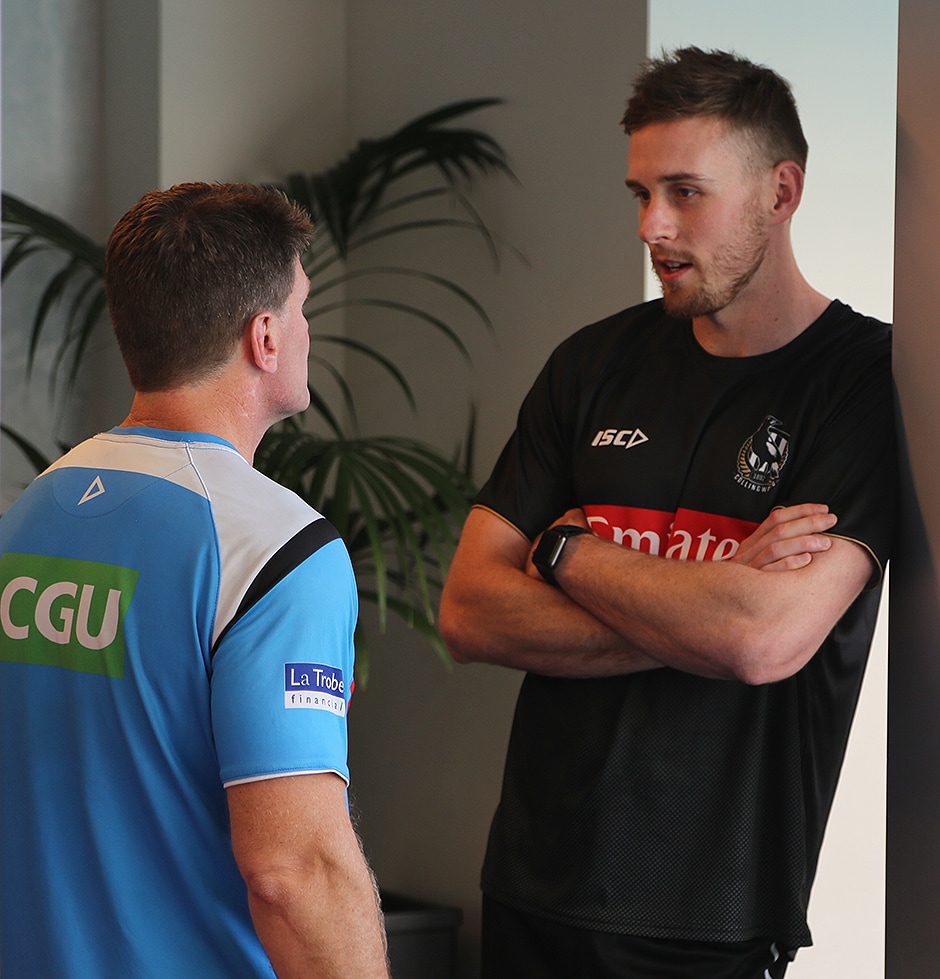 Jordan Roughead speaks with Robert Harvey. Photo: collingwoodfc.com.au

What the media said
"Collingwood was slightly hamstrung by the fact it had Next Generation Academy and father-son prospects in Quaynor and Kelly coming through. However, fortunately, both fill needs at the Pies. In Quaynor, the club gets a versatile running defender who can play tall and small in the backline. In Kelly, it gets the key position defender it has long craved. There was a significant gap before Collingwood's next pick, with the Pies using that selection to recruit another Academy member in Bosenavulagi. A rugby union convert, the 'grandson' of the club's cheer squad leader Joffa is a great story who has impressed since crossing to footy with his speed and attack on the ball," – Riley Beveridge, AFL Media.

What Collingwood's List Manager Ned Guy said
How did the club assess its draft position?
"We were really comfortable. Part of our trade strategy in bringing Dayne Beams in was bringing back those picks to make sure we had what we considered worst case scenario covered. We thought we had all those bases covered.

"When Isaac fell a little bit later than what we had budgeted for, and then Will again, we found ourselves with pick No. 63, so we didn't have to go into deficit. In fact, we got that pick that came in a little bit earlier which we were really happy with."

Will the Magpies go into points deficit in the 2019 National Draft?
"There is no deficit at all. We got that pick with 112 points attached which was No. 63. We then had a few chats to a few clubs around moving that, which we managed to do with Hawthorn, bringing in a future fourth and then picking up Atu with our last pick."

What's the background on Atu Bosenavulagi?
"Atu is a really good story. He is a real credit to the guys and girls down at Oakleigh. His development this year has been through the roof from where he has come from. He has a Fijian background, is really quick and tough with his rugby background, he tackles really well. We see him coming in and developing in a small forward role for us."

What is your assessment of Will Kelly?
"Will is an 18-year-old key position player who is coming off a foot injury. He will have a delayed start to his pre-season, but we will have patience with any key position player who we bring in at that age. He has great endurance, he's a really good kick, a smart defender who get the fist in almost every time so we're really happy to bring him in.

"There are no worries with his foot. He just had it cleaned up about six weeks. He'll just have a bit of a delay to his start.

"We see Isaac and Will, in particular, as first round picks. We've effectively given up two first round picks for those guys plus Dayne Beams. We're pretty happy with the net result at the end of the trade and draft."

Collingwood's list changes
IN: Dayne Beams (trade), Atu Bosenavulagi (National Draft), Mark Keane (international rookie), Will Kelly (National Draft), Isaac Quaynor (National Draft), Jordan Roughead (trade), Anton Tohill (international rookie)

OUT: Jarryd Blair (delisted), Alex Fasolo (free agent – Carlton), Kayle Kirby (retired), Sam McLarty (delisted), Adam Oxley (delisted rookie), Josh Smith (delisted)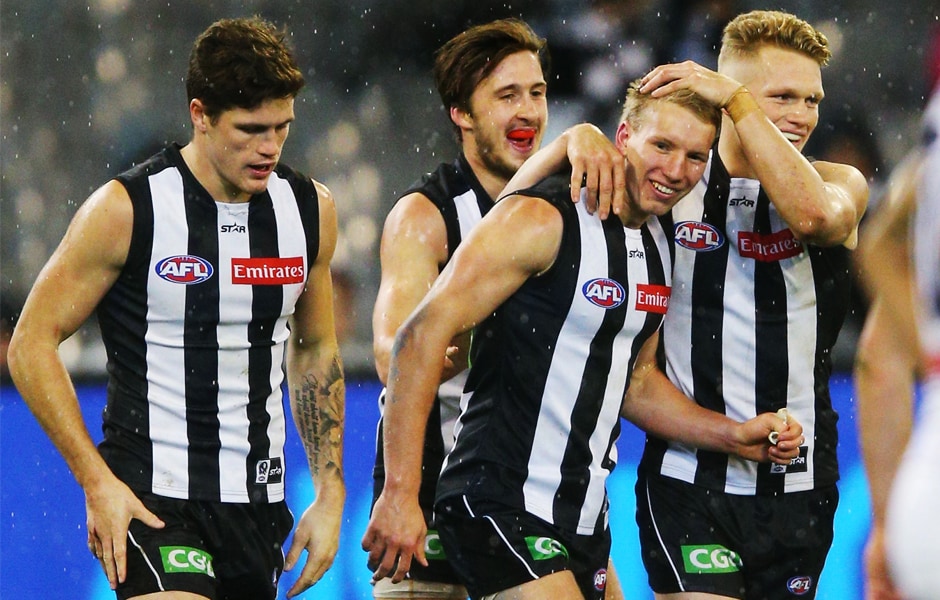 Josh Smith will continue his league career with West Coast, who recruited him in Friday's Rookie Draft.