Finals or bust.
That is the scenario facing Collingwood as it looks to return to the top eight for the first time since 2013, according to skipper Scott Pendlebury.
Pendlebury's comments on Tuesday mirror those of coach Nathan Buckley who declared late last season that 2017 was make or break for him as he falls out of contract at the end of the year.
"It's always finals or bust and any club that sits here and says it's not, I don't know what they're playing for," Pendlebury said on Tuesday.
"I don't hope we're here in October, I think we'll work hard enough to make sure it's going to happen."
The full Collingwood squad were back training on Monday after Pendlebury joined the first-to-fourth-year players for a camp at Falls Creek the previous week.
The captain decided to cut his off-season break short to return early and headed up the highway – after an unarranged detour when Buckley took the wrong turn on the way there – to join in the gruelling training camp.
"It was very hard. The Tuesday we've had up there was probably one of the hardest of my career.
"I just wanted to go up and see what it was all about and I'm not sure I'll ever go back.
"Anytime you can get back early and get the footy into your hands (is beneficial)… it was a great opportunity for me to jump in with the young guys and to get to know them a little bit better."
Recruits Daniel Wells and Chris Mayne hit the training track for the first time with their new teammates at Olympic Park on Monday.
"I'm very excited (about Wells). He gave us a good look at what he's capable of when we all thought he was going to pull out sick (in round 18) and then he came out and had 15 touches in the first quarter," Pendlebury said.
"Mayney can add a fair bit – he's a smart player and he's a great runner. I don't think we've seen the best football he's got to offer so hopefully we can bring that out here."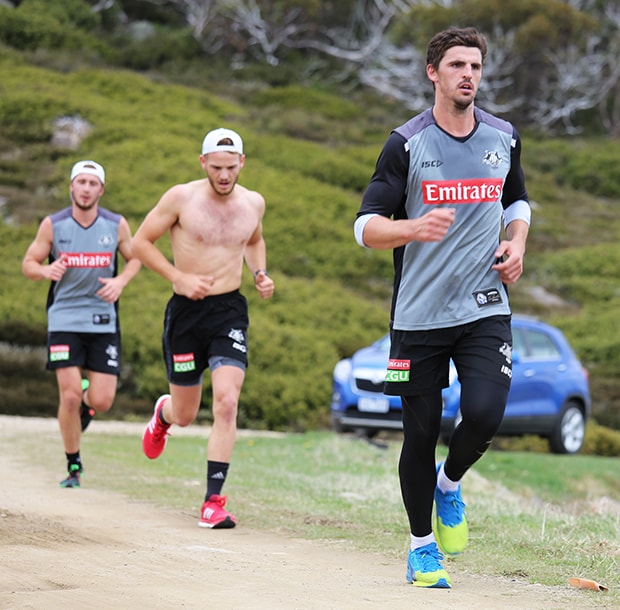 Scott Pendlebury trains in Falls Creek. Photo: Collingwood Media.
Pendlebury said the resignation of Director of Football Graeme Allan, following the Lachie Whitfield saga, had not had a detrimental impact at the club.
Football Operations Manager Marcus Wagner is filling the role in the interim as the Pies search for their preferred candidate.
"It all happened over the off-season, so since we've come back Marcus Wagner has done a terrific job of explaining the whole program, and how it's going to look for us," Pendlebury said.
"It's really been business as usual for us and we're just looking forward to getting stuck in. We trust Marcus in the job that he's going to get the job done."



A new team, a new Twitter account.
Support our @CollingwoodFCW team + follow them now! You'll get live training updates at 6.30pm #gopies pic.twitter.com/rPARCFpw5x

— Collingwood FC (@CollingwoodFC) November 22, 2016