Collingwood has the "formula to be great" despite Saturday's painful five-point Grand Final loss to West Coast, star defender Jeremy Howe has declared.

Howe, who required a painkilling injection on his ankle to get through the decider, said the club was standing by its motto: We are enough.

Speaking to reporters on Sunday, Howe said the loss was tough to swallow after being in a winning position with just minutes remaining in the game.

However, when the dust eventually settles, Howe's reflections will centre on the improvements the group made across 2018 and gearing up for another assault on next year's premiership.

"We've made unbelievable inroads going forward. I think we've got the formula to be great," Howe said.

"We fell short on the weekend, clearly West Coast deserved to win. They ended up grinding us out in that last half and to their credit they outplayed us in the second half.

"It still hurts – it's not even 24 hours since the game – but we'll tip in, come back in the pre-season and improve on where we think we've been good this year."

Coming up just short at the final hurdle has strengthened Howe's and his teammates' resolve to go one better next season.

Collingwood rose from 13th on the ladder in 2017 to the Grand Final this year, overcoming plenty of adversity and naysayers across the way.

Howe felt for coach Nathan Buckley, with the defender saying it would have been just reward for him after playing in two losing Grand Finals during his playing career.
Howe on criticism of runner Alex Woodward: "Social media is an absolute nightmare of a system. Woody is one of the nicest, most polite, loveliest people I've ever met. To see him distraught after the game made me angry. It had nothing to do with the result." #FOREVER

— Collingwood FC (@CollingwoodFC) September 30, 2018

"It probably ripped our hearts out for him because he couldn't quite get there as a player and there would have been nothing better to be able to get the result for him as a coach," Howe said.

Howe is confident his side will once again rise in 2019.

"We stand by the slogan that 'We are enough' and we know that, and the trust and belief in the group is so strong and when I speak about having the formula we've got the guys around – the players the coaches, admin staff, the whole club," Howe said.

"We're not going to come in and try any harder, because I felt like we let it all out in the pre-season and in the season, so we'll come back and clearly there's going to be RFIs (room for improvement) that we can work on but we feel like we're good enough."

As for the ankle injury he carried into the game, suffered in last weekend's preliminary final against Richmond, Howe admitted he was never going to be in full health.

"I had an injection, so (the ankle) was numb," Howe said.

"Today is a different story, it's a bit sore. But it was fine throughout the game and I don't think any bloke going out there yesterday would've been going in 100 per cent.

"At this time of the season everyone's carrying something small but there was no excuse for myself, I felt all right out in the game and unfortunately couldn't quite get it done."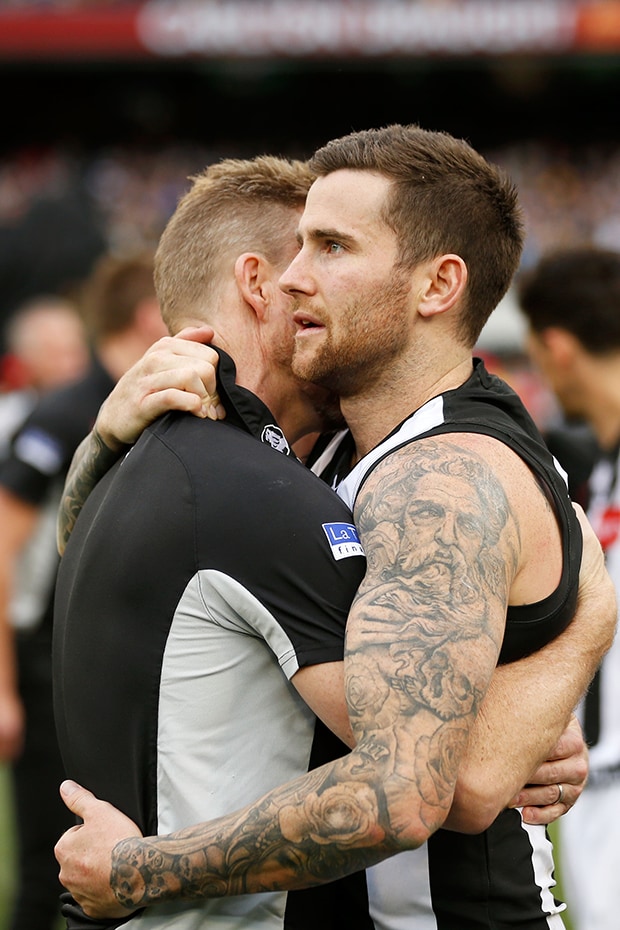 Nathan Buckley and Jeremy Howe embrace after the final siren.