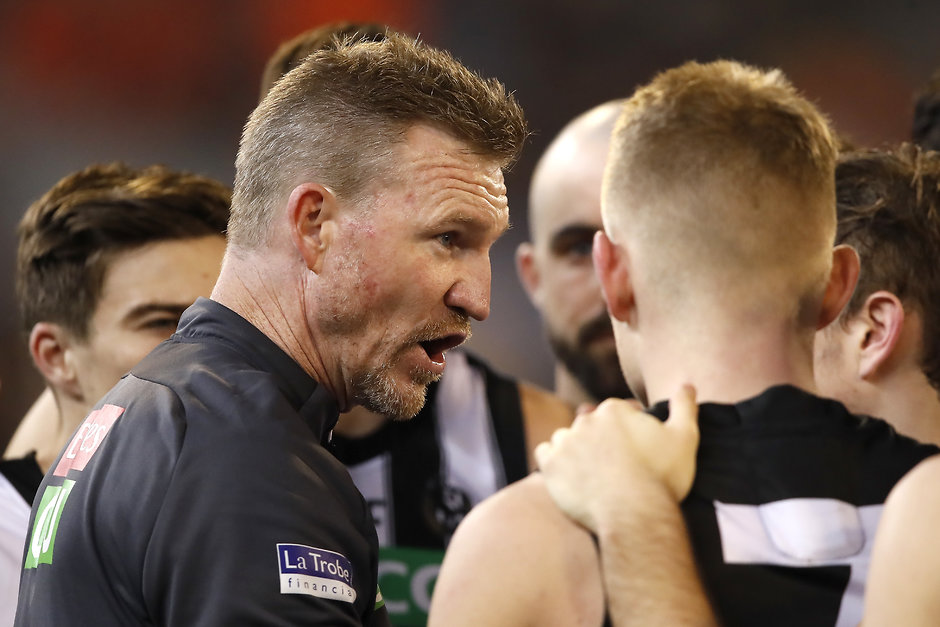 Confidence is key at Collingwood.
Unfortunately for Nathan Buckley, his side doesn't have much of it at the moment.
Following another disappointing showing in a four-point loss to Hawthorn on Friday night, Buckley believes his side's form is having an impact on the energy and poise of his players.
Heavily critical of his Pies outfit over the last fortnight, Buckley conceded after the match that his team's conviction is now lacking following a string of unconvincing performances.
That showed at crucial intervals at the MCG.
While the Hawks were able to feed off the momentum of a five-goal final term to storm home, the Pies appeared bereft of ideas as they sought to battle out of their malaise.
"We're not playing our best footy," Buckley said.
"That has an impact. When you don't have that momentum of building on your best footy and the confidence of playing your best footy – we're out of form – then I think that does take a little bit of extra work to find and to motivate and to energise.
"We're down on it (energy) a little, there's no doubt. But I think that our form has contributed to that in some shape or another.
"In the end, there's no easy way out of that. You've just got to work through it."
While the Pies were able to get the footy in the hands of their best ball users, too many turnovers across the night resulted in a frustrating display throughout the match.
Collingwood went inside 50 only 34 times for the game, with Buckley also stating that the side's lack of confidence was hindering its ability to execute going forward.
"There are individuals that aren't quite in the form that they'd like to be in," Buckley said.
"If you add that as a collective, I don't think we're jelling together as a team quite as effectively as we'd like to be. That's where we're at.
"We battled away for most of the night and we were in a winning position but form definitely is an issue individually and collectively."
Despite the club's poor performances, it remains in the top four with a 10-5 record.
However, it is quickly falling behind League leaders Geelong, while its month-long spell of disappointing footy is giving the Collingwood coach plenty of cause for concern.
But Buckley believes the team knows where it must improve.
"If it was a kick the other way, we wouldn't be sitting here with any less understanding of the things we need to work on to bring our best footy to light," Buckley said.
"There were steps forward from last week. We see last week as an outlier.
"The season has its ups and downs. You don't often have seasons without it. You're not all bad or all good, there's always something in between.
"We're going through a little bit of variability with our footy at the moment, but we've still got a fair bit of the season to work that out."