It was the decade where football took its first faint steps towards professionalism.
Players chased a greater financial return, Waverley rose from the paddocks, colour television beamed into our living rooms for the first time and the game endured through a turbulent decade.
The 'Sensational Seventies, as they would become known, proved a tantalising, yet ultimately unfulfilled period for Collingwood.
It was bookended by heartbreaking Grand Final losses to Carlton. The first came when the Magpies lost from what had previously been considered an unlosable situation; the second when Collingwood almost pinched the premiership in the dying moments of a dour struggle.
Through it all, the goings on at Collingwood – and at Victoria Park - was like a soap opera you couldn't switch off, and the audience was spellbound.
For those who lived through it, it was a period they will never forget and it produced heroes and characters alike forever etched into our consciousness.
For those who didn't,Collingwood Forever will transport you back in time each week this season for a blast from the '70s past, profiling a player who made an impact for one reason or another.
Alan Atkinson represented Collingwood at senior level on 134 occasions, but the high-flying, speedy wingman will always be best remembered for one moment in one game.
In a way, that's a little unfair, given what he was able to produce in his Magpie body of work, but that's the nature of football where players are recalled for specific moments in specific games.
This wasn't just any old game, either. It was Round 21, 1973, a moment etched in footy folklore when Hawthorn full forward Peter Hudson flew into VFL Park - as it was called then - on a helicopter and made his comeback to league football following a serious knee injury suffered in Round 1 of the previous year.
Hudson was carrying a few extra kilos and was nowhere near peak fitness, but he still managed to kick eight goals in his one and only game for the year.
While the champion Hawk forward's flight to the game in a helicopter became a part of folklore, Magpie fans chose to recount the aerial display of 21-year-old Atkinson, who seemingly launched himself into the stratosphere that August afternoon, and dragged down one of the best Collingwood marks of the era.
Atkinson rose over the top of Leon Rice and dragged down a towering mark, with his feet planted into the Hawk player's back. Better still, he landed spectacularly, which would have added points to the degree of difficulty, as the Magpies crowd roared their approval.
The following day, it was anointed World of Sport's Mark of the Day, and at season's end, it was selected as the VFL 'Mark of the Year'.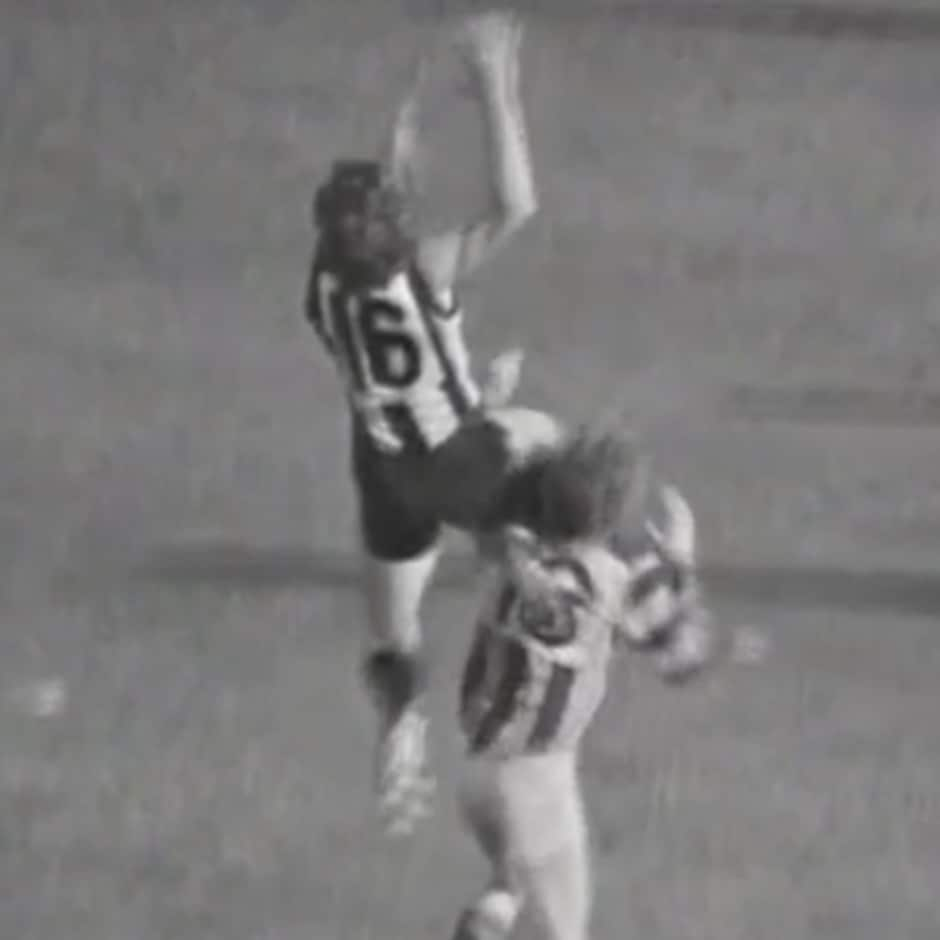 Alan Atkinson hauls in his amazing mark
Atkinson had always been considered a talented player from the moment he came to Victoria Park from Hamilton, straight out of the club's recruiting zone. Standing at 182cm, he was a wingman and half forward when he got his chance to play his first senior game in 1970.
It came at a time when the Magpies were the glamour team of the competition, heading towards the top of the table, and breaking into the side was tough. He was 18 when selected for the Magpies' Round 14 clash with Hawthorn, at Glenferrie Oval, and he didn't let his coach Bob Rose down. He had 18 disposals and kicked a behind in a losing team.
It was the first of five successive games Atkinson played for the season, including the Round 18 clash with Fitzroy, when he started on the bench before replacing Barry Price (badly sprained ankle) in the last term. He didn't have a touch that day, and was overlooked for the club's finals campaign.
He initially took some time to break back into the senior side the following season, twice starting as a reserve (in Rounds 1 and 5) and failing to win enough game time to have a single possession. But an 18-disposal game against Melbourne in Round 6 set in train what would become an 18-game season.
It was the 1972 season where he began to make a more consistent mark on the game. He started the year playing a few games at full back, given some injury issues at the club, but fitted neatly back on the wing when it mattered. He reeled off 23 games for the season, having what would amount to a career-best 322 disposals.
The Football Record called him "another of the big improvers at Collingwood this year", lauding his "tremendous pace". He was "a delightful pass on the run at top speed" and had an uncanny knack for sneaking the occasional goal in a season in which he added plenty to the Magpies' centreline.
He also possessed some of the best sideburns in football in the early 1970s, a noted fashion accessory of the time.
Atkinson wasn't daunted by playing in his first final - in his 45th game. It came against Richmond in the 1972 qualifying final. He kicked four goals in a losing game - the same tally as Wayne Richardson and Len Thompson in a team without Peter McKenna.
He "showed plenty of dash on the Magpie centreline", according to one reporter, and was named amongst the club's best players. But he wasn't as prolific in the following contest, having 13 disposals in the first-semi-final loss to St Kilda.
Inconsistency was often an issue for Atkinson. But when he was at his best, he was almost unstoppable.
The 1973 season was a perfect case in point. He battled to win a spot in the senior side in the first half of the season - and had some injury concerns – with the Football Record saying "after many outstanding games last year (he) failed to live up to his reputation in the early part of this season".
Still, he grabbed his chance in Round 13 when Graeme Reichman was injured. He was in and out of the senior team until Round 19, and then locked himself in for the remainder of the season.
A career-best 24 disposals was his return in the Round 19 clash with Fitzroy.
He worked perfectly in tandem with fellow tall wingman Robert Dean, with the Age saying: "It didn't matter which side of the ground the Magpies decided to attack through - Alan Atkinson had one wing sewn up and Rob Dean had the other."
Atkinson was adjudged best afield by leading Age football reporter Ron Carter, who said: "Alan Atkinson gave Collingwood all the drive it needed from one wing, particularly in the third quarter when he got everything that came his way."
Two weeks later came the moment he will forever be known for.
While Hudson ruled the skies in the pre-game, Atkinson was able to do it during the course of the match. He soared through the air at full stretch, rising over the top of Leon Rice, who didn't get to see the end result as his face was planted towards the ground.
That famous mark happened so quickly there wasn't perfect image taken by one of the newspaper photographers at the ground. Thankfully, the television coverage captured the moment, albeit in a blurry frame, which at least preserved the mark for posterity.
At the time the Football Record called Atkinson "one of the most spectacular marks in the league", also noting his "tremendous speed" and his "excellent kick".
In some ways, as a wingman, he was ahead of his time, with one description being that he "soars for amazing marks and plays on at all times."
Collingwood finished on top of the ladder in 1973, but lost the second semi-final to Carlton. After being "soundly beaten" in the first half of that game, Atkinson fought back "with much more confidence in the second half to be the instigator of several Magpie moves".
A week later, he was one of Collingwood's better performers in the preliminary final against Richmond, kicking three goals after spending some time matched against Kevin Sheedy.
Importantly, his third goal for the game came 22 minutes into the last term, and it dragged the Magpies back to within a point, after they had relinquished a big lead. He had taken a mark deep in attack after a pass from Max Richardson, went close to the man on the mark, but slotted it through.
It prompted commentator Mike Williamson to scream 'Collingwood are still there'. That major gave Collingwood fans some hope of a revival that was quashed soon after when Kevin Bartlett snapped the winning goal. It proved a crushing defeat for the club. A season that had promised so much again deliver only more heartache.
It would be the closest Atkinson would come to playing in a Grand Final, only to have it snatched away from him.
Consistency was often said to be Atkinson's "only letdown", according to the Football Record, when assessing his 1974 season.
He had 16 disposals and kicked a goal in the elimination final win over Footscray, where he "displayed all of the dash he is noted for ... made position well and was a great team performer with his downfield pace", but only had six disposals in the first semi-final loss to Hawthorn.
Atkinson played in 19 games in three seasons (1975, 1976 and 1978) and 12 in another (1977), but never got to play off in a Grand Final with the Magpies, unlike many of his teammates.
His last game for Collingwood came in Round 22, 1978, when he kicked three goals in a game against Melbourne.
He was recruited to Footscray and played six matches in 1980 - all of them losses - with his last one fittingly coming against his old side.
Atkinson had 13 possessions that day against the Magpies, and was pictured fighting for possession of the ball with his opponent Ricky Barham on the back page of the Age.
It wasn't quite the way it was meant to end for Atkinson, but Magpie fans still recall the day he flew through the sky at Waverley.