Collingwood is never far from the headlines.

As any decent news editor knows, if you can get the Magpies onto the front or back page, on the TV or as a lead online item, you'll get readers and viewers.

That results in a lot of Collingwood stories being overhyped. But there's also no denying that we've been involved in plenty of genuinely massive news stories down the years – from sackings, injuries and board coups to player revolts and internal squabbling.

So, to help mark Collingwood's 125th anniversary season, we're counting down the 25 biggest, most explosive news stories in Magpie history, as judged by historian Michael Roberts and the Herald Sun's Glenn McFarlane.

We've ignored Premierships and on-field results, and have instead concentrated on the other elements that have so often seen our club making headlines. It's a fascinating way to look back at our often colourful history.

Each of these stories will be published by Collingwood Media on #125Wednesdays, as part of our mid-week celebration of Collingwood's 125th Anniversary.

Headliners No. 17: The Minogue defection
Glenn McFarlane of the Herald Sun

It was meant to be the hero's return home complete with parties and street parades; it turned out to be one of the most contentious and bitter farewells in Collingwood's history.
Dan Minogue had been one of Collingwood's most inspirational players across 85 games in a career interrupted by his desire to serve his country in its time of need. Having proven himself one of the game's best followers, as well as the club's captain for three seasons, he was chaired from the field in his last game for the Magpies in 1916, just before sailing from Australia off to the war.
It was little wonder the club and its supporters followed his war story with interest, and it helped that he kept in regular correspondence with his teammates and friends throughout his years of service, with his letters often reproduced in various newspapers.
In one of his letters home, Minogue expressed his disappointment that he wasn't able to spend more time with his fellow Magpie soldiers at the front. He explained: "I am a good bit away from them, but I would give anything to meet them. Just fancy a man having the luck to meet 'Doc' Seddon, Jim Jackson, Walter Raleigh, Harry Matheson or Sam Mortimer. I believe I would get drunk. If we all get back for the 1918 season, we will have some team."
The war carried on until November 1918, so that option was never going to happen. But there was plenty of optimism in the suburb of Collingwood in the second half of the 1919 VFL season – with teams said to be playing for "the Peace Premiership" - with the Magpies eagerly awaiting the return of their former players following their military service.
Of all of them, Minogue was the most eagerly awaited in terms of his return. Even before he docked in Melbourne on the Barambah on July 26, 1919, plans were already afoot to honour him with a street parade along Smith St, as well as a 'Welcome Home' party for the club's former skipper.

LOU RICHARDS EXHIBITION: Learn about Louie the Lip's football story in the exhibition at the Holden Centre.
Those plans were quickly aborted when Minogue promptly announced he intended to join the Richmond Football Club. It was a football bombshell delivered in a time of peace, and the fallout gave birth to a bitter new rivalry between the neighbouring clubs.
Even now, almost a century on, the reasons behind Minogue's move are relatively clear, and varied. For a start, he wanted to coach, and Collingwood's coach Jock McHale seemed to have a hold on the position for many years ahead. He knew he wouldn't be able to coach the Magpies for some time to come. It was a fair assessment, given McHale would coach for another 30 years.
Minogue had also forged a strong relationship with Richmond's Hughie James during his war years and had been excited by the challenge of working with him at Punt Rd.
Another motivation centred on his displeasure with Collingwood over the club's treatment of his good friend Jim Sadler, particularly in overlooking him for the 1917 Grand Final, when Minogue was on the other side of the world at war.
Regardless of the reasons, Collingwood was furious with Minogue's defection. The club pledged to make him pay, and were reluctant themselves to do the same.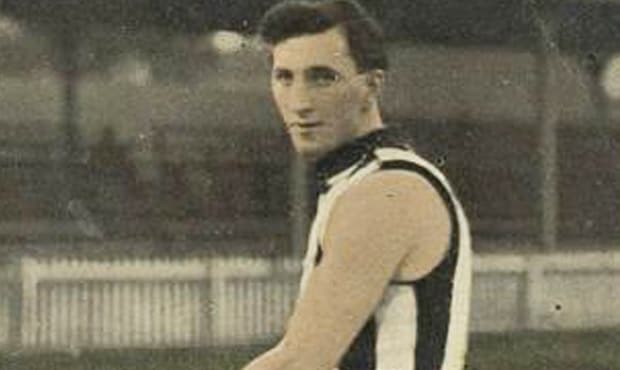 Dan Minogue was named one of the 125 Champions of Collingwood in May 2017.
They withheld Minogue's entitlements from the retirement fund. They were just as steadfast in their commitment to block his move to Richmond.
Loyalty was paramount at Victoria Park and McHale and the rest of the black and white officialdom resolved that if Minogue wasn't going to show loyalty, then the Magpies were going to try and make an example of him.
Famously, the club also turned his photo to the wall – and it stayed that way for decades.
Adding to the drama of that 1919 season, Richmond emerged as the team most likely to challenge Collingwood for the premiership. Minogue had been blocked from a clearance owing to the Magpies' intransigence and even still the Tigers beat Collingwood in an early final, highlighting just how competitive they had become. The two new rivals were scheduled to meet again in the Grand Final as emotion and enmity divided the teams and those supporters who barracked for them.
There were a number of local disturbances on the border of the two suburbs the night before the game, with local police brought in to keep the fragile peace. Those same tensions were on show again on the field the following day where, it was said, "fists were showing at various periods" in a match where the stakes were exceptionally high.
The Magpies ended up winning the match, and it came off the back of McHale's masterstroke of urging his team to continue to play attacking football when so many other coaches would have taken a more conservative approach.
The final margin was 25 points. The premiership was Collingwood's, and it seemed as if the club had taught the Tigers - and Minogue - a lesson about loyalty.
But that wasn't the end of the story. He would finally be granted a transfer to Richmond in 1920, and much to Collingwood's dismay, he would play a key role in helping the Tiger exact their revenge by beating the Magpies to that year's premiership.
Incredibly, it wouldn't be until the mid-1950s – after McHale's death – that Minogue would be seen again at Victoria Park, a sign that the cold war between the club and one of its former favourite sons had finally thawed a little.