South Australia is where Brodie Grundy was born and raised. But Collingwood is now home.

The 23-year-old ruckman has committed to the Magpies for another three years, signing a contract which will keep him at the club until the end of 2020.

"I love the football club. I love playing here," Grundy told Collingwood Media upon announcing his new deal.

"I really enjoy playing on the MCG and running out with my teammates. I enjoy the comradery I have with them."

Grundy's connections to his teammates take a variety of different forms. He shares midfield knowledge with the likes of Scott Pendlebury, Adam Treloar, Steele Sidebottom and Taylor Adams.
He lives and causes havoc with fellow South Australian Tim Broomhead. And he has Darcy Moore to help ponder life's big questions.

"When I first got drafted at the end of 2012, the club had quite a different identity," Grundy reflected.

"The sort of players we had around were elite footballers, but it was daunting for a young draftee to come into an environment with all those senior players.

"I think now I've made that progression and it's the end of my fifth year, I'm starting to feel really comfortable and have a sense of belonging."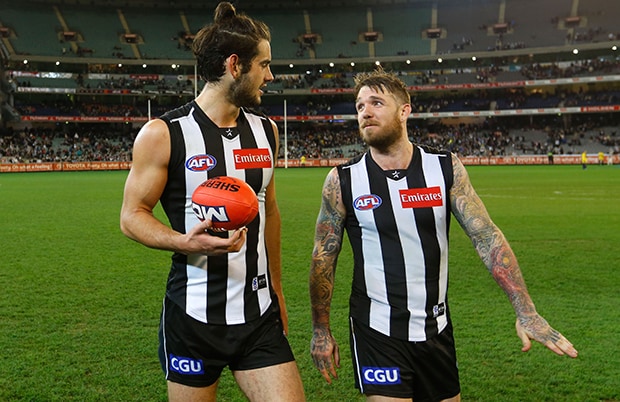 Grundy and Dane Swan in 2013. Image: AFL Photos.

The common suggestion in football circles is that ruckman take longer than other players to develop their skills and truly find their feet on the field.

But Grundy is driven to the point of being impatient. As his impressive performances in 2017 have shown, he's not willing to wait on individual or team success.

"There is a sense of urgency about being in this business," he said.

"I'd hate to think that in another five years I'd be stuck in a position wondering where we went wrong.

"We've got to act now."

Grundy started acting as soon as he arrived at the Holden Centre in 2012. He debuted in round 18, 2013 and battled Jarrod Witts for the number one ruck job for a number of years, before truly cementing his place in the team last season.

Finishing this season on a total of 82 AFL games leaves Grundy with the seventh highest number of appearances out of all the players in his draft class.

Port Adelaide's Ollie Wines tops the list with 105, while Bulldog Jack Macrae and Bomber Joe Daniher are close to reaching triple figures.

Games aside, Macrae and fellow Dog Jake Stringer (pick No.5, 2012 National Draft) have something Grundy desperately wants.

"Jake Stringer's premiership is something that really drives me," he said.

"Those guys are my age. I look at them and I feel pretty jealous.

"I'm really keen to get that feeling for our group."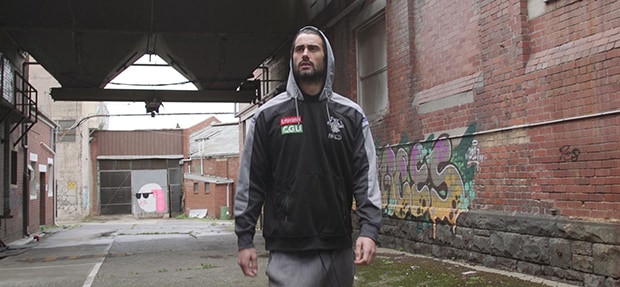 Grundy's commitment to Collingwood will keep him at the club until the end of 2020. Image: Collingwood Media.

Grundy's desire to succeed, coupled with his decision to re-sign shows the ruckman clearly has belief in the people around him at the Holden Centre.

By 2020, the South Australian will be 26 years old and will have hoped to turn 82 games into 150.

His current career-best effort of fourth in Collingwood's Best and Fairest may have been topped, and the All Australian nods which have started to become attached to his name may be more than just hypothetical.

The sky is the limit and the future is in Black and White.

For Grundy, Collingwood is home.