Collingwood Football Club has embarked on a new chapter today with the unveiling of its logo for 2018 and beyond.

The new emblem, while a nod to the Magpies' rich history through iconic trademarks from the past, represents a club reimagining its future.

The magpie, central in all Collingwood logos, leads boldly as it looks ahead. It is flanked by the gold laurel drawn from the engravings on the club's 15 premiership cups.

The iconic Black and White stripes continue to represent all that Collingwood stands for and remains a steadfast symbol of the club.

The founding year of 1892 is incorporated; an important reminder of the Magpies' humble, yet proud, beginnings.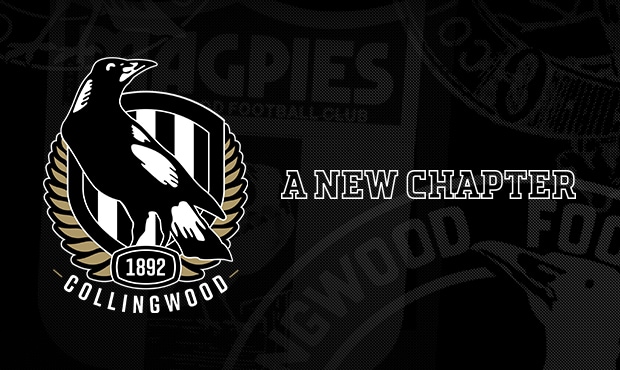 President Eddie McGuire said the new emblem is a symbol of the changing nature of the club.

"The future of this club is being reimagined through the work of the Collingwood Forever Blueprint and the commitment of our people to shape the next chapter of the Pies," McGuire said.

"The new logo, while paying tribute to our wonderful heritage and everything we have stood for, symbolises an exciting new phase full of opportunity as we build the foundations for the next 125 years."

"We remain as committed to our AFL program as ever, but we must also embrace change. We continue to grow and evolve. Our new women's teams make us stronger, broader – better equipped to face the challenges of the future."

"Together, we'll wear this logo with pride as we stand side by side with our supporters and commit to challenge ourselves and innovate in the pursuit of excellence as a high performance organisation and as a leader in our community."

The new logo will feature on the club's 2018 apparel.

The club's first logo was created in 1892, featuring the magpie and the club's founding year.

The Collingwood logo has evolved over the past 125 years with the most recent logo introduced in 2004.