Tasmania: A part of the world in which Collingwood has never played for premiership points.

Australia's island state has given the club wingmen such as John Greening, Paul Williams and Graham Wright.

It produced James Manson. It sent forth Doug Barwick. And it was the original home of Craig Davis.

Tasmania also gave Collingwood Nick's Collingwood Page.

It's incredible to think that Collingwood and, indeed, football's oldest unofficial fan site was created and developed in Tasmania.

It's all thanks to one man.

Well, not just one man. One man and his young son, to be more precise.

It was 1995 when Mike Wilson and his then eleven-year-old son, Nick, unwittingly changed the Collingwood experience forever.

But before we delve into the story of Nick's Collingwood Page, a bit of background is timely.

Mike was born in Tasmania, but spent time in Melbourne when his family moved across at the age of seven.

Throughout his professional life, computers and IT have been a constant presence.

"I've been working in and with IT since 1971 when, as a young accountant I was assistant to the company secretary at Gordon & Gotch and responsible for the share registry, which was kept on and managed by a huge Burroughs B6700 mainframe computer housed in a dedicated complex in Hawthorn," he says.

"Since then, I have been an auditor, a dairy farmer and have run my own IT business. Computers have been a consistent theme in all these activities."

How does a man from Tasmania, with a background in IT and farming, find room in his heart for Collingwood?

Maybe Collingwood chose him.

"I'm a good example of the power of the Pies to create fanatics," he says.

"I was a kid who grew up without a football background, I had no interest at all. All that changed once I became a Collingwood supporter. Something clicked and suddenly the Pies were as important to me as breathing and it has never changed.

"I passed on my fanaticism, firstly to my youngest brother, who I used to drag to the footy every weekend during his impressionable years, and then to Nick.

"Unfortunately I've helped raise a family of free thinkers and missed out on my two oldest sons, who nominally follow Essendon and Melbourne, but really have no interest in football.

"Nick was my last chance and he didn't have one. He was going to be Collingwood from the minute he drew breath - and, I'm proud to say, he is.

"So Nick does have what I missed out on, a family history, even though it only goes back one generation."

Nick and Mike don't just have a Magpie family history. They have a place in club history itself.

"Nick's page started in 1995," Mike says.

Click HERE to visit Nick's Collingwood Page.

"It was a single page that he used mainly to keep his footy links. It was just stored on our home computer for his own use.

"I had a computer support business at that time and had been developing some small web sites for clients and could see the potential in the web. I needed a working site that I could use as a test bed for ideas and practice.

"Nick's Collingwood Page' was just that – a single page on the web. That was about October 95 and Nick had just turned 11. During the off-season we developed it into a small site ready for the 96 season.

"Both Nick and I were responsible for its inception and initial development. All those years ago, but we did that with no altruistic motive, it was done just to bring a kid in the bush a bit closer to his footy club."

Nick's Collingwood Page certainly achieved its aim – it brought a kid in the bush closer to his club. Thousands of others across the world would soon follow suit.

Over the past twenty years, Nick's has grown from a website housing club facts, photos and information into one that hosts a Bulletin Board that, at the time, is home to 4,244 registered users and a lazy 1,573,626 posts.

The website itself is still alive and well, hosting match previews, feature stories and club history among various other components. At one point, it even had the ability to forward fan mail on to the players back at Victoria Park.

Another branch of the site, the live scoreboard chat, ran for more than fifteen years and was a precursor to the Twitter feeds of 2015.

It wouldn't be unfair to say that Nick's operated at a higher level than the official club website did during its earliest years. In fact, it would probably be quite accurate to say so.

"Nick's site became very popular, very quickly for the simple reason that the official site, when it was running at all, was static and out-dated," Mike explained.

Fortunately, the club was quick to understand the power of the service Mike and Nick were providing to its supporters.

"The Club was very supportive. John May, who was the CEO at the time, was always available. My relationship with him, and probably the Club as a representative of 'Nicks', began with an email I forwarded to him."

A line in the email read: "As Collingwood was the first club to see the potential of the internet as a point of contact with its supporter base, particularly with those of us who are interstate or overseas and use the internet as our only direct form of contact with the Club, it would be a shame to see that asset turn into a liability through neglect. The Internet carries an implicit air of immediacy and any lack of currency on a site, especially one dedicated to a sporting club with constantly changing information to disseminate, is highly visible."

May's response helped establish a connection the club could never take for granted.

"I immediately received an email from him asking me to ring him to discuss my concerns. He was then always available to me until he moved on in 2000. That attitude was typical of all out interactions with the club at that time.

"Richard Stremski, who was then a director and the official club historian, was always readily available to us as well as playing an active role in Nick's site for a short period. He ran an 'Ask Richard' topic on the bulletin board answering historical questions about the club. Richard's segment did not last for a long time because it was immediately obvious that it should be presented on the official site. It never was, but it was inappropriate for Richard to continue to present this on an unofficial site.

"Karen Gilbert and then Kate Balme were very active in keeping communications open between the club and Nick's and were key to keeping the fan mail link operative."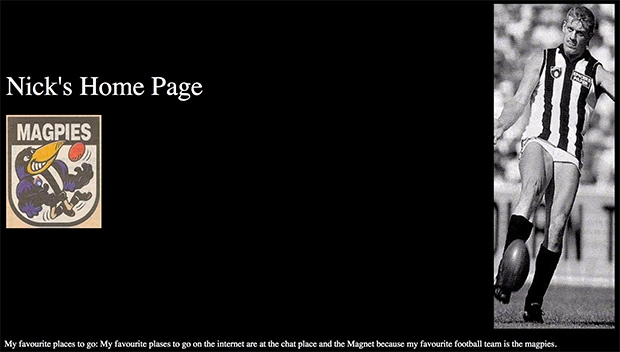 One of the earliest incarnations of Nick's Collingwood Page, circa 1995.

There was also another key Collingwood figure who recognised the beauty of Nick's. You may have heard his name before.

"Eddie McGuire got involved and was active on the Bulletin Board for a while," Mike recalls.

"I remember when I tried to shut the site down, the phone rang and it was Eddie, straight to the point: 'What do you need? Is it money?'."

"By that time we'd sorted out a continuation plan so I was able to say that the site was safe and was continuing, but his concern and involvement, as the President of the largest sporting club in the country, was remarkable."

When the President of your club has your back – and is even posting on the Bulletin Board itself – you know you're on a winner.

"I don't know how he found the site," Mike reflects.

"We were well known within the club when he became President (in 1998) so it's probably no surprise that he turned up.

"I rang Channel Nine after his first post to check that it was actually him and spoke to his PA. "Yes, that's him" he said, "the first thing he does when he goes into his office is get onto the computer and onto Nick's site". That was a bit of a buzz."

The Bulletin Board, a controlled forum for fans to interact, vent and share the rollercoaster, began in 1997. Mike, with his background in computing, helped piece the Board together using "primitive off-the-shelf software."

"Email, bulletin boards and IRC were the oldest technologies on the net, but not much had been adapted to suit the web, which was relatively new, so it was a case of finding whatever was available and rewriting it to make it do what we wanted.

"That old format proved very popular, so that when we changed to the current style there was a bit of an exodus over to Hotrod's Extreme Black 'n White, and I think they're still there.

"Initially the emphasis was Nick's Collingwood Page, the web site, of which the Bulletin Board was just a part, but the Bulletin Board has become 'Nick's' and now overshadows the rest of the site, which many people never visit these days."

The live scoreboard chat, which ended only last year, was a key component of Nick's Collingwood Page for well over a decade. Like it the site itself, it was a pioneer in the online football landscape.

"The live scoreboard really grew from a desire to investigate the web's potential for interactivity and immediacy," Mike says.

"I was also interstate and had to listen or watch games using radio and/or television, which wasn't always reliable in the bush so I understood the value of a resource such as live scoring to geographically disadvantaged footy fans.

"It also meant that in the early days I was always available (not at the footy) to run the scoreboard and provide commentary. Later on that role was taken over by volunteers.

"To my knowledge it was the first live scoreboard in Australia."

The live scoreboard gave interstate and internationally based supporters the chance to follow the game and bond over their love of a football club in Melbourne's inner suburbs.

"London Dave, Haiku Bob, Mossi in Italy, Pie No Sauce in Hong Kong, Neil in the UAE, and many other internationals were early regulars even though the games were often played in the early mornings, their time.

"We were the only way they could get their fix."

Another supporter who used Nick's to get his Magpie fix was Joffa. But long before he was the man in the gold jacket, he was using the Bulletin Board to uphold the Magpies' name, and particularly that of the legendary Jock McHale.

It was on Nick's that Joffa presented his idea for a Jock McHale Medal, honouring the club (and we would argue the game's) greatest ever coach.

"AFL fan websites have become very popular and I find them an invaluable source of intelligence," wrote none other than Eddie McGuire in the Sunday Herald Sun on 15 July 2001.

"One great idea came this week from a man known to everyone at Collingwood as Magpie Joffa (his real name is Jeff Corfe).

"Joffa is the mad Magpie in the gold wig leading the Cheer Squad.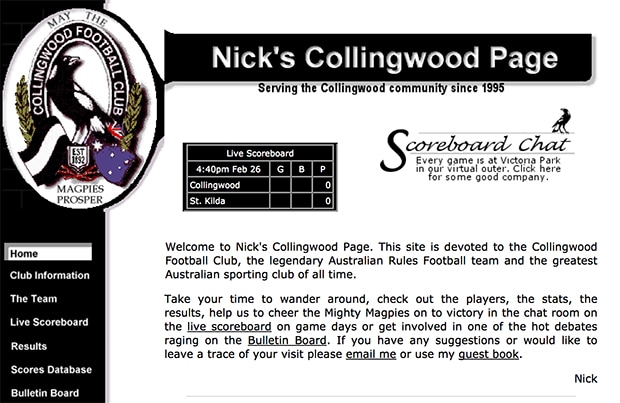 The 2003 incarnation of Nick's Collingwood Page.

"Last week's Herald Sun feature on Jock McHale provoked debate on an appropriate way to commemorate McHale, the most dominant person in football's first 50 years.

"I have been pushing for the premiership cup to be named the McHale/Barassi Cup to commemorate the top two Grand Final performers from the first and second 50 years. But Joffa has trumped me. He suggests the coach of the premiership team receive the Jock McHale Medal.

"What a great idea.

The Norm Smith Medal for best player in a grand final has made sure that one of the greatest names in football is never forgotten.

"Now, 48 years after the death of Jock, what better than a medal in the name of the most successful and longest-serving coach.

"Until the practice of the coach joining the captain on the podium in 1981 - when Carlton's Mike Fitzpatrick called up David Parkin - the coach didn't get much of a look-in. But they deserve their moment in the spotlight - and a medal."

Joffa, Eddie and Nick's would also play a key role in revitalising the club's Cheer Squad in the early 2000s.

Mike takes up the story.

"There were three cheer squads when Nick's started: the official, the unofficial and the outer and there was no love lost between them.

"Joffa was a member of the 'unofficial', and had a public reputation as a feral Pies supporter. There was a bit of an invasion when the 'unofficial' discovered Nick's, so much so that the personality of the bulletin board changed almost overnight.

"Once again, change didn't suit some of the residents, so we lost some when the new ones came, but gained a lot of new, fresh, different personalities and opinions. Joffa was a part of that 'invasion' and a natural and obvious leader of the new group."

To mark the site's tenth birthday, a large group of Bulletin Board users staged a gathering at the club's Olympic Park base.

Fortunately, Mike, and Nick, were able to make the trip across from Tasmania. It wouldn't have been right, otherwise.

"It was a wonderful event," he recalls.

"To meet all those people who had only been names on a bulletin board, but I felt that I knew so well, was an amazing experience and probably overshadowed the fact that here we were in the Lexus Centre (as it was then known)."

What of Nick himself, you ask?

The boy who inspired the website that still bears his name "burnt out very early," according to Mike, but remains a Collingwood man at heart.

"I think he is mildly embarrassed that the site still carries on in his name without any contribution by him and that is probably the main reason that he's never come back to it," Mike explained.

"His passion these days is music. He plays guitar and keyboard and has a good voice."



Nick's Collingwood Page is twenty years old. To put that into context, it's a good three months older than Darcy Moore. When it started, Nathan Buckley was in his second year at the club. He's now approaching his fifth year as coach.

It's had its share of tough times across the decades, and has occupied far more of Mike's time than he once anticipated, as you can no doubt imagine.

"It's come close to the end a few times and has probably cost me too much, both financially and emotionally," Mike says, "but it's really been the support of its users that has kept it open.

"That has allowed me to step back and just play an administrative and technical role and has provided sufficient justification for it to remain.

"I think the hardest part and something that I probably wouldn't otherwise think twice about is paying for a membership that I won't use every year.

"It's just a contribution to the club really and I feel that I've already contributed, but not to be a member is not an option for me. It's a bit of a conundrum."

Twenty years. It's something for Mike, Nick, and all who contribute to and love the website to be proud of.

"It used to amaze me in the early days, just what was happening.

"But now it's steadied, the club no longer involves itself and we just seem to be more self-contained.

"It's probably where, as an unofficial fan site, we should have been all along. The early days were an aberration brought on by circumstance."