Collingwood's 2020 AFL fixture has been revealed, with home and away blockbusters against Richmond and West Coast among the highlights.
FULL FIXTURE Click here to see every game of Collingwood's 2020 fixture
The Magpies will host the Tigers at the MCG on a Thursday night in round two, then face the Tigers again in a Friday night clash at the 'G in round 17.
The games against the Eagles are in round 11 (Sunday afternoon at the MCG) and round 22 (Friday night game at Optus Stadium).

Collingwood CEO Mark Anderson has described the club's 2020 AFL fixture as fan friendly.
With nine of Collingwood's last 12 matches of the season scheduled at the MCG and the team slated to play 17 of its 22 matches in Melbourne, Anderson said Collingwood members and fans will have a near weekly opportunity to watch the team play live.
"The experience of watching the Pies play live and sharing in the big occasion atmosphere of our matches is one of the best the game has to offer. In 2020, our members and fans have that opportunity regularly," said Anderson, who added that the club's numerous marquee broadcast slots would also please fans.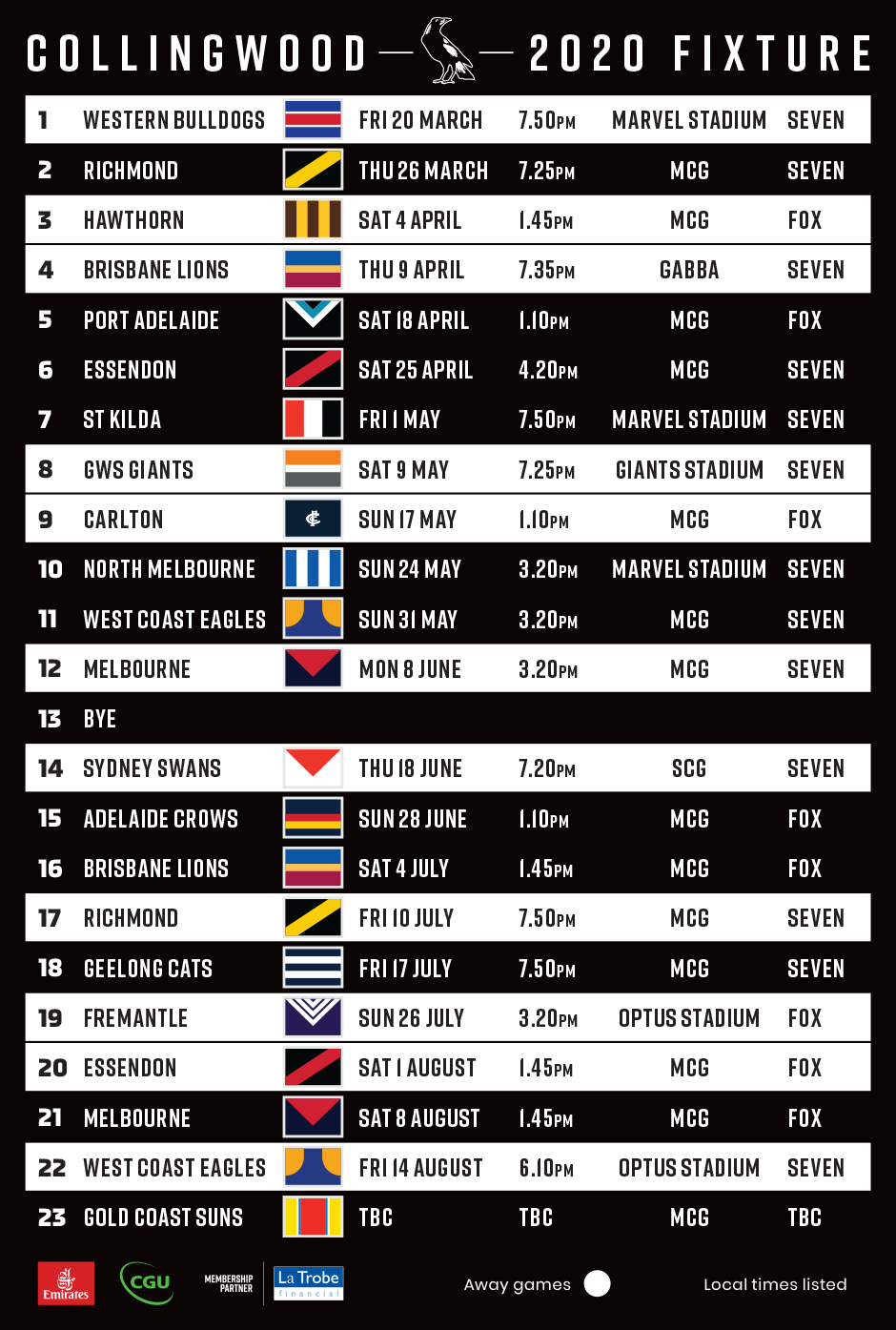 Collingwood will play three Thursday night matches in 2020, five Friday night games, feature on Queens Birthday Monday and play, for the first time, the ANZAC Day match against Essendon at twilight.
"I think the schedule will allow even more people to watch Collingwood next year, be that from a seat at the ground, on the couch or in front of a tablet," he said.
"I also think that our schedule next year helps us to trial and, hopefully, create new big occasion rituals. We're really pleased to be helping to establish a new tradition with a match against Brisbane at the Gabba on Easter Thursday.
"It was a success this year, from a live crowd and broadcast perspective, and with the match locked in for the next couple of seasons we think it can become a contest everyone looks forward to as they start their break for Easter.

"Playing the ANZAC Day match at twilight is also exciting. The RSL were supportive of the idea, given that the match is on a Saturday next year, and it will be the only match played in Victoria on the day. If we can enhance what already is a superb occasion, an iconic contest, then it will be good for not only Collingwood and Essendon fans but everyone who shares in our national day of remembrance."
"From a football perspective, with no back-to-back travel and our six day breaks between matches generally spaced out, the 2020 fixture meets a lot of our requirements. Two trips to Perth late in the season is not ideal and a six day break after the second of them will present a challenge but on the whole there is a lot to like about our 2020 fixture."
The fixture's out, Jerry, and I'm loving every minute. pic.twitter.com/gKwTXRnHOu

— Collingwood FC (@CollingwoodFC) October 31, 2019
There's a lot to look forward to in the 2020 fixture! Lock in your plans ahead of time and sync it straight to your calendar.