The Super Bowl is a sporting event which captures the attention and fascination of the sporting world.

American Football is rarely played outside the US and despite minor leagues kicking off around Australia, nothing draws a comparison to the sport they call 'America's Game'.

Few Aussies have made the cut in American Football and even fewer have succeeded.

However in the past ten years, there has been a touch of Collingwood in the National Football League.

Sav Rocca, Anthony Rocca and Chris Bryan were notorious for booming torpedos from outside 50.

The Rocca's dominated Collingwood's forward line for over a decade, while Bryan provided a handy back-up for Josh Fraser from 2007 to 2009.

All three traded the footy shorts for the heavy NFL padding with varying levels of success.

Saverio Rocca

The older of the Rocca brothers forged an impressive career at Collingwood upon arriving at the club in 1992.

In 1995, the often maligned forward kicked a career-high 93 goals including a 10-goal haul against Adelaide in round 13.

After 156 games in the Black and White, Rocca swapped his stripes for the blue and white variety and played another 101 games for North Melbourne.

Just a week after ending his AFL career, Rocca left for the US and a trial as a punter with the Philadelphia Eagles.

After three seasons with the Eagles, the now 36-year-old Rocca relocated to Washington DC and played a further three seasons with the Redskins before calling time on his NFL career.

Collingwood career (1992 – 2000)
CFC games played: 156
CFC goals: 514
Honours: E.W. Copeland Trophy (1; 1995), Gordon Coventry Trophy (7; 1993, 1994, 1995, 1996, 1997, 1998, 1999), Most Improved Player (1; 1995), Anzac Day Medal (2; 1995, 1998)

Collingwood Forever: Click here to view Sav Rocca's full profile

NFL career (2007 – 2013)
Philadelphia Eagles 2007 – 2010
Stats: 64 games, 299 punts, 42.9 av. yards
Honours: NFL record for oldest rookie (33-years-old)
Washington Redskins (2011 – 2013)
Stats: 48 games, 218 punts, 42.9 av. yards

Anthony Rocca

After being drafted to Sydney, Rocca got his wish and returned to his home city to join his brother at Collingwood in 1997.

The younger sibling spent 13 seasons with the Magpies, including back-to-back Gordon Coventry Trophy's in 2006 and 2007.

Upon completion of his AFL career, Rocca expressed a desire to join his brother as a punter in the NFL.

He travelled to the US in October and December of 2009 and completed medicals and try-outs at the New York Giants practice facility.

However with a young family, Rocca decided to put aside his NFL plans and return home to Australia.

He re-joined the Magpies as a coach in 2010 and remains at the club as a development coach.

Collingwood career (1997 – 2009)
CFC games played: 220
CFC goals: 404
Honours: R.T. Rush Trophy (1; 1999), Gordon Coventry Trophy (4; 2000, 2002, 2006, 2007), Darren Millane Memorial Trophy (1; 2002), Most Improved Player (1; 1999)

Collingwood Forever: Click here to view Anthony Rocca's full profile

NFL career (2009)
New York Giants 2009*

*Rocca completed a pre-season training camp with the New York Giants before returning home to Australia.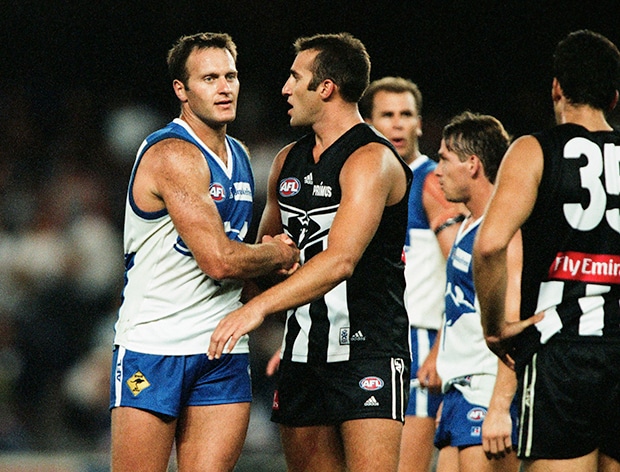 Sav (left) and Anthony Rocca shake hands after competing in 2001.

Chris Bryan

Byran joined Collingwood in 2007 after two years at Carlton.

The ruckman debuted for the Magpies on Anzac Day before a week later kicking three goals in a career-best performance against Adelaide.

The former-Blue was largely known as a replacement for Josh Fraser and became Collingwood's starting ruckman in the 2007 semi-final with Fraser out injured.

He played in another two finals for the Magpies in 2008 before ending his AFL career at the conclusion of the 2009 season.

Bryan started his punting career with the Green Bay Packers, however failed to take the field before being waived six months later.

He joined Tampa Bay and made four appearances for the Buccaneers in the 2010 NFL season.

Collingwood career (2007 – 2009)
CFC games played: 30
CFC goals: 10

Collingwood Forever: Click here to view Chris Bryan's full profile

NFL career (2010 – 2011)
Green Bay Packers 2010*
Tampa Bay Buccaneers 2010
Stats: 4 games, 23 punts, 37.4 av. yards
New York Jets 2011**

* Bryan signed a three-year contract with the Green Bay in March 2010. He was cut in September 2010.
** Bryan was signed to the Jets roster in July 2011. He cut waived from the team in August.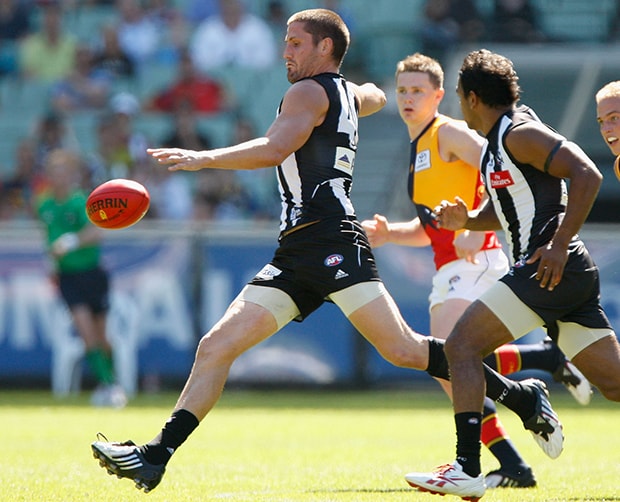 Chris Bryan sinks his boot into the ball against Adelaide in 2009.