As a part of Lou Richards' 90th birthday celebrations,
collingwoodfc.com.au
has published a timeline of Lou's wonderful life that has seen him become one of the most loved figures in Melbourne and Australian culture.
To join in the celebrations and send your birthday wishes to Lou, be sure to use the hashtag
#lou90
throughout the day.
1923 -
Lewis Thomas Charles Richards was born in Collingwood, Victoria. He was the latest addition to a famous Collingwood family, as he is the grandson of Charlie H. Pannam and the nephew of Charles E. and Alby Pannam. The Pannan trio played in six Collingwood premierships between them.
1928 -
Lou's younger brother Ron was born on 11 May. Ron went on to play 143 games for Collingwood, including the 1953 premiership. He also managed 114 goals while playing in a variety of positions. He later served the club as its under-19s coach, reserves coach and chairman of selections. He twice coached the senior side as a caretaker and emerged victorious on both occasions.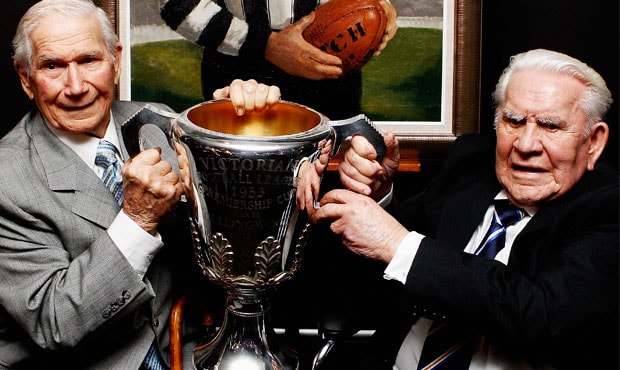 Ron and Lou Richards pose with the 1953 premiership cup at the Westpac Centre in 2011.
1941 -
With many of Collingwood's most talented players involved in World War II, Richards was summoned from Abbotsford to pull on the famous black and white jumper for the first time. He debuted for Collingwood, wearing the No. 24 jumper in the round six loss to Carlton at Princes Park. Lou played 13 games in his first season, kicking 19 goals including four in the win against Hawthorn in round 13.
1942 -
Played in 13 senior games, only two of which were wins as the Magpies narrowly avoided their first wooden spoon.
1943 -
Managed another 13 senior games; again Collingwood finished second from the bottom. Met his future wife Edna Lillian Bowie at a Collingwood Town Hall Dance.
1944 -
Won his first leading goalkicker award, kicking 26 across 18 games. Although his club finished third from the bottom, it was its best performance in three years. Richards capped off his season with a then-career high five goals against Melbourne in round 17.
1945 -
Continued his rapid improvement, kicking 45 goals (second to Des Fothergill) as his Magpies reached their first finals series since 1939. Lou performed well during September, kicking five goals in Collingwood's two losses.
1946 -
Bagged 50 goals for the year including seven against North Melbourne at Arden St in round three. Kicked four in the drawn Semi-Final against Essendon but could only manage one more major in his next two finals as the Magpies bowed out in the penultimate week at the hands of Melbourne.
1947 -
Slightly down on previous years in front of goal with only 31 goals as Collingwood missed the four by a game. Ran second in the Copeland Trophy and named in Sporting Life's All-Australian team.
1948 -
Bounced back to his best, leading the club's goal kicking award with 44. Played in his first finals win in the Semi-Final against Footscray and was again named in Sporting Life's All-Australian team. Married Edna Bowie.
"She was generous and kind. She was a looker, a great dancer, an accomplished businesswoman, a wonderful mother," - Lou Richards on his wife, Edna.
1949 -
Did not appear after round 12 but still managed to make an impact on the scoreboard in all bar two games. His best effort came in round eight when he kicked five goals against St Kilda at Victoria Park.
1950 -
Led Collingwood's goal kicking for the third and final time, although his 35 majors weren't enough to haul his club into the finals action. Remained consistent throughout the year, kicking at least one goal in 15 of his 18 appearances. Finished the year in second place in the Copeland Trophy.
1951 -
Forced Ron Richards to nominate him for the club captaincy but was initially rejected in favour of Gordon Hocking. Lou took stock of the feedback he received from the club and altered his on-field leadership. Within 12 months, he would achieve his dream when he was appointed club captain. Spent more time as a rover and thus did not have the scoreboard impact of previous years (kicking 19 for the season). Played in both finals but his side was again unable to register a win, but still ran third in the Copeland Trophy.
"He was always firing you up, telling you to get up if you were hurt and urging you from start to finish" - Collingwood Team of the Century wingman Thorold Merrett.
1952 -
Named captain of the Collingwood Football Club for the first time. Celebrated his 200th game with two goals in a 59-point drubbing of Hawthorn at Victoria Park in round 13. Went goalless in his first Grand Final as Geelong ran out convincing victors. Had kicked two goals against Fitzroy the week prior to help carry his side into the decider in his first season as captain.
"Louie was a terrific captain, always giving you lots of encouragement" - Richards' 1953 premiership teammate Neil Mann.
1953 -
Lou's finest hour. In his second year as skipper, Richards led Collingwood to its first premiership in 17 years when it held off a fast-finishing Geelong to win by 12-points on 26 September. Wearing the No. 1 jumper, Lou kicked one of the Magpies 11 goals while playing alongside his younger brother Ron.
1954 -
Could only manage eight senior games as he entered the twilight of his career. It was no coincidence that Collingwood slipped from premiers to seventh (but only one game out of the four).
1955 -
In his final year as captain and as a player, Richards put together a consistent season before playing his final senior game in a hefty loss to Essendon in round 19 at the age of 32. Although Collingwood made it all the way through to the Grand Final (losing to Melbourne by 28 points), Lou's days as the cheekiest rover in Victoria were done.
1956 -
Was given the option of coaching Collingwood's reserves team, but instead opted to join the media as a journalist for The Argus newspaper. Along with wife Edna, Lou began managing some of Melbourne's best known hotels, most famously the Phoenix Hotel in Flinders Street. The Phoenix was known as the most famous haunt of Herald and Weekly Times journalists for several years.
1959 -
World of Sport was broadcast for the first time on Channel Seven in Melbourne. Richards, alongside the likes of Ron Casey and Jack Dyer, helped make the show a Melbourne institution. He also began calling the football on Seven, where he would continue to forge a reputation as one of the game's leading authorities. Hosted a 15-minute football program on Thursday nights called Sports Talk, which was a forerunner to League Teams.
1960 -
Richards' Sports Talk became known as League Teams. World of Sport moved from a Saturday to a Sunday, where Lou joined the likes of Jack Dyer, Kevin Coughlan, Alan Ruthven, Bruce Andrew and Jack Edwards along with host Ron Casey to recap the sporting week.
1962 -
Hosted League Teams on a Thursday night alongside Ron Casey and Alan Gale.
1964 -
Appeared on an early version of Channel Seven's soon-to-be-famous Thursday night panel program League Teams alongside Jack Dyer and Ron Casey.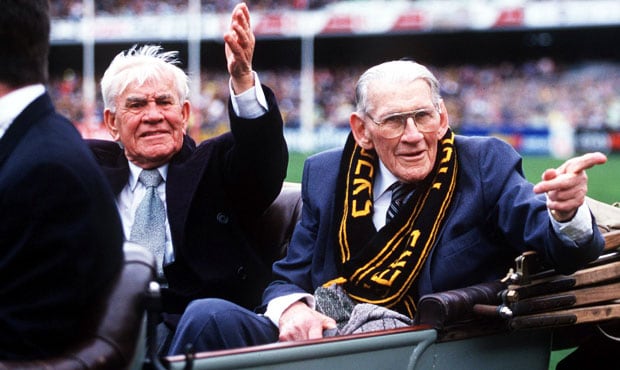 Lou Richards and Jack Dyer are treated to a lap of honour around the MCG before Collingwood's 33-point win over Richmond in round 19, 1999.
1969 -
Was joined by Bob Davis on the League Teams panel to form the famous 'Three Wise Monkeys' alongside Dyer.
1970 -
Following the Magpies disastrous loss to Carlton in the Grand Final (after leading by no more than 44-points at half time), Richards coined the now famous (or infamous) Colliwobbles tag that has stuck with Collingwood and its supporters ever since.
1971 -
League Teams extended to half an hour (up from 25 minutes).
1972 -
Appointed Court Jester to the King of Moomba (John Farnham).
1977 -
Commentated the dramatic drawn Grand Final between Collingwood and North Melbourne.
"There's a mark here to someone! Twiggy Dunne I think has got it! Oh golly, it could be a drawn game! Oh golly!

"It's a draw! The 1977 Grand Final is a draw and we'll be back here next week! By golly, another draw," - Lou Richards captures the drama of the 1977 Grand Final draw between the Pies and the Roos.
1981 -
Named King of Moomba.
1986 -
League Teams ended after more than 20 years. Called his final Grand Final for Channel Seven as Hawthorn overpowered Carlton by 42-points at the MCG.
"If you can't talk there's no good being a commentator is there? But you had to make sure you knew your numbers back to front, because if you made a mistake it was pretty bloody obvious" - Lou Richards in Michael Roberts' Heart of the Game, 2001.
1987 -
World of Sport's final episode aired on Channel Seven with Richards shifting to Channel Nine.
1989 -
Launches his autobiography, The Kiss of Death (written with Stephen Philips).
1990 -
Lou was the Master of Ceremonies at the burial of the Coll. E. Wobbles in front of thousands of Collingwood supporters at Victoria Park only weeks after the club's drought-breaking 14th premiership.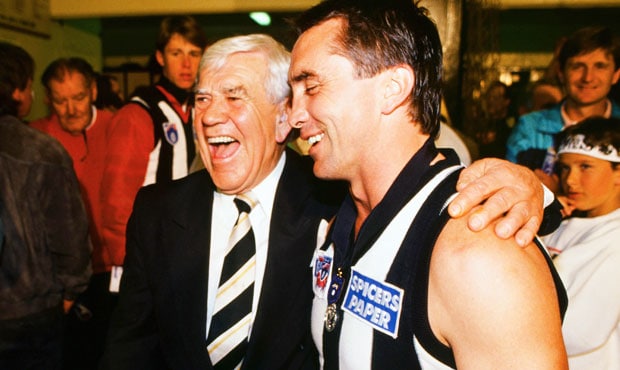 Two Collingwood premiership captains share the relief that only a premiership cup can deliver.
1996 -
Induced into the Australian Football Hall of Fame.
1999 -
Richmond and Collingwood play for the inaugural Jack Dyer-Lou Richards Trophy in round 19 only days after the Tigers named their Team of the Century. Although destined for the wooden spoon, the Magpies were still able to spoil the party, winning by 33-points. In round 22, Richards and current skipper Nathan Buckley presented the club flag to President Eddie McGuire after the final game at Victoria Park for safekeeping ahead of the club's shift to the MCG the following season.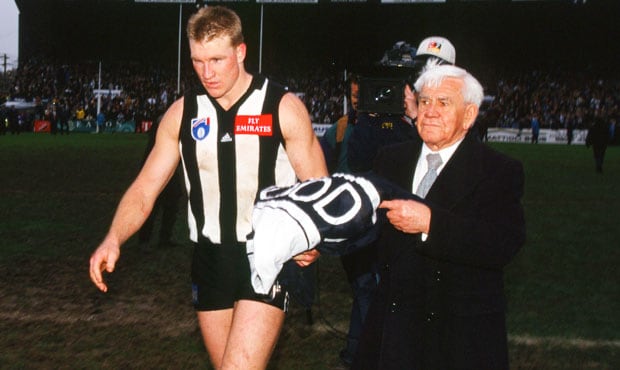 The past meets the present in front of more than 28,000 fans at Victoria Park.
2000 -
Presented the Norm Smith Medal to Essendon captain James Hird who was adjudged best afield on Grand Final day against Melbourne. North Melbourne champion Wayne Carey was awarded the inaugural Lou Richards Medal as Channel Nine's Player of the Year.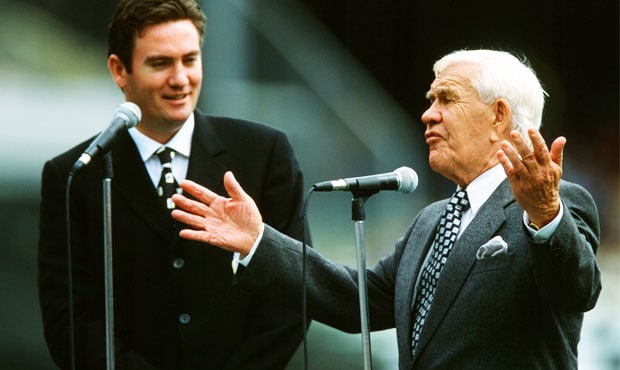 Eddie McGuire smiles as Lou Richards officially christens the mighty MCG as Collingwood's new home ground before the round two clash with Adelaide in 2000.
2003 -
Celebrated his 80th birthday with a lap of honour around Telstra Dome before the Wizard Cup Grand Final. Unfortunately, Collingwood didn't come to the party - the Magpies were comprehensively beaten by Adelaide. Incumbent Collingwood captain Nathan Buckley won Channel Nine's Lou Richards Medal as the network's Player of the Year. In August. Richards' great friend and old sparring partner Jack Dyer passed away.
2004 -
Named in the Greek Team of the Century due to his heritage (the Pannams had migrated to Australia from Greece).
2008 -
Lou's wife Edna died aged 87. Retired from his famous Lou's Handball segment on Channel Nine's Sunday Footy Show. The segment continues today and still carries Lou's name (and prize showcase).
2009 -
The AFL refused to grant Richards Legend status in the Australian Football Hall of Fame and instead offered him a lifetime achievement award. Lou decided not to accept the offer. The league's rules dictate that only playing and coaching records can be considered for Legends eligibility, not off-field contributions. Richmond champion Kevin Bartlett and other members of the selection committee resigned in protest at the intervention.
"Can I just say on Lou Richards, I am a Queenslander, even I know who Lou Richards is. Lou Richards should be up there in the Hall of Fame. End of story. That's my view," - Kevin Rudd, Prime Minister of Australia 2008-2010.
2010 -
Made a grand entry onto the stage of Rod Laver Arena for The Grand Final Footy Show, holding the premiership cup alongside Sam Newman. Collingwood drew with St Kilda two days later but made the cup its own the following week only hours after Lou was treated to a lap of honour around the MCG. Dane Swan made up for missing out on the Brownlow Medal when he received the Lou Richards Medal as Channel Nine's Player of the Year.
2011 -
Bob Davis, one of the Three Wise Monkeys from League Teams, passed away.
2012 -
Collingwood President announces that a bronze statue of Lou will be finalised during 2013. Richards' autobiography (written with Stephen Phillips) titled 'Lou: A Wonderful Life' was launched at the MCG in September.
2013 -
Lou Richards turns 90 years of age on 15 March - the same day his beloved Magpies take on Geelong, the team his side defeated in the 1953 Grand Final.
"If it wasn't for Lou, it (football) wouldn't be the big-time entertainment that it is today" - Eddie McGuire in the Herald Sun, 15 March 2013.
Resources:
Heart of the Game, 45 Years of Football on Television (2001) edited by Michael Roberts.
victoriapark.net.au
www.collingwood1953.wordpress.com
AFL Tables
www.heraldsun.com.au