Nathan Buckley said recently round 23 debutant Kayle Kirby had gone from a "hail Mary" of a draft pick to being a player who have "have an impact" at AFL level.

Kirby's chance will come this weekend as he joins 21 other teammates in running onto the MCG for Collingwood's final game of the 2017 season.

Don't know much about the 18 year old from Swan Hill? Collingwood Media has you covered. Brush up, with five quick facts on our newest debutant.

1. He's essentially handed over the VFL goal kicking award
Collingwood's clash with Port Melbourne on Saturday is big enough as is with finals hopes on the line in the final round of the home and away.

But Kirby was set to embark in a game within a game against the Borough's Jordan Lisle for the Frosty Miller Medal – awarded to the VFL's leading goal kicker.

Kirby has been a revelation for the VFL Magpies in 2017. He's kicked 42 goals in 16 games, with a season average of 2.6 majors per game.

Lisle now appears a shoe-in for the award, unless he can be kept goalless by another first-year Magpie.

"If Sam McLarty can keep him to zero goals then I'll be happy. We'll finish equal," Kirby told Collingwood Media upon news of his selection.

"I can't really argue with getting picked to play AFL."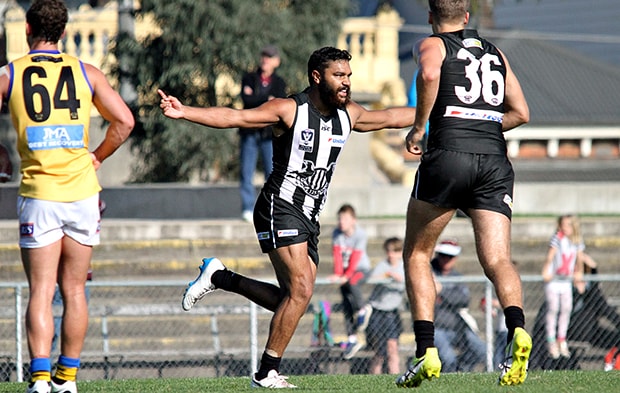 Kirby has kicked 42 goals in 16 VFL games this season. Image: AFL Photos.

2. He starred in a cameo with Richmond last year

Still just a 17-year-old at the time, Kirby got his first taste of professional football in 2016 when he played two games for Richmond's VFL team.

Under former Collingwood assistant coach Craig McRae, the livewire put on a clinic at Punt Road.

Two games in the yellow and black produced nine goals, 25 touches and an impressive disposal efficiency of 85.7 per cent.

The performances led to Richmond nominating Kirby as a category B Rookie selection.

Fortunately, Derek Hine and his list management team got in first and Kirby now calls the Holden Centre home.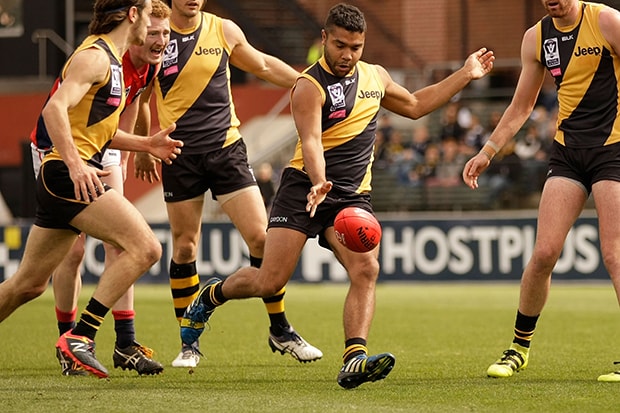 Kirby in action for Richmond's VFL side in 2016. Image: AFL Photos.

3. He watched the draft at the local pub

After growing up in Tyntynder in Victoria's Swan Hill region, Kirby was at home with family and friends at the pub when his life quickly changed.

The 18-year-old's eyes were glued to the TV, but by the time pick 50 came around, others had lost interest.

"Most of them were in the pokies," Kirby told the media on his first day as a Magpie.

"Everyone looked at me when I said 'I got drafted' and they all jumped around me. I was a bit emotional, but that's the whole point of it."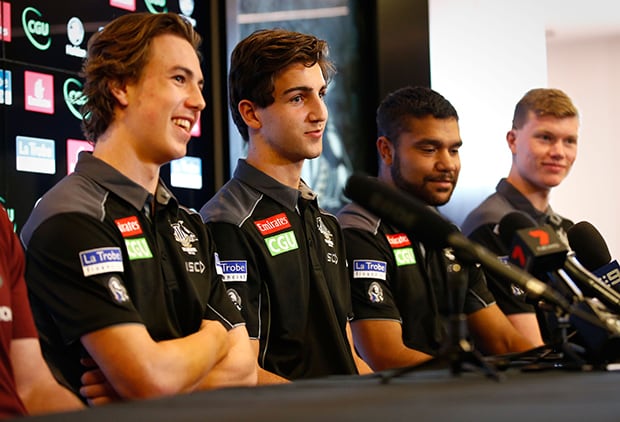 Presented to the media with fellow Callum Brown, Josh Daicos and Sam McLarty. Image: AFL Photos.

4. He's roommates with a rookie-listed Magpie

Kirby is the first to admit his transition from Tyntynder (population: 3000) to the hustle and bustle of Melbourne has been a difficult one.

"It's been a hard one for me so far this year… being away from my Mum and Dad and all my other family back at home," he said on Friday.

Since joining the club, the 18-year-old has found a new home in Richmond with fellow rookie Mitch McCarthy, and one of the club's performance analysts Daniel Pelchen.

"We're all different people," McCarthy told Collingwood Media in May.

"Kirbs likes to stick to himself and do his own thing, whereas I love talking to people and chatting.

"We're learning more about each other every day."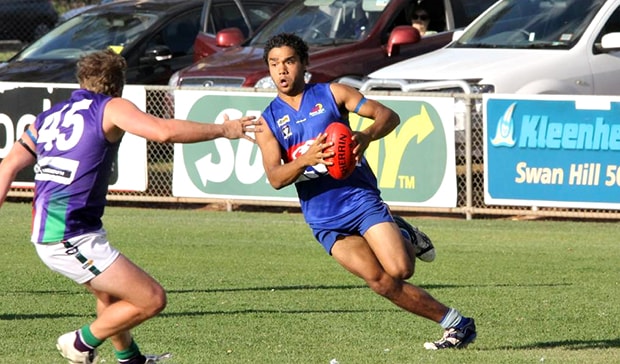 A young Kirby playing for local side, Tyntynder. Image: Pamela Blackman/Swan Hill Guardian

5. He's been compared to some absolute superstars

All players are subject to lofty comparisons to AFL stars around draft time. But Kirby would have been thrilled when he found out the names his TAC Cup coach had lined him up with.

"A Byron Pickett-clone with Cyril Rioli-type tricks," Brett Henderson from the Bendigo Pioneers said in November 2016.

"He's got some real x-factor, deadly accurate around goals, dangerous whenever he gets the ball, is physically intimidating and I think his speed is right up there with the best."

"He can tip a game on its head pretty quickly and he could be a really exciting player for Collingwood."

If Kirby can display anything close to the feats of these two stars, the Magpie Army are in for a treat.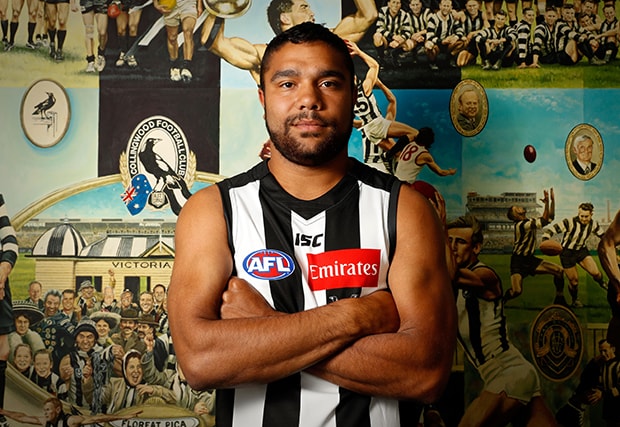 The 1144th player to debut for Collingwood. Image: AFL Photos